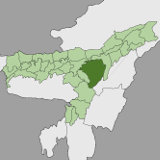 Most Reviewed By:

Karbi Anglong, Assam, India
Wikipedia: Karbi_Anglong_district | Official Government Website: www.karbianglong.nic.in
Updated: Mar. 8, 2012
About Karbi Anglong, Assam, India
Karbi Anglong
is a district in the
Assam
state in
India
. Karbi Anglong is the largest district in Assam, and is located in the interior of the state.
Karbi Anglong is mostly hilly, although it has some small areas with plains as well. It is also quite humid, with numerous streams. The highest peak in the district is about 4460feet (1360m), although most of the district is at a much lower elevation. Well over half of the district is forested, including both deciduous forests and semi-evergreen forests, and both dense and semi-open forests, but the district also faces problems with forest loss and soil degradation due primarily to slash-and-burn agriculture. A substantial portion of the forest is protected under state or local oversight, and the district contains a number of protected wildlife refuges.
Banaspaty estate
is located in the Karbi Anglong district.
Styles of Tea Produced in Karbi Anglong, Assam, India
This is a selection, not an exhaustive listing, of the styles of tea most commonly produced in Karbi Anglong, Assam, India.
Best Karbi Anglong Teas
The notion of the "best" Karbi Anglong teas is subjective, because different people have different tastes. We present the most often-rated and highest-rated teas produced in Karbi Anglong, Assam, India, and allow you to draw your own conclusions.
Most Often-Rated Teas

1 Rating
Top-Rated Karbi Anglong Teas
We need at least 3 ratings for a tea to calculate a percentile ranking. You can help us out by rating more teas of this style.