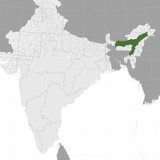 Most Reviewed By:

Assam, India
Wikipedia: Assam | Official Government Website: assam.gov.in
Updated: Dec. 31, 2014
About Assam, India
Assam
is a region of India famous for its
black teas
. As of 2008, Assam accounted for about 55% of India's tea production.[1] Assam produces only a tiny portion of green and white teas--less proportionately than a number of other regions that have historically only produced black tea.
Assam teas are generally produced from a different cultivar of the tea plant, called the
Assamica
cultivar, contrasting with the teas from the
Darjeeling district
. The Assamica cultivar has larger leaves, in contrast to the smaller-leafed variety used in most Darjeeling and also most Chinese black teas. The same cultivar used in Assam tea is also grown in other regions, especially in lowland regions, including
Thailand
.
Most of the tea grown in Assam is grown at a low altitude, giving it a distinctly different character from the tea grown in Darjeeling and other high-altitude regions. One notable exception is
Kopili estate
, located at a higher altitude.
Assam has had a problem with militants; in 2001, according to the chief of police in Assam, most funding for the groups had been cut off, but the tea industry was the single remaining source of funding for the militant groups. In the past, cities and towns had faced extortion by these groups.[2]
Tea-Producing Regions of Assam, India
Styles of Tea Produced in Assam, India
This is a selection, not an exhaustive listing, of the styles of tea most commonly produced in Assam, India.
Best Assam Teas
The notion of the "best" Assam teas is subjective, because different people have different tastes. We present the most often-rated and highest-rated teas produced in Assam, India, and allow you to draw your own conclusions.