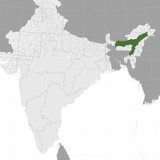 Most Reviewed By:

Assam, India
Wikipedia: Assam | Official Government Website: assam.gov.in
Updated: Jan. 2, 2018
About Assam, India
Assam
is a region of India famous for its
black teas
. As of 2008, Assam accounted for about 55% of India's tea production.[1] Assam produces only a tiny portion of green and white teas--a lower proportion even than a number of other regions that have historically only produced black tea, although production of these teas has increased in recent years.
Most Assam teas are produced from the
Assamica
cultivar of tea plant, contrasting with teas from the
Darjeeling district
. The Assamica cultivar has larger leaves, relative to the smaller-leafed variety used in most Darjeeling and also most Chinese black teas. The same cultivar used in Assam tea is also grown in other regions, especially in lowland regions, including
Thailand
.
Assam has had a problem with militants; in 2001, according to the chief of police in Assam, most funding for the groups had been cut off, but the tea industry was the single remaining source of funding for the militant groups. In the past, cities and towns had faced extortion by these groups.[2]
Geography And Regions of Assam
Assam and the surrounding areas are geographically isolated from the rest of India. The state has an area of about 30,285 sq mi (78,438 sq km), roughly the size of Maine, South Carolina, the Czech republic, or Austria.
While the state looks unusually-shaped on the map, its borders closely follow the geographic booundary between lowland areas surrounding the Bramaputra river and its tributaries, and upland regions, more hilly and mountainous, which are part of other Indian states or Bhutan. There are a few exceptions of hilly, upland regions at the margins of Assam, or odd bits of uplands surrounded by lowlands.
The geographic continuity ends, however, at the lower end of Assam, as the Brahmaputra curves south and enters Bangladesh.
Climate, geography, and ecology
Most of Assam has a humid subtropical climate, tending towards the warmest end of this climate type, making it similar to a fully tropical climate. Although winters are slightly cooler, frost is rare, with milder parts of the region never having recorded a frost. Although humidity is high year-round, there is a distinct monsoon season in the summer and a dry season in the winter, following the pattern of the Asian monsoon.
Regional variation in climate is subtle; upland areas are slightly cooler year-round and more likely to experience the occasional frost, but are still solidly subtropical.
Assam experiences frequent and often severe flooding of the Brahmaputra river and its tributaries.
Assam is one of the areas of the world richest in biodiversity; it contains rainforests, deciduous forests, and extensive wetlands. The tropical lowland forests have been reduced to a tiny portion of their original extent, but there are numerous parks, wildlife refuges, and protected wild areas. Upland forests in the region are relatively more intact.
Districts and Subdivisions
Upper Assam
and
Lower Assam
. Tea is grown in both of these regions, but more teas, especially higher-quality teas, tend to be grown in Upper Assam. Upper Assam contains the districts of Jorhat, Dibrugarh, Dhemaji, Golaghat, Charaideo, Lakhimpur, Majuli, Sivasagar, and Tinsukia, and is sometimes extended to include Sonitpur, Karbi Anglong, and Nagaon as well.
Most of the tea grown in Assam is grown at a low altitude, giving it a distinctly different character from the tea grown in Darjeeling and other high-altitude regions. One notable exception is Kopili estate, located in
Dima Hasao
. There are also higher-altitude regions in Karbi Anglong, and at the margins of various other districts at the border with Arunachal, Bhutan, and other more mountainous regions.
Tea-Producing Regions of Assam, India
Styles of Tea Produced in Assam, India
This is a selection, not an exhaustive listing, of the styles of tea most commonly produced in Assam, India.
Best Assam Teas
The notion of the "best" Assam teas is subjective, because different people have different tastes. We present the most often-rated and highest-rated teas produced in Assam, India, and allow you to draw your own conclusions.