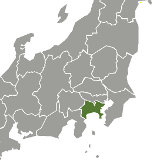 Most Reviewed By:

Kanagawa, Japan
Wikipedia: Kanagawa_Prefecture | Official Government Website: www.pref.kanagawa.jp
Updated: Oct. 11, 2013
About Kanagawa, Japan
Kanagawa
is a prefecture in Japan. It is bordered to the west by
Shizuoka
, and it is considered part of the greater Tokyo metropolitan area. The eastern part of the region is heavily urbanized, but the West of the prefecture is mountainous and mostly undeveloped, and there are a few less developed areas in the south, where there are also hilly and mountainous areas.
Kanagawa is one of the regions closer to the Fukushima nuclear disaster, and some of the tea in this region was found to be contaminated by radiation in 2011.[1]
Styles of Tea Produced in Kanagawa, Japan
This is a selection, not an exhaustive listing, of the styles of tea most commonly produced in Kanagawa, Japan.
Best Kanagawan Teas
The notion of the "best" Kanagawan teas is subjective, because different people have different tastes. We present the most often-rated and highest-rated teas produced in Kanagawa, Japan, and allow you to draw your own conclusions.
Most Often-Rated Teas

5
3 Ratings

2 Ratings

1 Rating
Top-Rated Kanagawan Teas

5
3 Ratings