Kukicha
Wikipedia: Kukicha | Teaviews: kukicha-tea
Last Updated: Mar. 14, 2014
↑About Kukicha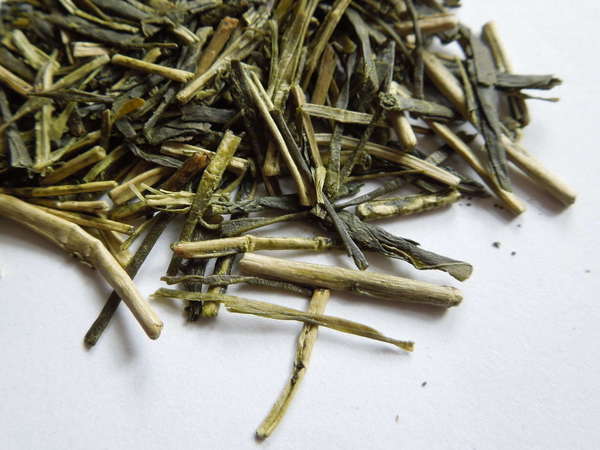 Green (unroasted) Kukicha, showing stems and twigs, and little leaf.
Kukicha
(茎茶) or
twig tea
, less commonly called
bocha
(棒茶), is a Japanese green tea made of the stems, stalks, and twigs of the tea plant. Kukicha has a unique flavor and aroma. Surprisingly, its aroma is twig-like.
Sometimes kukicha is roasted to make
hojicha
. Roasted twig teas are commonly labelled as both hojicha and kukicha; when in doubt, look at the actual leaf or written description to see whether you are purchasing a roasted or unroasted tea, and whether it is made of leaves or twigs.
Kukicha can be made from the plants used to produce
gyokuro
, in which case it is called
karigane
or
shiraore
.
It is a common claim that kukicha has less caffeine than other teas, due to the fact that the stems of the tea plant contain less caffeine than the leaves and buds. This generalization, however, is not universally true; one study (in which only one kukicha was tested) found kukicha to have relatively high caffeine content among green teas.[1] The
caffeine content of tea
is influenced by many factors.
↑Recent Kukicha Reviews — RSS
76 / 100

Thank you to Mighty Leaf for this sample! Overall I haven't been as impressed with the green teas from Mighty Leaf as the black ones, but I like this one a bit more. This was a very atypical example of a kukicha / twig tea, much more full-flavored than I expected.

I was intrigued by how the leaf smells...it smells...
Read Full Review
73 / 100

I just received a package of this Kukicha today, and immediately decided to give it a go.

Lately I've been brewing in a pseudo-gong fu style...using a lidded tasting set as my gaiwan (actually works quite well). But I recently ordered a couple of gaiwans that should be here soon.
Steeped 2 teaspoons in 4 ounces o...
Read Full Review
73 / 100

It tastes a lot like their sencha overture, but a little worse. While I would describe sencha overture as tasting like fresh spinach, this tastes more like canned spinach. It's more fishy, and the taste is a bit strange. The taste is also weaker and "softer". I don't dislike it, though! It's sweet, savory, and enjoyabl...
Read Full Review
83 / 100

The aroma of the dry leaves is so green! There are notes of cut grass, fresh spinach, and an underlying sweet nuttiness, the aroma reminds me of the smell of summer when everything is in full growth.

The first steep is delightfully mellow, not to be boring but the tea tastes pretty much exactly as it smells, no myst...
Read Full Review
87 / 100

The aroma is delicious! Vegetal with notes of artichoke and a hint of chestnut with an underlying hint of kelp. There is also a sweetness that just mixes perfectly with the other aromas. Once brewed it takes on a woodsy aroma with oddly, a hint of lime. It certainly smells like stems and I like that.

The taste very...
Read Full Review
↑Top Reviewers
Review 2 teas to get on this list!
Advertisement
↑Most-Rated Kukicha

65
3 Ratings

1 Rating

1 Rating
↑Top-Rated Kukicha

65
3 Ratings