Kukicha
Wikipedia: Kukicha | Teaviews: kukicha-tea
Updated: Mar. 14, 2014
About Kukicha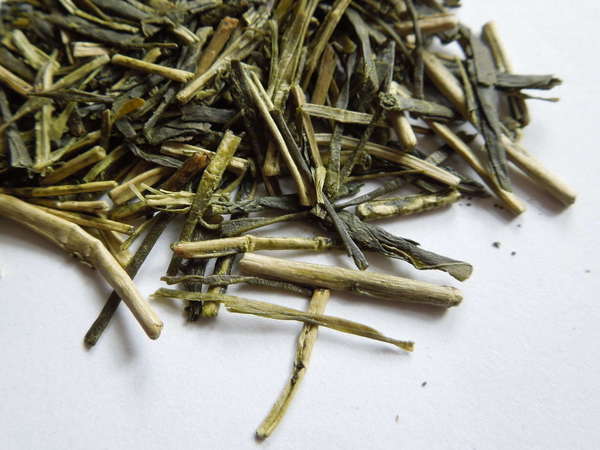 Green (unroasted) Kukicha, showing stems and twigs, and little leaf.
Kukicha
(茎茶) or
twig tea
, less commonly called
bocha
(棒茶), is a Japanese green tea made of the stems, stalks, and twigs of the tea plant. Kukicha has a unique flavor and aroma. Surprisingly, its aroma is twig-like.
Sometimes kukicha is roasted to make
hojicha
. Roasted twig teas are commonly labelled as both hojicha and kukicha; when in doubt, look at the actual leaf or written description to see whether you are purchasing a roasted or unroasted tea, and whether it is made of leaves or twigs.
Kukicha can be made from the plants used to produce
gyokuro
, in which case it is called
karigane
or
shiraore
.
It is a common claim that kukicha has less caffeine than other teas, due to the fact that the stems of the tea plant contain less caffeine than the leaves and buds. This generalization, however, is not universally true; one study (in which only one kukicha was tested) found kukicha to have relatively high caffeine content among green teas.[1] The
caffeine content of tea
is influenced by many factors.
Best Kukicha
The notion of the "best" Kukicha is subjective, because different people have different tastes. We present the most often-rated and highest-rated teas in this category, and allow you to draw your own conclusions.
Most Often-Rated Teas
Top-Rated Teas

87
3 Ratings