Malaysia
Wikipedia: Malaysia
Updated: Dec. 31, 2014
About Malaysia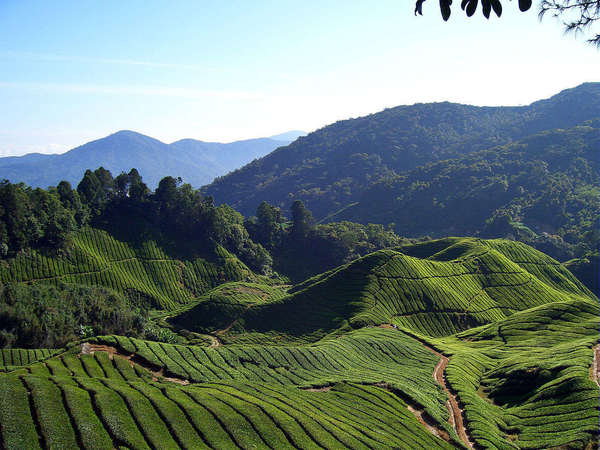 Fields of Tea in the Cameron Highlands, Malaysia, © Will Ellis from Reading, England,
CC BY 2.0
.
Malaysia
is a country in southeast Asia, located north of
Indonesia
on the archipelago between mainland Asia and Australia. Malaysia has a diverse climate, ranging from low-lying areas with a tropical climate to mountains reaching an elevation of 13,436 ft. (4,095.2 m). Malaysia is a major reservoir of biodiversity, harboring large areas of tropical rainforest, as well as a large array of other ecosystems relative to its small size.
Malaysia produces small quantities of tea. Its total production in 2008 was about 0.1% of the global production, which is small, but placed it as the 24th largest producer of tea in that year.[1] Malaysia is also the origin of Java tea and is an important producer of this herbal tea.
The Malaysian
Department of Agriculture Sarawak
sponsors
Scheme Organic Malaysia
, a program for organic certification.
Styles of Tea Produced in Malaysia
This is a selection, not an exhaustive listing, of the styles of tea most commonly produced in Malaysia.
Best Malaysian Teas
The notion of the "best" Malaysian teas is subjective, because different people have different tastes. We present the most often-rated and highest-rated teas produced in Malaysia, and allow you to draw your own conclusions.
Most Often-Rated Teas

1 Rating
Top-Rated Malaysian Teas
We need at least 3 ratings for a tea to calculate a percentile ranking. You can help us out by rating more teas of this style.