Wellness Tea / Medicinal Tea
Teaviews: medicinal-tea
Last Updated: Mar. 14, 2014
↑About Wellness Tea / Medicinal Tea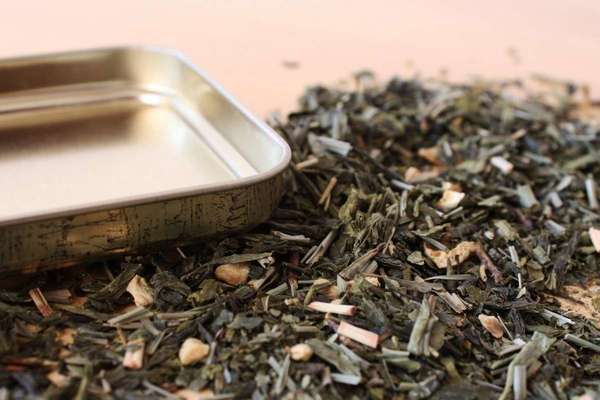 Peppermint is one of many herbs used as a medicinal herb. Photo from pxhere, Public Domain.
Wellness tea
, also called
medicinal tea
, is tea that is prepared primarily for health purposes. A defining aspect of wellness tea is that the flavor and aroma of the tea, while important, is a secondary characteristic. Wellness teas are central to herbalism, although there are also other ways of administering herbs.
While most people associate
herbal teas
with medicinal teas, some medicinal teas contain the
tea plant Camellia Sinensis
and are thus not strictly herbal teas. Interestingly, the use of the tea plant originated in ancient China as medicine. Also, many herbal teas are blended primarily for taste rather than health or medicinal properties.
The boundary between wellness teas and other teas is blurry, as many teas are produced, marketed, and consumed both for their taste as well as health benefits. To avoid subjective judgments, RateTea lists as "wellness teas" those that are identified or marketed as such. The exception to this rule is that we classify some types of tea (such as
green tea
,
chamomile tea
,
hibiscus tea
, etc.) that are widely consumed as beverages under these categories rather than as a wellness tea. We also do our best to classify teas as wellness teas when they contain ingredients not generally recognized as safe for beverage consumption, or herbs with strong medicinal effects, such as licorice or valerian.
Scams and false health claims:
Tea and herbal teas that are marketed as beverages are not as strictly regulated by the FDA as some drugs are. Furthermore, teas that are marketed as
nutritional supplements
can also have lax regulation. Many companies marketing wellness teas make claims about the health benefits or medicinal properties of their teas that are not backed by solid science. In some cases, no scientific work is cited, whereas in other cases, studies are selected that support a particular perspective, without attempting to assess the validity of the studies or place them in a broader context that looks at the total of all scientific study of a particular herb or treatment. It is best to not believe anything that comes from a company promoting an herb, and instead to seek independent sources of information that use comprehensive scientific reviews to cite their facts.
Particular caution should be used when buying
weight loss teas
, as weight loss is one area where companies frequently make unfounded claims and sell inferior products at inflated prices. Some "wellness teas" marketed for weight loss purposes can even be dangerous.
Warning!
RateTea does not endorse any claims companies make about the efficacy of their wellness teas. Many companies marketing wellness teas in the U.S. provide disclaimers that their claims have not been evaluated by the Food and Drug Administration.

Wellness teas can contain potent herbal medicines. Like any medicines, these teas can have side-effects, including potentially dangerous ones. Carefully research and consult a healthcare professional before consuming any teas marketed as wellness teas.

We do not exhaustively check the ingredients in herbal teas and blends. Companies can and do market teas as beverages that contain ingredients not safe for general consumption.
↑Recent Medicinal Tea Reviews — RSS
72 / 100

Prep: 200F, 1 sachet, 12oz, 5min

Aroma: There is a lot going on here. I'll just say the coconut is most prevalent but many other notes are in the background. 7/10

Flavor: There is a good bit of coconut and apple here. I'm not well versed in some of the other items included but I'm generally impressed. 7/1...
Read Full Review
70 / 100

Half-litre pot at home (as Erkältungszeit), made from a sample included in the tea company's Advent Tea Calendar (2020) and consisting of leaves of Moldavian balm, ribgrass, thyme, and sage, as well as the blossom of elderflower and mallow - all of them organic. Pours clear olive greenish amber (against white china) w...
Read Full Review
75 / 100

I'm not a fan of licorice in general, but this wasn't actually bad. If I had to drink a licorice-based tea, this wouldn't a bad choice -- especially considering how inexpensive it is.
Read Full Review
79 / 100

Strangely, I found this much more aromatic, flavorful and overall pleasant to drink than the seemingly similar "just" Sleepytime. That's probably because it has more stuff that is flavorful and aromatic on the ingredients list.

The common components between the two blends are chamomile, spearmint and lemongrass, ...
Read Full Review
66 / 100

Half-litre pot at home, made from a mixture of lemongrass, dried mint and raspberry leaves, cardamom, rose and mallow blossom, and tiny pieces of liquorice root - a purely herbal Ayurvedic wellness concoction with not a touch of tea leaves in it. Pours nearly clear olive green (against white china) with no sediment. Cl...
Read Full Review
↑Top Reviewers
Review 10 teas to get on this list!
Advertisement
↑Most-Rated Medicinal Tea

77
7 Ratings

84
7 Ratings

56
4 Ratings

60
4 Ratings
↑Top-Rated Medicinal Tea

84
7 Ratings

77
7 Ratings
63
3 Ratings

62
3 Ratings

61
3 Ratings
↑Varieties, Kinds, or Types of Wellness Tea / Medicinal Tea