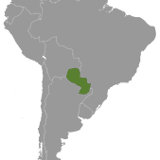 Most Reviewed By:

Paraguay
Wikipedia: Paraguay | Official Government Website: www.senatur.gov.py
Updated: Mar. 17, 2014
About Paraguay
Paraguay
is a landlocked country in South America with a subtropical to temperate climate. Paraguay is one of many countries where
Yerba Maté
is grown; the scientific name for the plant,
Ilex paraguariensis
, reflects the fact that it was first classified in Paraguay.
Styles of Tea Produced in Paraguay
This is a selection, not an exhaustive listing, of the styles of tea most commonly produced in Paraguay.
Best Paraguayan Teas
The notion of the "best" Paraguayan teas is subjective, because different people have different tastes. We present the most often-rated and highest-rated teas produced in Paraguay, and allow you to draw your own conclusions.
Most Often-Rated Teas

77
3 Ratings

1 Rating
Top-Rated Paraguayan Teas

77
3 Ratings