Energy Tea
Updated: Mar. 14, 2014
About Energy Tea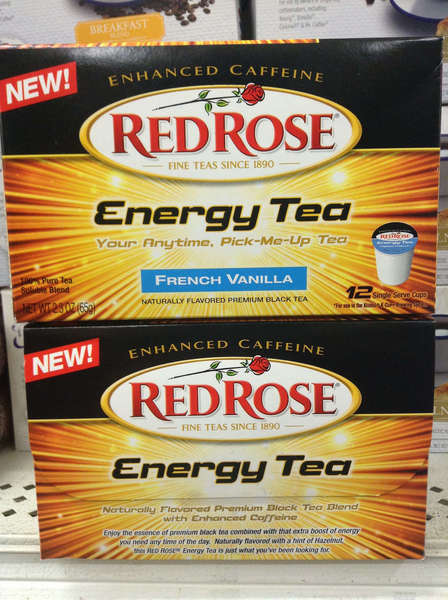 Marketing on Red Rose Energy Tea, a typical product in this category. Photo ©
Mike Mozart (Flickr)
,
CC BY 2.0
.
We classify as an
energy tea
any blend which is brewed like tea, and which includes pure or isolated caffeine, beyond the caffeine naturally occurring in the whole ingredients of the blend.
These blends typically contain
tea
, and may consist only of pure tea with added caffeine, but often are flavored teas that contain other ingredients, both for flavor and energy-enhancing properties. Energy-enhancing ingredients may include
ginseng
or other herbal stimulants, and they may also contain green tea extract or other extracts.
RateTea recommends using caution when drinking any tea which contains added caffeine. We also recommend avoiding blends with herbal extracts or supplements.
Best Energy Tea
The notion of the "best" Energy Tea is subjective, because different people have different tastes. We present the most often-rated and highest-rated teas in this category, and allow you to draw your own conclusions.
Most Often-Rated Teas

1 Rating

1 Rating
Top-Rated Teas
We need at least 3 ratings for a tea to calculate a percentile ranking. You can help us out by rating more teas of this style.
Examples of Energy Tea
The following are examples of the 11 selections of Energy Tea in our database.