Energy Tea
Last Updated: Mar. 14, 2014
↑About Energy Tea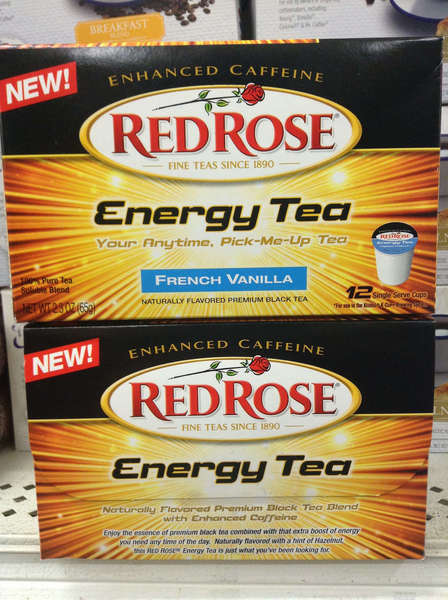 Marketing on Red Rose Energy Tea, a typical product in this category. Photo ©
Mike Mozart (Flickr)
,
CC BY 2.0
.
We classify as an
energy tea
any blend which is brewed like tea, and which includes pure or isolated caffeine, beyond the caffeine naturally occurring in the whole ingredients of the blend.
These blends typically contain
tea
, and may consist only of pure tea with added caffeine, but often are flavored teas that contain other ingredients, both for flavor and energy-enhancing properties. Energy-enhancing ingredients may include
ginseng
or other herbal stimulants, and they may also contain green tea extract or other extracts.
RateTea recommends using caution when drinking any tea which contains added caffeine. We also recommend avoiding blends with herbal extracts or supplements.
↑Recent Energy Tea Reviews — RSS
67 / 100

As black-tea blends go, this is a bit above-average in my experience, and worth purchasing at a discount if you seek a coffee alternative with a caffeine kick. Mine was supplied at a hotel, and I took a couple extra bags home to try in my own well water for fair-comparison's sake.

Bigelow delivers extra caffeine ...
Read Full Review
93 / 100

Fast Lane Black Tea is the best I've found for waking up in the morning. It has excellent flavor and aroma with the right mix of ingredients to be better than energy drinks.
Read Full Review
↑Top Reviewers
Review 2 teas to get on this list!
Advertisement
↑Most-Rated Energy Tea

1 Rating

1 Rating
↑Top-Rated Energy Tea
We need at least 3 ratings for a tea to calculate a percentile ranking. You can help us out by rating more teas of this style.