Pure Tea (Camellia sinensis)
Wikipedia: Tea
Last Updated: Aug. 8, 2017
↑About Pure Tea (Camellia sinensis)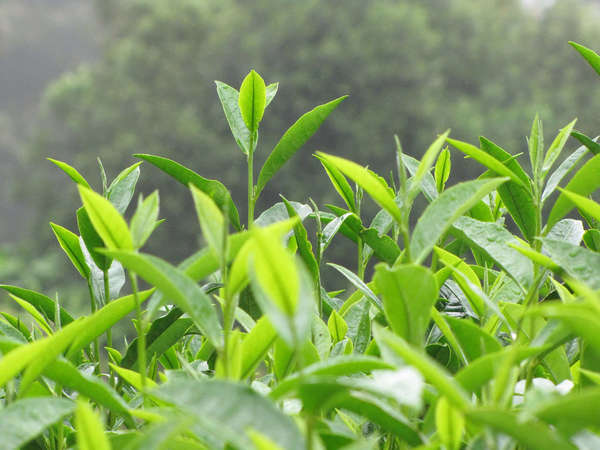 Tea Leaves and Shoots, Hawaii, © Forest and Kim Starr,
CC BY 2.0
.
What is tea?
Tea
(Chinese 茶) is a beverage made from the tea plant,
Camellia sinensis
. The words for tea in many languages come from the root
cha
or
chai
. RateTea classifies teas in this category that are made exclusively from the tea plant; such teas are often called
pure teas
,
unflavored teas
, or, less commonly,
straight teas
, in contrast to
flavored teas
, which contain tea together with other ingredients.
Tea is usually classified based on how it is processed, which loosely corresponds to its level of
oxidation
--a process that darkens the tea and changes the color. Fully oxidized tea is called
black tea
, and unoxidized tea is called
green tea
(
white tea
is also mostly unoxidized).
Oolong tea
is a partially-oxidized tea that is often also roasted. Another class of tea,
Pu-erh
, is usually considered as a category of its own. Oxidation is sometimes called "fermentation", and black tea is described as "fermented", but this is misleading as there is no proper fermentation process happening as with vinegar or alcoholic drinks.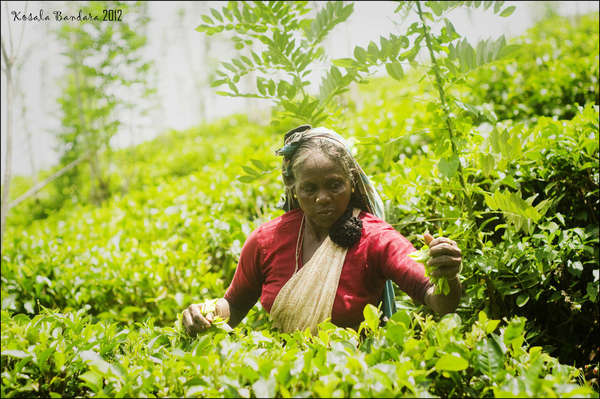 Most tea is made out of young leaves and buds, like this woman in Ratnapura, Sri Lanka is picking. Photo © Kosala Bandara,
CC BY 2.0
.
Most tea is made primarily out of leaves and leaf buds, although some teas are made out of only mature leaves and others are made only out of buds. A few teas, such as
Kukicha
, are made from twigs and stems, and some teas include a few bits of stem as well. Tea is also a flowering plant, and rarely,
tea flowers
are used to make a tea.
When the word "tea" is used by itself it usually refers to the tea plant. However, the word "tea" is also used together with other terms to describe other drinks made from steeping other plants in water. Teas that do not come from the
Camellia sinsensis
plant are usually referred to as "
herbal teas
", "herb teas", or "tisanes".
Traditionally, in most parts of the world, nearly all tea
consumed and produced
was black tea. Outside of Southeast Asia, the term
tea
is often assumed to mean black tea. However, the tea industry is changing rapidly, and green, white, and oolong teas are becoming more popular both among tea drinkers in black-tea-loving countries, and tea growers in areas that historically only produced black tea are also beginning to produce more of these other styles of tea.
↑Recent Pure Tea Reviews — RSS
75 / 100
I'm not much of a fan of smoky teas. It's really a matter of personal history. It takes me back to a house filled with fire smoke or cigarette smoke, and my frantically opening windows, choking just to breathe. Now, somehow, this tea managed to clear that all away and elicit only my positive memories of smoke -- clean,...
Read Full Review
86 / 100

I was eager to try this tea based on its description. I love big-leafed black teas from Taiwan and also love Taiwanese oolongs, as well as Yunnan red teas, and this tea seemed to have something in common with all of these. It wasn't really like I expected though; it was quite good, but in a different way. It was my lea...
Read Full Review
95 / 100

A delightful and robust tea that I could happily drink day after day, and that has been one of my favorite teas to start the day with lately.

I found this tea interesting to compare to the "Classic 58" which I also ordered in the same batch. It looks very different in terms of leaf appearance, but is surprisingly si...
Read Full Review
100 / 100

This is definitely my favorite tea I've ever ordered from Yunnan Sourcing, and one of the most exceptional teas I've ever tried. And this is coming from someone who usually is not a huge fan of the super-golden bud-heavy teas like this.

Opening the bag, there's an ethereal fragrance of flowers and sweet, bready malt...
Read Full Review
86 / 100

RateTea's description of green/black blending says that it's hard to pull off successfully, due to temperature differences needed for optimal steeping of each. Partly for that reason, I haven't tried many (if any) green/black mixtures. And yet...

* Murchie's has yielded mostly very good to excellent teas in my exp...
Read Full Review
↑Top Reviewers
Review 87 teas to get on this list!
Advertisement
↑Most-Rated Pure Tea

3
30 Ratings

25
24 Ratings

38
23 Ratings

26
18 Ratings

55
15 Ratings
↑Top-Rated Pure Tea
↑Varieties, Kinds, or Types of Pure Tea (Camellia sinensis)