Pure Tea (Camellia sinensis)
Wikipedia: Tea
Last Updated: Aug. 8, 2017
↑About Pure Tea (Camellia sinensis)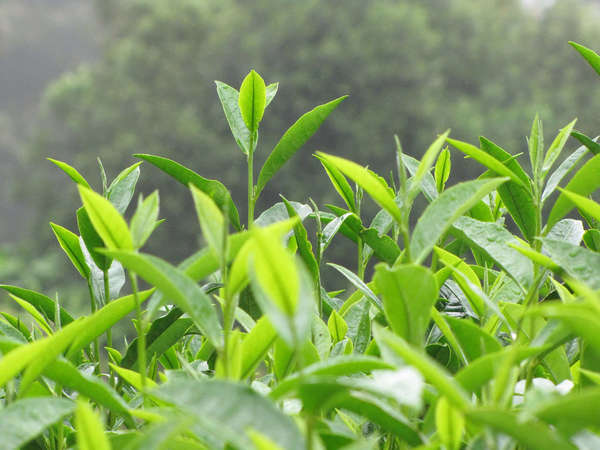 Tea Leaves and Shoots, Hawaii, © Forest and Kim Starr,
CC BY 2.0
.
What is tea?
Tea
(Chinese 茶) is a beverage made from the tea plant,
Camellia sinensis
. The words for tea in many languages come from the root
cha
or
chai
. RateTea classifies teas in this category that are made exclusively from the tea plant; such teas are often called
pure teas
,
unflavored teas
, or, less commonly,
straight teas
, in contrast to
flavored teas
, which contain tea together with other ingredients.
Tea is usually classified based on how it is processed, which loosely corresponds to its level of
oxidation
--a process that darkens the tea and changes the color. Fully oxidized tea is called
black tea
, and unoxidized tea is called
green tea
(
white tea
is also mostly unoxidized).
Oolong tea
is a partially-oxidized tea that is often also roasted. Another class of tea,
Pu-erh
, is usually considered as a category of its own. Oxidation is sometimes called "fermentation", and black tea is described as "fermented", but this is misleading as there is no proper fermentation process happening as with vinegar or alcoholic drinks.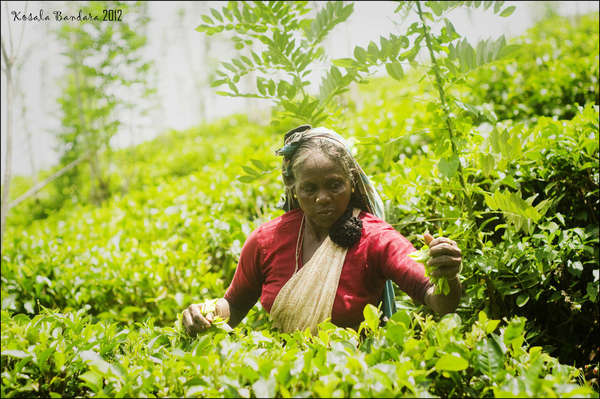 Most tea is made out of young leaves and buds, like this woman in Ratnapura, Sri Lanka is picking. Photo © Kosala Bandara,
CC BY 2.0
.
Most tea is made primarily out of leaves and leaf buds, although some teas are made out of only mature leaves and others are made only out of buds. A few teas, such as
Kukicha
, are made from twigs and stems, and some teas include a few bits of stem as well. Tea is also a flowering plant, and rarely,
tea flowers
are used to make a tea.
When the word "tea" is used by itself it usually refers to the tea plant. However, the word "tea" is also used together with other terms to describe other drinks made from steeping other plants in water. Teas that do not come from the
Camellia sinsensis
plant are usually referred to as "
herbal teas
", "herb teas", or "tisanes".
Traditionally, in most parts of the world, nearly all tea
consumed and produced
was black tea. Outside of Southeast Asia, the term
tea
is often assumed to mean black tea. However, the tea industry is changing rapidly, and green, white, and oolong teas are becoming more popular both among tea drinkers in black-tea-loving countries, and tea growers in areas that historically only produced black tea are also beginning to produce more of these other styles of tea.
↑Recent Pure Tea Reviews — RSS
76 / 100
"Devonshire" has one of the most full-bodied dry-bag aromas I've gotten from a breakfast tea, and unusually, it nearly matches the flavor for intensity. I detected virtually no difference between dry-bag scent, in-cup scent, and taste, the latter likewise being straightforwardly well-constructed within a nice, dark br...
Read Full Review
75 / 100

Smells earthy, like a pu-erh, or one of the less sweet Yunnan blacks.

Numi's website says that this tea contains Keemun and that's the first impression I get from the flavor; it's full of dark molasses and and prunes or raisins with a bit of cocoa. The finish is dryer, and the earthiness I noticed in the aroma linge...
Read Full Review
70 / 100

When I was in England... the English gifted me with this tea. They said to me, "Here. Our tea of England. Drink it, and become English." And that I did... The truth is, this tea carries some spiritual essence of England within it's leaves. I don't know if England intentionally grows spiritual tree's in their lands, but...
Read Full Review
25 / 100

I'm no big fan of this tea. This tea is not for me..... Anywho! I don't know what I was expecting. The taste of a prince, the taste of a wale... It did not taste like either. Trust me, I know.
Read Full Review
55 / 100

Fairly sharp, light green tea. Not bad, but not much depth to it.
Read Full Review
↑Top Reviewers
Review 87 teas to get on this list!
Advertisement
↑Most-Rated Pure Tea

30
28 Ratings

53
24 Ratings

71
23 Ratings

61
18 Ratings

80
15 Ratings
↑Top-Rated Pure Tea

99
4 Ratings
↑Varieties, Kinds, or Types of Pure Tea (Camellia sinensis)