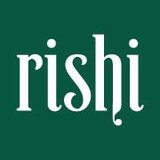 (866) 747-4483
Most Reviewed By:

Rishi Tea





Web: www.rishi-tea.com
Last Updated: Jan. 5, 2018
Rishi Tea is a provider of loose teas, headquartered in Milwaukee, WI, and is one of the leaders in sustainability among tea companies. Rishi tea was founded in 1997 by Joshua Kaiser. Rishi carries a large number of fair trade and organic teas, and a fair number of rare/artisan teas. In addition to their committment to organic and fair trade teas, Rishi tea is committed to sustainability and green practices, and lives this out both in their business practices and also by donating to and promoting environmental organizations.

Rishi sells virtually every major style of tea available, including black, green, white, pu-erh, and oolong teas, as well as flavored teas, rooibos, herbal teas, yerba mate, and other blends. Rishi teas are available by mail-order as well as in various retail stores; they tend to be stocked in health-food stores and tea specialty stores. Some cafes and coffee shops also serve Rishi Tea.
Most Often-Rated Teas
Top-Rated Teas
You can also add a new tea. Please search or browse this company's teas first, to avoid adding duplicates.