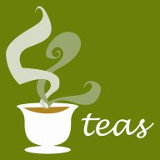 52 Teas




Web: www.52teas.com
Last Updated: Mar. 30, 2018
↑About 52 Teas
52 Teas is a tea company and service, founded by Frank Horbelt in 2008 as part of Zoomdweebies LLC, that runs a tea-of-the-week club. In 2014 was taken over by Anne, who used to run the company LiberTEAS, and her daughter Amethyst, and Zoomdweebies has since closed.

In addition to their tea subscription, 52 Teas sells some teas individually. 52 Teas focuses on flavored teas and blends, using a wide range of ingredients and different types of teas and herbs. 52 Teas also briefly ran the ManTeas brand, a joke brand making fun of gender dynamics in tea marketing.
Browse by region of production: Blend (4) • China (2) • India (1) • ????? (1)
Browse by region of production: Blend (4) • China (2) • India (1) • ????? (1)
Browse by style (type or variety);
Flavored Tea (8)
Browse by style (type or variety);
Flavored Tea (8)
70 / 100

So from the aroma, all I am getting is mint and marshmallow, it is very sweet and the mint clears my sinuses, wintry indeed! I can certainly see snow being represented by the cleanness of mint and the gentle sweetness of marshmallow, but I wonder where the aroma of the Gyokuro is?

This tea is hard to describe, and i...
Read Full Review
67 / 100

The aroma is really sweet, it smells just like one of those vending machine danishes (I don't think I have ever had any other kind of danish actually) there is intense blueberry notes with a hint of cream cheese and a touch of yeastiness like pastry. Add a touch of malty tea and it reminds me of drinking tea and having...
Read Full Review
77 / 100
The aroma is more or less exactly what I expected from a tea named Gingerbread Smoke, it is quite richly smoky with warm spices and an especially strong kick of ginger. Everything about the aroma of this tea is warm, from the lingering memories of a fire to the spices, good for sniffing on a chilly evening.

The tast...
Read Full Review
50 / 100

The aroma smells nothing like apples or caramel, it smells like melons. I really do not like melons. Once brewed the melon smell dies down and there are notes of apples and caramel.

I am going to start this by saying I like the Oolong base, it is rich and sweet with caramel notes (ok that actually could be from the ...
Read Full Review
53 / 100

I received this tea as a gift in a swap. The name of the tea, had me sooo excited and I was so grateful to the sender. The aroma of the tea had me wondering, more of a sweet note, that of artificial sweetness. Once I tasted it, it was good and it had a good buttery flavor but that flavor ended with an artificial but...
Read Full Review
↑Top Reviewers
Review 2 teas to get on this list!
Advertisement
↑Most-Rated Teas

2 Ratings

1 Rating

1 Rating

1 Rating
1 Rating
↑Top-Rated Teas
We need at least 3 ratings for a tea to calculate a percentile ranking. You can help us out by rating more teas from this brand.
You can also add a new tea. Please search or browse this company's teas first, to avoid adding duplicates.