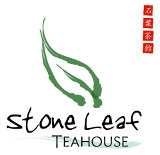 (802) 458-0460
Most Reviewed By:
No one has reviewed any teas from this company yet!
Search Stone Leaf Tea's teas:
Stone Leaf Tea

Web: www.stoneleaftea.com
Last Updated: Dec. 14, 2016
Stone Leaf Tea or Stone Leaf Teahouse is a tea company and tea house based in Middlebury, VT, founded in 2009 and owned by John Wetzel and Matthew Frayer. The company has a tea room located on Maple street in Middlebury, and also sells tea online.

Stone Leaf Tea was initially founded specializing in Taiwanese oolong tea from small farms, but has since expanded into selling single-estate and single-origin teas from China, Japan, India, and Nepal as well. The company focuses on direct sourcing from small farmers who use traditional processing methods. Many of the company's teas are organic certified.

Stone leaf tea also maintains a tea blog with updates and company news.
Teas From Stone Leaf Tea
The following is a complete listing of the 3 teas from Stone Leaf Tea in our database.
If you want to review a tea not listed, you can add a new tea.
You can also add a new tea. Please search or browse this company's teas first, to avoid adding duplicates.