Pouchong Tea
Wikipedia: Pouchong
Last Updated: Mar. 12, 2014
↑About Pouchong Tea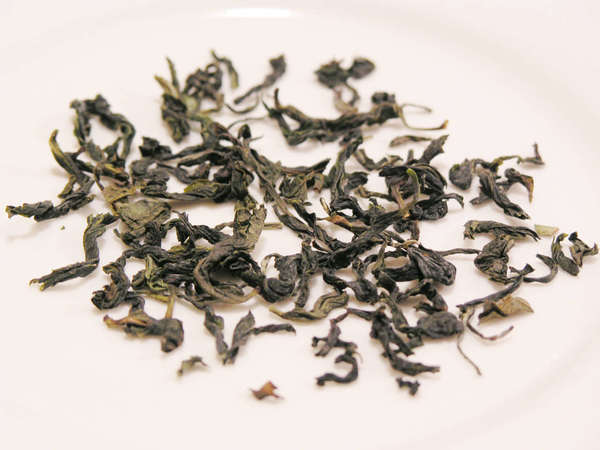 Photo © Richard Corner,
CC BY-SA 3.0
.
Pouchong
, also written as
baozhong
or
bao zhong
, Chinese 包種, is a form of
oolong tea
that is barely
oxidized
, making it very similar to
green tea
. The name literally means "the wrapped kind", which may refer to the manner in which it was produced historically, involving wrapping the leaves in paper, but may also be a historical mispronounciation. Pouchong is usually considered a form of oolong because it is slightly oxidized, but it is sometimes considered as a style of tea distinct from oolong, or rarely, a type of green tea.
Pouchong tea was historically produced in
Fujian, China
; although it is still produced in mainland China, it is now widely produced in
Taiwan
, and most tea sold as pouchong originates in Taiwan. It is also frequently used in scented teas, such as with
jasmine
or rose. Some teas sold as scented green teas are closer to pouchong teas in overall character because the scenting process oxidizes the leaf slightly.
Pouchong leaves tend to have an intense green appearance. The brewed tea looks much like green tea, and has a light, vegetal and floral aroma, and tends to have less of an edge of bitterness and
astringency
than green tea. In many respects Pouchong is intermediate between green tea and
jade oolong
.
↑Recent Pouchong Tea Reviews — RSS
76 / 100

My friend gave me some of this tea to try.

I'm not good at tasting the difference between different greenish oolongs. Jade oolong, four seasons, Tie Guanyin, they often taste almost the same to me. It was the same with this one at the first steeping.

The second cup tasted different, though, like jade oolong but g...
Read Full Review
47 / 100

This tea was a disappointment and I don't recommend it. I sampled and reviewed this tea some time ago but forgot to post the review.

Dry leaf consists of long, intact wiry leaves with a slightly dusty look, and smells very different from any other pouchong I've tried, an intense smell of jam or fruit preserves, lik...
Read Full Review
87 / 100

Very soothing tea. This reminds me a lot of a tea I've tried before, but I honestly can't figure out which one. It tastes, perhaps, similar to a good milky oolong, even though that's a different kind?

Silky and slightly floral, no bitterness--a great tea for sipping while relaxing. I'll update the value rating afte...
Read Full Review
50 / 100

The aroma is intensely floral, hello notes of hyacinth, orchids, and a mellow finish of chestnuts. It is like flower nectar and mild, sweet, nuts, the aroma overall is fairly mild while also being heady.

First steep starts out pretty mild, and finishes pretty mild, it is a super mellow tea without much of a presence...
Read Full Review
100 / 100

If my heaven could exist in a teacup, I think I may have found it here.

I thought this tea was phenomenal. The silky smooth mouthfeel and the orchid, honeysuckle. and vegetal tones were to. die. for. I don't think I could get enough!

This tea lasts for multiple infusions; the first is by far the best, but I th...
Read Full Review
↑Top Reviewers
Review 2 teas to get on this list!
Advertisement
↑Most-Rated Pouchong Tea

57
3 Ratings

2 Ratings

2 Ratings
↑Top-Rated Pouchong Tea

57
3 Ratings