Yunnan Gold
Last Updated: Mar. 14, 2014
↑About Yunnan Gold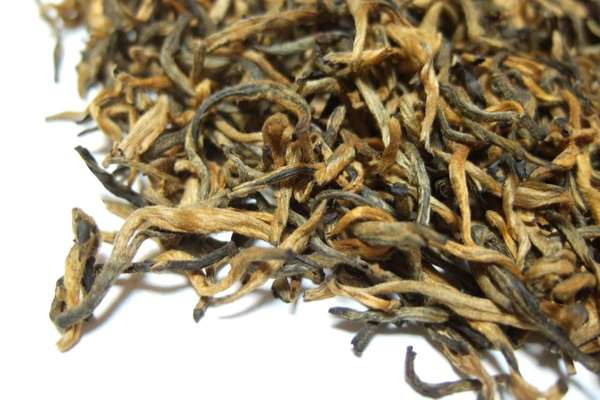 Yunnan Gold tea, SFTGFOP grade. This batch consists mostly of golden tips. Photo © Whiteness (Wikimedia Commons),
CC BY-SA 4.0
.
Yunnan gold
, known as
dian hong gong fu
(滇紅工夫) is a type of
black tea
(more specifically a type of
Yunnan red
or dian hong) from
Yunnan, China
. The Chinese name "gong fu" means "great skill", reflecting the skill that goes into the production of this tea.
Yunnan gold is a tippy tea, meaning that it is high in leaf buds, and is named for the fact that its leaves are golden in color. The large portion of buds give it a higher
caffeine content
. The degree of golden color varies as a function of the amount of tips, as well as the production process: teas with a more golden appearance tend to have a greater portion of tips, and thus a higher caffeine content.
Most Yunnan gold looks more or less like a black tea with numerous gold tips interspersed, but ones made exclusively of tips can be mostly golden. These teas are called
Yunnan pure gold
or
dianhong jinya
(滇紅金芽), or less commonly,
jinya dianhong
(金芽滇紅). The most tippy Yunnan gold teas are similar in appearance to
golden monkey
, another tippy black tea that has a golden color; golden monkey is produced in Yunnan province but also in
Fujian
.
↑Recent Yunnan Gold Reviews — RSS
88 / 100

The aroma is nice and bready although it's not very strong. The taste is good and classic for a regular high quality black tea. For me it's just a bit astringent but if that doesn't bother you then this tea would be perfect!
Read Full Review
85 / 100

This tea is pretty good but not my favorite. It doesn't have a strong aroma but it smells nice like normal tea. The taste is pretty good but a tiny bit harsh for me as it has a slight amount of bitterness which I don't like as much. Still, It is a very smooth and easy to drink tea because it is so high quality so even ...
Read Full Review
96 / 100

Amazing tea! It doesn't have a super strong aroma but it is really nice and soothing. The taste is warming and toasty and also a bit sweet; It's not harsh at all. It is also very thick bodied and rich! This tea is a great price too for how good quality and tasty it is.
Read Full Review
95 / 100

A delightful and robust tea that I could happily drink day after day, and that has been one of my favorite teas to start the day with lately.

I found this tea interesting to compare to the "Classic 58" which I also ordered in the same batch. It looks very different in terms of leaf appearance, but is surprisingly si...
Read Full Review
100 / 100

This is definitely my favorite tea I've ever ordered from Yunnan Sourcing, and one of the most exceptional teas I've ever tried. And this is coming from someone who usually is not a huge fan of the super-golden bud-heavy teas like this.

Opening the bag, there's an ethereal fragrance of flowers and sweet, bready malt...
Read Full Review
↑Top Reviewers
Review 4 teas to get on this list!
Advertisement
↑Most-Rated Yunnan Gold

52
6 Ratings

64
4 Ratings

66
3 Ratings

87
3 Ratings
↑Top-Rated Yunnan Gold

87
3 Ratings

66
3 Ratings

64
4 Ratings

52
6 Ratings