Yunnan Gold
Last Updated: Mar. 14, 2014
↑About Yunnan Gold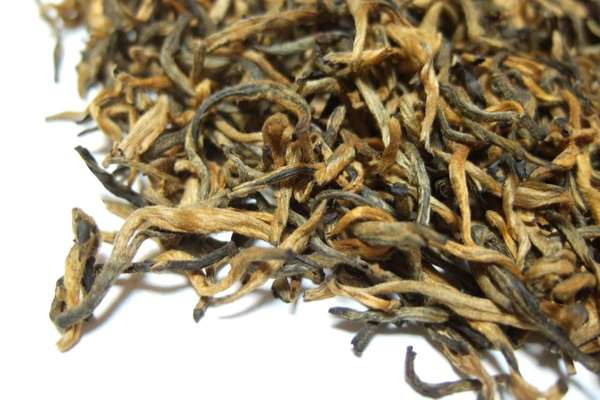 Yunnan Gold tea, SFTGFOP grade. This batch consists mostly of golden tips. Photo © Whiteness (Wikimedia Commons),
CC BY-SA 4.0
.
Yunnan gold
, known as
dian hong gong fu
(滇紅工夫) is a type of
black tea
(more specifically a type of
Yunnan red
or dian hong) from
Yunnan, China
. The Chinese name "gong fu" means "great skill", reflecting the skill that goes into the production of this tea.
Yunnan gold is a tippy tea, meaning that it is high in leaf buds, and is named for the fact that its leaves are golden in color. The large portion of buds give it a higher
caffeine content
. The degree of golden color varies as a function of the amount of tips, as well as the production process: teas with a more golden appearance tend to have a greater portion of tips, and thus a higher caffeine content.
Most Yunnan gold looks more or less like a black tea with numerous gold tips interspersed, but ones made exclusively of tips can be mostly golden. These teas are called
Yunnan pure gold
or
dianhong jinya
(滇紅金芽), or less commonly,
jinya dianhong
(金芽滇紅). The most tippy Yunnan gold teas are similar in appearance to
golden monkey
, another tippy black tea that has a golden color; golden monkey is produced in Yunnan province but also in
Fujian
.
↑Recent Yunnan Gold Reviews — RSS
82 / 100

This was a smooth, naturally sweet tea (even with no sweetener added) that had a pleasing and somewhat complex aroma.

We ordered four teas (two true teas and two Rooibos) at Socra Tea during our recent visit to Detroit, and this was the tea that jumped out and left the biggest impression on me.

Very smooth flavor...
Read Full Review
92 / 100

This is one of those really dangerous teas...very caffeinated but incredibly mild and smooth tasting, so it is very easy to brew it too strongly and get uncomfortably wired.

Dry leaf has a potent and very pleasing aroma: strongly malty with cocoa notes, and a faint hint of smoke and vegetal notes. Contrasting with t...
Read Full Review
100 / 100

Wow! Exceptional!!!

I've tried a lot of teas from Yunnan Sourcing over the years but have never ordered nor have I reviewed any of them; they were always just served to me by others, often aged Pu-erhs. I finally ordered some of my own and I am super impressed with every one. This is my favorite one of the batch.

...
Read Full Review
83 / 100

This is a very enjoyable tea. The twisted, tippy leaves have an aroma of raisins, wood, cocoa, and malt. When I added water I was initially disappointed to see that the leaves were broken, as I've paid less for full leaf Yunnan. Fortunately, the taste doesn't seem to suffer from this fact, with no bitterness and only a...
Read Full Review
75 / 100

Very pleasant 'mild' Yunnan. Attractive amber liquor, mild aroma, good taste.
Read Full Review
↑Top Reviewers
Review 4 teas to get on this list!
Advertisement
↑Most-Rated Yunnan Gold

52
6 Ratings

64
4 Ratings

87
3 Ratings

66
3 Ratings
↑Top-Rated Yunnan Gold

87
3 Ratings

66
3 Ratings

64
4 Ratings

52
6 Ratings