Yunnan Gold
Last Updated: Mar. 14, 2014
↑About Yunnan Gold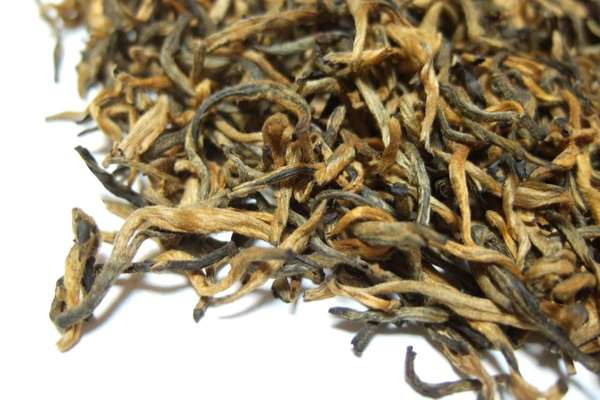 Yunnan Gold tea, SFTGFOP grade. This batch consists mostly of golden tips. Photo © Whiteness (Wikimedia Commons),
CC BY-SA 4.0
.
Yunnan gold
, known as
dian hong gong fu
(滇紅工夫) is a type of
black tea
(more specifically a type of
Yunnan red
or dian hong) from
Yunnan, China
. The Chinese name "gong fu" means "great skill", reflecting the skill that goes into the production of this tea.
Yunnan gold is a tippy tea, meaning that it is high in leaf buds, and is named for the fact that its leaves are golden in color. The large portion of buds give it a higher
caffeine content
. The degree of golden color varies as a function of the amount of tips, as well as the production process: teas with a more golden appearance tend to have a greater portion of tips, and thus a higher caffeine content.
Most Yunnan gold looks more or less like a black tea with numerous gold tips interspersed, but ones made exclusively of tips can be mostly golden. These teas are called
Yunnan pure gold
or
dianhong jinya
(滇紅金芽), or less commonly,
jinya dianhong
(金芽滇紅). The most tippy Yunnan gold teas are similar in appearance to
golden monkey
, another tippy black tea that has a golden color; golden monkey is produced in Yunnan province but also in
Fujian
.
↑Recent Yunnan Gold Reviews — RSS
83 / 100

This is a very enjoyable tea. The twisted, tippy leaves have an aroma of raisins, wood, cocoa, and malt. When I added water I was initially disappointed to see that the leaves were broken, as I've paid less for full leaf Yunnan. Fortunately, the taste doesn't seem to suffer from this fact, with no bitterness and only a...
Read Full Review
75 / 100

Very pleasant 'mild' Yunnan. Attractive amber liquor, mild aroma, good taste.
Read Full Review
99 / 100

This was an exceptional tea and one of my favorite that I've sampled in a very long time. It was somewhat like other Yunnan teas but had unique lemony notes. Thank you to Simpson & Vail for the sample! I'm excited because this one sparked me adding a new sub-region to RateTea, it's the first tea we've listed from Cang...
Read Full Review
80 / 100

Great Yunnan scent. Large leaves. Nice honey colored liquor. Taste is good, a bit mild. I'm sure this will be a great 'all day' tea. Might be a bit mild for milk or cream. Minor problem with I needed to purchase 10 packets to get the full amount I wanted.
Read Full Review
95 / 100

I have had this tea in 2016 and now this year. It has a strong aroma with hints of sugar. It also has a sweet flavor and great mouthfeel.

Read Full Review
↑Top Reviewers
Review 4 teas to get on this list!
Advertisement
↑Most-Rated Yunnan Gold

80
6 Ratings

86
4 Ratings

14
3 Ratings

92
3 Ratings
↑Top-Rated Yunnan Gold

92
3 Ratings

86
4 Ratings

80
6 Ratings

14
3 Ratings