Yunnan Gold
Updated: Mar. 14, 2014
About Yunnan Gold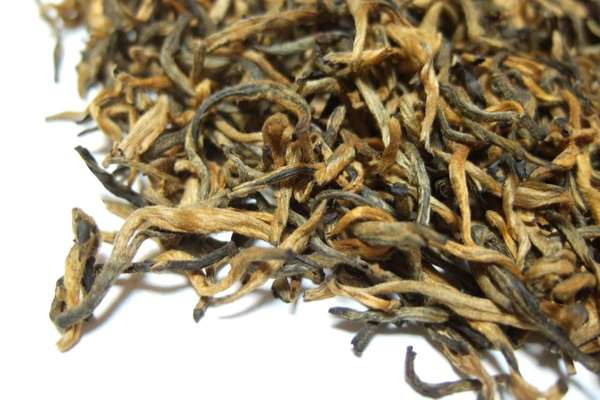 Yunnan Gold tea, SFTGFOP grade. This batch consists mostly of golden tips. Photo © Whiteness (Wikimedia Commons),
CC BY-SA 4.0
.
Yunnan gold
, known as
dian hong gong fu
(滇紅工夫) is a type of
black tea
(more specifically a type of
Yunnan red
or dian hong) from
Yunnan, China
. The Chinese name "gong fu" means "great skill", reflecting the skill that goes into the production of this tea.
Yunnan gold is a tippy tea, meaning that it is high in leaf buds, and is named for the fact that its leaves are golden in color. The large portion of buds give it a higher
caffeine content
. The degree of golden color varies as a function of the amount of tips, as well as the production process: teas with a more golden appearance tend to have a greater portion of tips, and thus a higher caffeine content.
Most Yunnan gold looks more or less like a black tea with numerous gold tips interspersed, but ones made exclusively of tips can be mostly golden. These teas are called
Yunnan pure gold
or
dianhong jinya
(滇紅金芽), or less commonly,
jinya dianhong
(金芽滇紅). The most tippy Yunnan gold teas are similar in appearance to
golden monkey
, another tippy black tea that has a golden color; golden monkey is produced in Yunnan province but also in
Fujian
.
Best Yunnan Gold
The notion of the "best" Yunnan Gold is subjective, because different people have different tastes. We present the most often-rated and highest-rated teas in this category, and allow you to draw your own conclusions.
Most Often-Rated Teas
Top-Rated Teas