Mao Feng Green Tea
Wikipedia: Huang_Shan_Mao_Feng_tea
Last Updated: Feb. 28, 2012
↑About Mao Feng Green Tea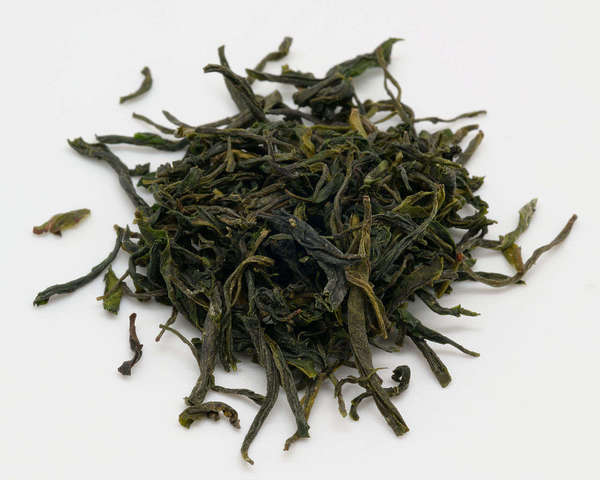 Loose-Leaf Mao Feng Green Tea from Anhui Province, China, Photo ©
Marie-Lan Nguyen / Wikimedia Commons
,
CC BY-2.5
.
Mao feng green tea
is a style of Chinese
green tea
. The term
mao feng
(毛峰) is often translated "fur peak" or "hairy peak", and refers to the shape of the leaves, which are covered in fine white hair and have tips with a shape like a mountain summit. The leaves of mao feng tea tend to be long, flat, and slightly curved.
Huang shan mao feng
(黄山毛峰) is a well-known type of mao feng green tea, named for the region in which it is grown, near Huang Shan (Yellow Mountain) in
Anhui, China
. Mao feng is also grown in the
Wuyi mountains
and other regions of China, and even in other countries, including
Nepal
.
Other mao feng tea
Mao feng can also refer to black tea with similarly shaped leaves, such as
Keemun mao feng
; these teas have little in common other than the shape of the leaves, that they are reasonably high grades of tea, and that they are both commonly grown in Anhui province.
↑Recent Mao Feng Reviews — RSS
100 / 100

Really great tea! The aroma is fruity and floral and the taste is floral as well without tasting soapy at all. It is also very smooth and thick bodied with little astringency. Overall a very wonderful tea and I would buy it again.
Read Full Review
63 / 100

Half-litre pot at home, made from a sample included in the tea company's Advent Tea Calendar (2020) and consisting of leaves of green mao feng tea. Pours clear pale straw (against white china) with no sediment. Clear aroma of green tea, mild but with notes of beans and fart - I guess I will never become a fan of the sc...
Read Full Review
79 / 100

Even though this isn't a Stash tea, it was well stashed—just a couple packets jammed discreetly in the middle of a bunch of bags of Bigelow Green at a conference, and only the first morning. Fortunately I noticed and grabbed them: one for there, one to bring home.

I'm not much for detecting subtleties, and pro...
Read Full Review
75 / 100

The dry tea in the bag is chopped quite fine, but smells really nice. Once the water's added, the aroma of the young tips comes through very clearly, smelling very similar to silver needle white teas.

The first taste is surprisingly sweet with a strong vegetal finish. The flavor is strong even while hot, but there's...
Read Full Review
85 / 100

Sweet and light but resistant for many brewing
Read Full Review
↑Top Reviewers
Review 2 teas to get on this list!
Advertisement
↑Most-Rated Mao Feng
↑Top-Rated Mao Feng