Mao Feng Green Tea
Wikipedia: Huang_Shan_Mao_Feng_tea
Last Updated: Feb. 28, 2012
↑About Mao Feng Green Tea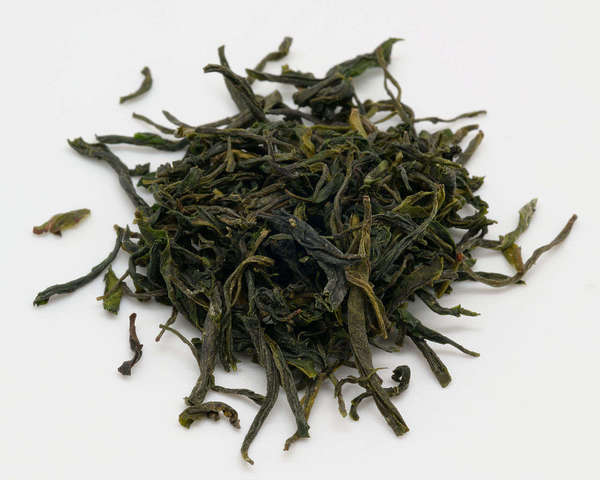 Loose-Leaf Mao Feng Green Tea from Anhui Province, China, Photo ©
Marie-Lan Nguyen / Wikimedia Commons
,
CC BY-2.5
.
Mao feng green tea
is a style of Chinese
green tea
. The term
mao feng
(毛峰) is often translated "fur peak" or "hairy peak", and refers to the shape of the leaves, which are covered in fine white hair and have tips with a shape like a mountain summit. The leaves of mao feng tea tend to be long, flat, and slightly curved.
Huang shan mao feng
(黄山毛峰) is a well-known type of mao feng green tea, named for the region in which it is grown, near Huang Shan (Yellow Mountain) in
Anhui, China
. Mao feng is also grown in the
Wuyi mountains
and other regions of China, and even in other countries, including
Nepal
.
Other mao feng tea
Mao feng can also refer to black tea with similarly shaped leaves, such as
Keemun mao feng
; these teas have little in common other than the shape of the leaves, that they are reasonably high grades of tea, and that they are both commonly grown in Anhui province.
↑Recent Mao Feng Reviews — RSS
85 / 100

Sweet and light but resistant for many brewing
Read Full Review
66 / 100

I might still have to work out some things with brewing this tea, because this second attempt tastes very different from the first.

It has a strong vegetal aroma and very little sweetness. It reminds me a little bit of Young Hyson right now which seems strange. After all, this tea is supposed to be mild whereas Youn...
Read Full Review
90 / 100
Brewed tea in 9-10oz of water at 200F for 3 min first steep.

It had a nutty scent kind of like long jin (dragonwell). I could tell from the scent of the liquor and the wet leaves that this would be a top-quality tea.

The flavor is actually somewhat simple, but very pure. I get nuttiness/toastyness akin to the sce...
Read Full Review
80 / 100

The aroma is sweet, a blend of delicate cherry and a delicate floral and fresh vegetation. Sniffing this tea reminds me of the aroma of spring rain and refreshing cool air, it is very evocative and delicate.

The first thing that strikes me after my first sip of the first steep is how refreshing it is, I feel revita...
Read Full Review
90 / 100

A mix of strong vegetal (I would say green bean and a hint of spinach) and sesame seeds. There is a finish of yeasty bread and cherries.

The beginning of the taste is sweet, gently sweet like honeysuckle nectar and sesame seeds. It reminds me a of the aftertaste you get when eating sesame Halva but with a vegetal qu...
Read Full Review
↑Top Reviewers
Review 2 teas to get on this list!
Advertisement
↑Most-Rated Mao Feng
↑Top-Rated Mao Feng