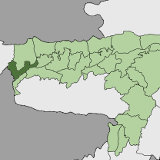 Most Reviewed By:

Dhubri, Assam, India
Wikipedia: Dhubri_district
About Dhubri, Assam, India
Dhubri
(ধুবুৰী in Assamese) is the westernmost district in Assam, India, part of lower Assam. Most of its western border is with Bangladesh, and the northwest border is with West Bengal. Dhubri borders
Goalpara
to the southeast and has a small border with
Bongaigaon
to the east. In 2016, the southern part of the district was split off to form South Salmara-Mankachar district; most maps still do not show this split.
The region is primarily agricultural, producing rice, jute fiber, and mustard seed, as well as a variety of other crops. Tea production here is sparse, with only a few isolated tea gardens. Single-origin teas from here are only rarely available in the West.
Styles of Tea Produced in Dhubri, Assam, India
This is a selection, not an exhaustive listing, of the styles of tea most commonly produced in Dhubri, Assam, India.
Best Teas
The notion of the "best" teas is subjective, because different people have different tastes. We present the most often-rated and highest-rated teas produced in Dhubri, Assam, India, and allow you to draw your own conclusions.
Most Often-Rated Teas

1 Rating
Top-Rated Teas
We need at least 3 ratings for a tea to calculate a percentile ranking. You can help us out by rating more teas of this style.