Assam Green
Last Updated: Oct. 23, 2017
↑About Assam Green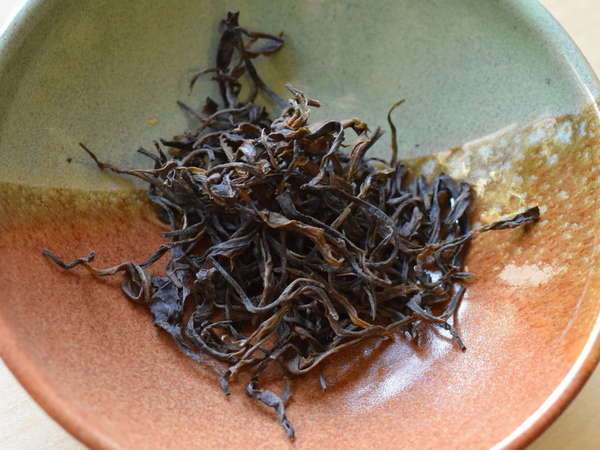 Loose-Leaf Innate Assam Summer Natural Artisanal Green from TEAORB, Photo © Alex Zorach,
CC BY-SA 4.0
.
Assam green tea
is green tea grown in
Assam, India
. The overwhelming majority of tea produced in the Assam region is
black tea
, and when tea is specified only as "Assam" it almost invariably refers to black tea. Assam green tea is neither common nor well-known; it is less common even than
Darjeeling green teas
.
Assam green teas, owing to the combination of the large-leafed cultivar grown in this region, and the denser, heavier air at lower altitudes, tend to large-leaf green teas with a bold flavor and dark color. The dry leaf is often as dark as black teas in appearance, only becoming green upon steeping. Many of them resemble Yunnan green teas and sheng Pu-erh.
↑Recent Assam Green Reviews — RSS
35 / 100
This has a nice aroma, but a pretty insipid flavor with a little bitter bite to it.
Read Full Review
49 / 100

Another summer Assam green that I was not a fan of and found difficult to appreciate. Thank you TEAORB for the sample!

Dry leaf has a strong aroma of wood resin, like pine, and lightly smoky, almost a little rubbery. The leaf smell is a bit harsh in the way raw Pu-erh that has not been aged can be, and I'm not sur...
Read Full Review
56 / 100

Another tea that I found too astringent to enjoy, no matter how I brewed it. I'm finding that about most of these summer-harvest Assam greens and even some of the spring ones. Thank you to TEAORB for the samples, this is an interesting experience even if I don't like all the teas.

Dry leaf smells heavy, pungent, v...
Read Full Review
51 / 100

An aromatically-interesting tea that was too harsh for me to enjoy it. I wonder if, like a raw or sheng Pu-erh, this tea could be aged. I couldn't enjoy drinking it as-is.

This is the first summer-harvest Assam green tea, and I was curious to see if it tasted appreciably different from the others. I was disappoin...
Read Full Review
73 / 100

When TEAORB sent me a massive array of Assam green teas to sample, I was a little worried that they would all taste too similar to each other, especially given how they all seem to look very similar to each other. Many of the Assam greens I've tried have been bold, alien, and the sort of tea I would need to be in the ...
Read Full Review
↑Top Reviewers
Review 2 teas to get on this list!
Advertisement
↑Most-Rated Assam Green
↑Top-Rated Assam Green
We need at least 3 ratings for a tea to calculate a percentile ranking. You can help us out by rating more teas of this style.