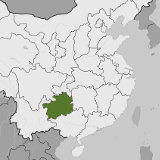 Guizhou, China
Updated: Jul. 21, 2017
About Guizhou, China
Guizhou
(贵州) is an interior province in southwestern China. It is bordered by
Yunnan
to the southwest,
Guangxi
to the southeast, and
Hunan
to the east. The province also shares a very small border with
Sichuan
to the northwest.
Although it is surrounded by some major tea-producing regions, aand it does produce tea, it is much less well-known and its teas are less widely available on the Western market.
Styles of Tea Produced in Guizhou, China
This is a selection, not an exhaustive listing, of the styles of tea most commonly produced in Guizhou, China.