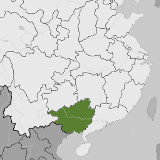 Most Reviewed By:

Guangxi, China
Wikipedia: Guangxi | Official Government Website: www.gxzf.gov.cn
Updated: Jul. 13, 2017
About Guangxi, China
Guangxi
(广西) is an autonomous region (like a province but with a different organizational structure) in south China, bordering
Yunnan
,
Guizhou
,
Hunan
, and Guangdong, as well as
Vietnam
.
Guangxi is the region of china with the largest population of the
Zhuang people
, the largest ethnic minority in China. These people, however, still consist of only about a third of the people in Guangxi.
Guangxi is not as well-known in the tea world as the surrounding provinces of Yunnan, Hunan, and Guangdong, but it does produce tea, including white, green, and black teas. Osmanthus-scented teas are also produced here; the
sweet osmanthus flowers
used to scent these teas are native to this and surrounding regions.
Guangxi Liubao
is a type of dark tea or Hei cha, a post-fermented tea somewhat like Pu-erh, that is similar in some respects to black tea but not fully oxidized.
The climate in Guangxi is humid and subtropical, with a seasonal pattern of precipitation, with about six times as much rainfall in the wettest months relative to the driest months. The region is very mountainous.
Nanning in Guangxi is also home to the
Tea & Tea Culture Expo
, a relatively new expo, having its first show in 2011.[1]
Tea-Producing Regions of Guangxi, China
Styles of Tea Produced in Guangxi, China
This is a selection, not an exhaustive listing, of the styles of tea most commonly produced in Guangxi, China.
Best Guangxi Teas
The notion of the "best" Guangxi teas is subjective, because different people have different tastes. We present the most often-rated and highest-rated teas produced in Guangxi, China, and allow you to draw your own conclusions.