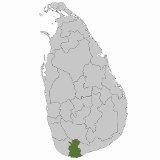 Most Reviewed By:

Matara, Sri Lanka
Wikipedia: Matara_District
Updated: Mar. 8, 2012
About Matara, Sri Lanka
Matara district
is a district
Sri Lanka
, located on the southern coast of the island. Matara district also contains a small city named Matara, located on the coast, the largest city in the district.
Matara district is still in the region of Sri Lanka that gets a high amount of rainfall, suitable for growing the tea plant, in contrast to the area farther east along the coast which becomes much drier.
Matara district is home to Lumbini Estate, a tea garden which has engaged in some sustainability-promoting activities.
Styles of Tea Produced in Matara, Sri Lanka
This is a selection, not an exhaustive listing, of the styles of tea most commonly produced in Matara, Sri Lanka.
Best Teas
The notion of the "best" teas is subjective, because different people have different tastes. We present the most often-rated and highest-rated teas produced in Matara, Sri Lanka, and allow you to draw your own conclusions.
Most Often-Rated Teas
Top-Rated Teas
We need at least 3 ratings for a tea to calculate a percentile ranking. You can help us out by rating more teas of this style.