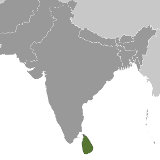 Most Reviewed By:

Sri Lanka / Ceylon
Wikipedia: Sri_Lanka | Official Government Website: www.gov.lk
Updated: Oct. 21, 2017
About Sri Lanka / Ceylon
Clickable map of Sri Lanka; regions producing tea are highlighted in green. © RateTea, All Rights Reverved.
Sri Lanka
, known in tea circles as
Ceylon
, is an island country to the southeast of
India
. Sri Lanka is the third-largest producer of tea in the world, after India and
China
. Sri Lanka has lowland and mountainous areas, and the climate is widely variable depending on location. Tea is mostly grown in the central to south regions of the island.
Sri Lanka lies in the northern hemisphere's tropics: the temperatures are similar year-round, only slightly warmer in summer. The pattern of rainfall is strongly seasonal; in contrast to most of the tea-growing regions of India, which have a monsoon season in the summer, much of Sri Lanka, including the central and southern regions of the island where much of the tea is grown, experiences two distinct wet seasons and two distinct dry seasons each year. Rainfall and temperature also vary greatly based on altitude and the location relative to the mountainous areas.
These patterns result in unique and vastly different characteristics of teas grown at different locations within the country. Sadly, much of this variation goes unappreciated, as the bulk of the tea exported from Sri Lanka is used in blends.
Ceylon teas
Sri Lanka is best know for
Ceylon black tea
, and the vast majority of its production is black tea, although it also produces small quantities of green and white tea. Typical Ceylon tea has a middle-of-the-road character, typical of black teas consumed in the West. However, a small portion of artisan black teas are produced which are similar in style to teas from Darjeeling, Assam, or other regions.
Ceylon green and white teas tend to use similar names as Chinese varieties of tea. Although these teas are usually recognizable as their styles, their characteristics can be widely different from the originals. Ceylon green teas are more well-known in the middle east than in Western countries.
Tea-Producing Regions of Sri Lanka / Ceylon
Styles of Tea Produced in Sri Lanka / Ceylon
This is a selection, not an exhaustive listing, of the styles of tea most commonly produced in Sri Lanka / Ceylon.
Best Ceylon Teas
The notion of the "best" Ceylon teas is subjective, because different people have different tastes. We present the most often-rated and highest-rated teas produced in Sri Lanka / Ceylon, and allow you to draw your own conclusions.