Ceylon Black Tea
Wikipedia: Tea_production_in_Sri_Lanka#Ceylon_black_tea | Teaviews: ceylon-tea
Last Updated: Mar. 19, 2014
↑About Ceylon Black Tea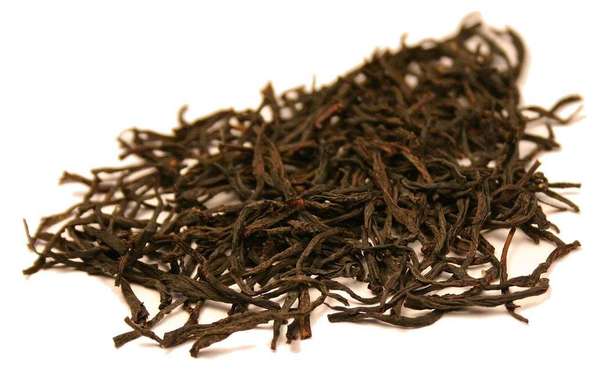 Loose-leaf Ceylon Black Tea, Orange Pekoe 1, Uruwala Estate, Photo ©
WJ Houtman (Wikimedia Commons)
,
CC BY-SA 3.0
.
Ceylon black tea
is a widely-consumed type of
black tea
, grown in
Sri Lanka
; as with India, most of the tea production in Sri Lanka is of black tea.
Ceylon
is an old name for Sri Lanka which has stopped being used for the country outside of tea circles. Ceylon black tea is one of the most common teas in British tea culture, consumed on its own, used in
breakfast blends
, and frequently used as the base for flavored teas, like
Earl Grey
and various fruit teas.
Flavor and characteristics
Typical Ceylon black teas have a middle-of-the-road character, bolder and darker than most Darjeeling teas, but slightly lighter and less malty than a typical Assam.
Ceylon tea is diverse in quality and characteristics; much of it is mass-produced in large plantations and is used primarily in blending. Some single-estate Ceylon black teas are highly regarded, although they typically are not as well-known or expensive as teas from the
Darjeeling
or
Assam
regions of India. The leaf size and style also varies widely. A particular grade, OPA, is common in Ceylon and relatively uncommon in other areas.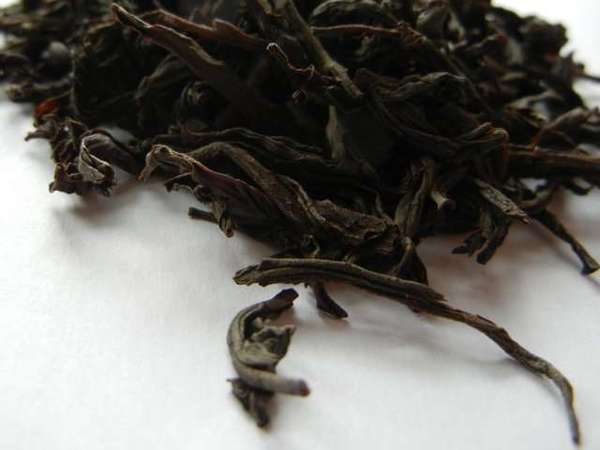 Ahmad Tea's Ceylon Tea OPA, showing the large leaves typical of this grade. Photo © Alex Zorach,
CC BY-SA 4.0
.
Ceylon OPA is a very bold, long-leaf tea with much larger leaves than the regular orange pekoe grade, but less delicate or wiry than the pricier OP1 grade.
Regional and altitudinal variability
Ceylon teas are typically grouped by altitude into three categories: high-grown, mid-grown, and low-grown, each of which having its own unique attributes. Low-grown teas are produced at 1,500-1,800 foot elevations, mid-grown from 1,800-3,500, and high-grown form 3,500 to 7,500.[1] There are higher and lower quality teas from all altitude regions, and it can be hard to generalize about quality from altitude alone.
The characteristics of Ceylon black tea also vary regionally, owing to different patterns of precipitation created by the steep topography of the island. Two important regions are
Nuwara Eliya
, producing high-grown Ceylon tea, and the
Uva region
, producing teas with unique characteristics resulting from its unique climate.
Buying single-estate teas or single-region blends can allow you to taste and experience the unique flavors created by each of these regions.
References
1. Jane Pettigrew, The Tea Companion, Quintet Publishing, London, 2004.
↑Recent Ceylon Reviews — RSS
70 / 100
This tea is mild all around. The aroma is slightly fruit. The liquor brews to a gold/amber. Flavor is a traditional Ceylon. Would probably be eclipsed by milk or sugar.
Read Full Review
80 / 100
This tea has large twisted leaves. The aroma is sweet/fruit. Liquor is a deep honey color. I brewed for 5 minutes. Has a solid Ceylon taste. Clean, with a slight nuttiness after taste.
Read Full Review
90 / 100
For me this is a quintessential Ceylon. Wonderful mild earthy aroma. Liquor is a place amber. Clean taste, with a hint of fruit. Glad I have tried this. Will reorder in the future.
Read Full Review
64 / 100

Dry, this tea smells vaguely of cocoa and molasses. It's understated, but pleasant. While brewing, the aroma is of light brown sugar, but not heavy. The cocoa from earlier is still there, but less pronounced than I expected based on the initial aroma and experience with other Sri Lankan teas. There's a faint note of ra...
Read Full Review
90 / 100

You simply can't go wrong with this tea. The average tea drinker who buys bags of Lipton or Tetley would probably agree, because this is like a premium version of those products. This is smooth and pleasant, but not lacking in flavor. It contains dashes of caramel, fruit, steely tannins and a fresh, leafy aroma. It...
Read Full Review
↑Top Reviewers
Review 6 teas to get on this list!
Advertisement
↑Most-Rated Ceylon
↑Top-Rated Ceylon