Chai / Spiced Tea
Wikipedia: Masala_chai | Teaviews: chai-tea
Last Updated: Jul. 29, 2015
↑About Chai / Spiced Tea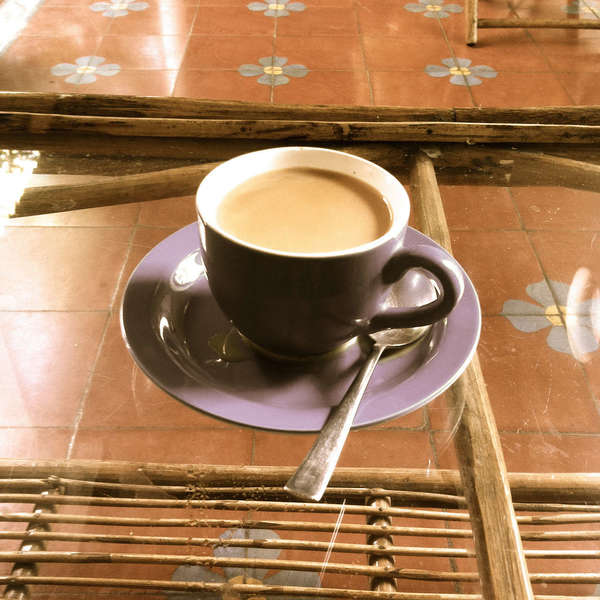 Chai (Cup of Masala Chai, Spiced Tea with Milk), Photo ©
innacoz (Flickr)
,
CC BY-ND 2.0
.
Chai
, properly called
masala chai
, is Hindi for "spiced tea". The word "chai" just means tea, so terms like
chai tea
, although in widespread use, are redundant. A more accurate term is
spiced chai
.
Masala chai is a drink made by brewing tea, usually
black tea
, together with spices. Often, but not always, milk and sweetener, such as honey or sugar, are added. Sometimes condensed milk is used. If the milk is steamed, as with an espresso machine, the result is called a
"chai tea latte"
.
Typically, masala chai is mixed up at the time of brewing, adding spices to taste, although, especially in the U.S., it is also sold pre-blended in teabags. A few companies sell green or herbal teas in a similar style to masala chai.
RateTea lists all pre-blended masala chai mixtures in this category. However, you can make your own spiced chai by blending spices with tea. For a classic flavor, try starting with an Indian black tea such as
Assam
.
Spices used in masala chai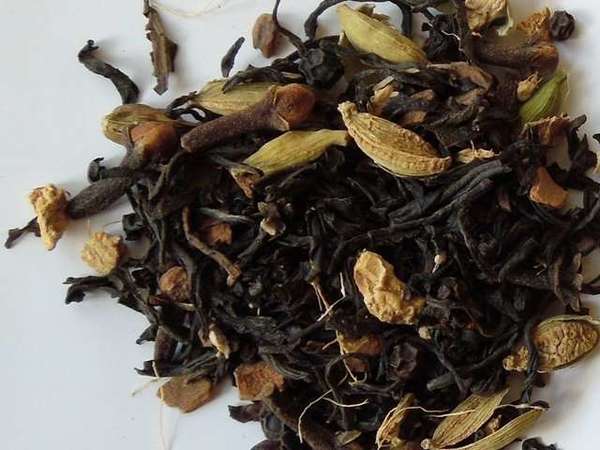 This masala chai has a typical blend of cardamom, clove, ginger, cinnamon, and black pepper.
Traditional Indian masala chai is diverse and varies regionally and based on personal taste. Spices most commonly used include cardamom, cinnamon, ginger, star anise, peppercorn, and cloves. Other spices, herbs, and flavorings, such as nutmeg, rose, liquorice, vanilla, or mint are occasionally used.
When only one spice is used, the resulting blend is usually named with the spice itself, such as
cinnamon black tea
or
tea with cardamom
: the term "chai" is usually reserved for blends including multiple spices. Black tea blended with cardamom, or "cardamom tea" is widely consumed in the Middle east.
↑Recent Chai / Spiced Tea Reviews — RSS
60 / 100

This isn't the best chai I've had but it's tolerable and if someone made it for me I would drink it again. I had mine without milk but I have a feeling it would be better with milk. On the plus side it's a fairly easy to find and it's affordable, I saw it being sold for $3.29 for 20 teabags. If you're a bigger fan of c...
Read Full Review
74 / 100

Since we're careening headfirst into the holidays, and folks are warming up their days with spicy and chai teas, I hope this and my other reviews of them will prove helpful. This is a Safeway store brand—relatively inexpensive as organic bagged teas go. After being resoundingly disappointed by their peppermint offe...
Read Full Review
66 / 100

A vacation motel/lodge at which I was staying in southern Colorado had a large assortment of Allegro teas, all of which I have tried or will. [I'm basing "value" off their stated online prices, compared to what one gets.] Here's the next in line.

By itself, this was a reasonably good tea, albeit different than e...
Read Full Review
49 / 100

If this were all Christmastime had to offer, I'd say, fast-forward to the new year. Fortunately, it's not. "Christmas Tea" is one of the better Twinings black teas I've tried, but...
1. That's not saying much, and
2. It's a very poor approximation of Bigelow's much richer, more-flavorful Constant Comment blend. ...
Read Full Review
74 / 100

Bags of this tea came from a conference's coffee-break session, alongside a bunch of other Tazo and Bigelow teas that I mostly have tried already. Somehow, despite liking chai a lot, I hadn't had this one yet. It's a keeper—not the best chai I've chugged, but very satisfying, robust, and sharp. My wife likes to pa...
Read Full Review
↑Top Reviewers
Review 10 teas to get on this list!
Advertisement
↑Most-Rated Chai / Spiced Tea
↑Top-Rated Chai / Spiced Tea

90
3 Ratings

86
3 Ratings

61
4 Ratings
↑Varieties, Kinds, or Types of Chai / Spiced Tea