Chai / Spiced Tea
Wikipedia: Masala_chai | Teaviews: chai-tea
Last Updated: Jul. 29, 2015
↑About Chai / Spiced Tea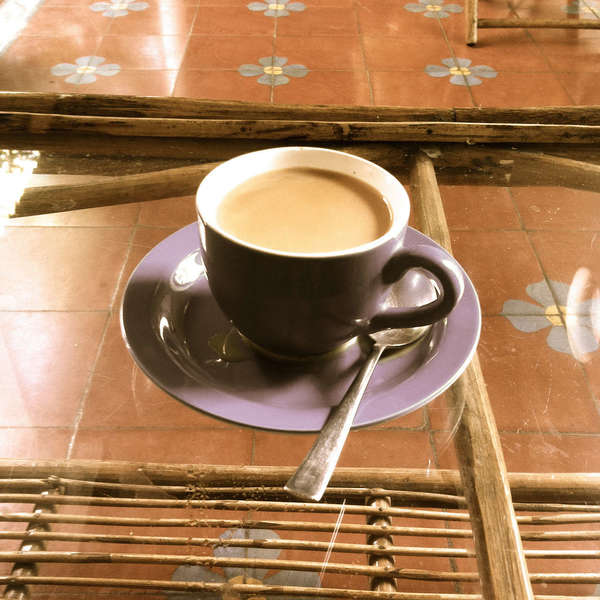 Chai (Cup of Masala Chai, Spiced Tea with Milk), Photo ©
innacoz (Flickr)
,
CC BY-ND 2.0
.
Chai
, properly called
masala chai
, is Hindi for "spiced tea". The word "chai" just means tea, so terms like
chai tea
, although in widespread use, are redundant. A more accurate term is
spiced chai
.
Masala chai is a drink made by brewing tea, usually
black tea
, together with spices. Often, but not always, milk and sweetener, such as honey or sugar, are added. Sometimes condensed milk is used. If the milk is steamed, as with an espresso machine, the result is called a
"chai tea latte"
.
Typically, masala chai is mixed up at the time of brewing, adding spices to taste, although, especially in the U.S., it is also sold pre-blended in teabags. A few companies sell green or herbal teas in a similar style to masala chai.
RateTea lists all pre-blended masala chai mixtures in this category. However, you can make your own spiced chai by blending spices with tea. For a classic flavor, try starting with an Indian black tea such as
Assam
.
Spices used in masala chai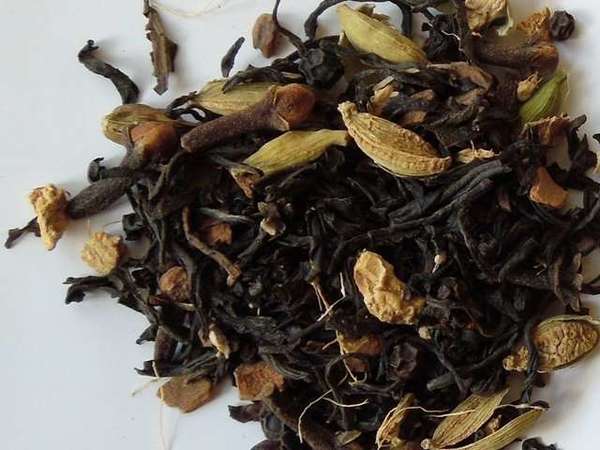 This masala chai has a typical blend of cardamom, clove, ginger, cinnamon, and black pepper.
Traditional Indian masala chai is diverse and varies regionally and based on personal taste. Spices most commonly used include cardamom, cinnamon, ginger, star anise, peppercorn, and cloves. Other spices, herbs, and flavorings, such as nutmeg, rose, liquorice, vanilla, or mint are occasionally used.
When only one spice is used, the resulting blend is usually named with the spice itself, such as
cinnamon black tea
or
tea with cardamom
: the term "chai" is usually reserved for blends including multiple spices. Black tea blended with cardamom, or "cardamom tea" is widely consumed in the Middle east.
↑Recent Chai / Spiced Tea Reviews — RSS
84 / 100

The aroma is nice and spicy. I like the flavor as well. It was definitely present but not as intense as "ultra" might imply. I didn't sweeten it, but I think it could do well both sweetened or unsweetened depending on one's mood. Overall, this is a solid bagged tea!
Read Full Review
86 / 100

Prep: 212F, 10min (per tea), sample bag, 8oz

Aroma: Very traditional cinnamon and spice aromas jump out of the mug here. I'm expecting this to be quite spicy. 9/10

Flavor: Fairly good pop of cinnamon and clove notes. This doesn't overwhelm your palate with spice but it bring back memories of chai spiced la...
Read Full Review
82 / 100
Prep: 212F, 5min, 2 heaping tsp for 16oz.

Aroma: I often am critical of chai teas because they are too balanced. Typically, I want the spice when I go for chai. This blend delivers. Quite spicy, plenty of chocolate in the nose. 9/10

Flavor: There is not a disparity between the aroma and flavor which is nice. Ve...
Read Full Review
70 / 100
A little funny having a black tea before bedtime; however, the cab says low caffeine. David's would not mislead me, right?

Prep: 2.5 tsp, 16oz, 200F, 7.5 minutes (directions say 205 for 7 minutes).

Aroma: You really get the vanilla notes on this one. The cinnamon pops pretty nicely as well. With the aroma bei...
Read Full Review
70 / 100

Appearance: Fairly saturated reddish brown. Looks pretty much the part of chai.

Aroma: Here is my conundrum. The tea smells so spicy and aromatic in the tin but the liquid is more of a black tea, malty presence with some mild cardamom.

Taste: This is a solid chai tea. It has really good malty notes but I'd l...
Read Full Review
↑Top Reviewers
Review 14 teas to get on this list!
Advertisement
↑Most-Rated Chai / Spiced Tea
↑Top-Rated Chai / Spiced Tea

98
4 Ratings

92
3 Ratings

92
3 Ratings
↑Varieties, Kinds, or Types of Chai / Spiced Tea