Chai / Spiced Tea
Wikipedia: Masala_chai | Teaviews: chai-tea
Last Updated: Jul. 29, 2015
↑About Chai / Spiced Tea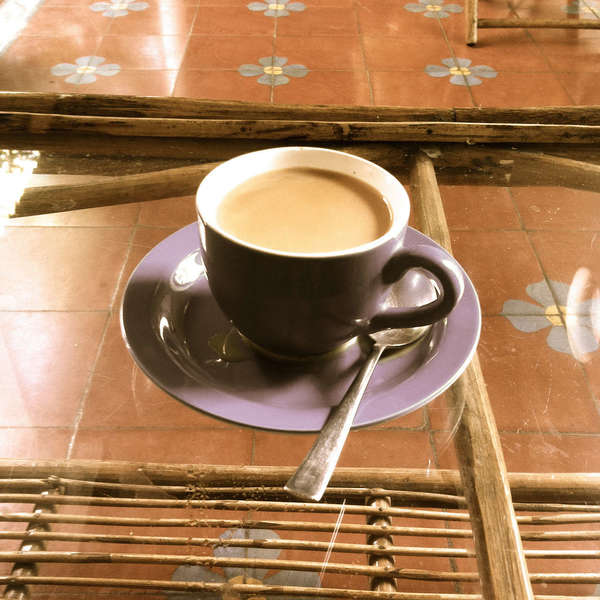 Chai (Cup of Masala Chai, Spiced Tea with Milk), Photo ©
innacoz (Flickr)
,
CC BY-ND 2.0
.
Chai
, properly called
masala chai
, is Hindi for "spiced tea". The word "chai" just means tea, so terms like
chai tea
, although in widespread use, are redundant. A more accurate term is
spiced chai
.
Masala chai is a drink made by brewing tea, usually
black tea
, together with spices. Often, but not always, milk and sweetener, such as honey or sugar, are added. Sometimes condensed milk is used. If the milk is steamed, as with an espresso machine, the result is called a
"chai tea latte"
.
Typically, masala chai is mixed up at the time of brewing, adding spices to taste, although, especially in the U.S., it is also sold pre-blended in teabags. A few companies sell green or herbal teas in a similar style to masala chai.
RateTea lists all pre-blended masala chai mixtures in this category. However, you can make your own spiced chai by blending spices with tea. For a classic flavor, try starting with an Indian black tea such as
Assam
.
Spices used in masala chai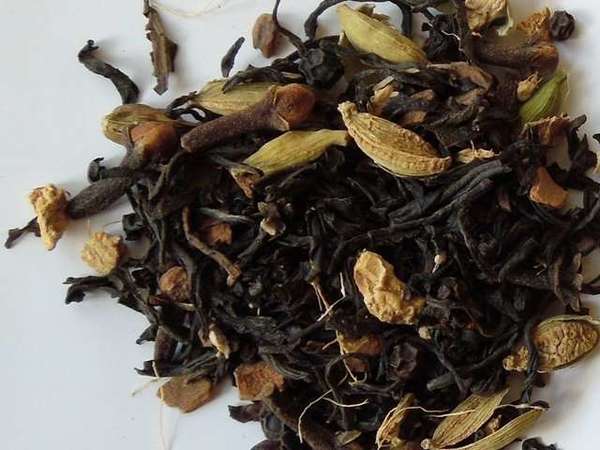 This masala chai has a typical blend of cardamom, clove, ginger, cinnamon, and black pepper.
Traditional Indian masala chai is diverse and varies regionally and based on personal taste. Spices most commonly used include cardamom, cinnamon, ginger, star anise, peppercorn, and cloves. Other spices, herbs, and flavorings, such as nutmeg, rose, liquorice, vanilla, or mint are occasionally used.
When only one spice is used, the resulting blend is usually named with the spice itself, such as
cinnamon black tea
or
tea with cardamom
: the term "chai" is usually reserved for blends including multiple spices. Black tea blended with cardamom, or "cardamom tea" is widely consumed in the Middle east.
↑Recent Chai / Spiced Tea Reviews — RSS
88 / 100

I bought this 15-sachet sack for a couple bucks less, at the same suburban Dallas H-E-B store as Chai Diaries' 15-sachet can of Bombay Masala Chai. Teapigs' chai, while still somewhat expensive, is *far* better, each pyramid sachet holding about twice as much content, filling it up when wet, with noticeably higher qua...
Read Full Review
77 / 100

Somehow, this Bigelow offering escaped me for many years, but it finally emerged from hiding and surrendered to my tea-greedy clutches at a Denver-area hotel—and only then, because striking a huge deer at full speed east of town totaled my vehicle. After that ordeal, and stuck at the hotel amid 30 hours of cold rain...
Read Full Review
40 / 100

I do like that fact that real masala chai blends are now available in the USA, since it is a style that I enjoy, but this is not a favorite. The gingerbread aroma is nice, but there is too much hot pepper in this for my palate, and not enough cardomom and cinnamon. You might like it if you enjoy lots of black pepper i...
Read Full Review
56 / 100

Here's a tea that seems to work the gourmet/artisan angle hard, presumably in order to justify the exorbitant cost, and just doesn't live up to the billing. The first thing I noticed about the dry bags (fairly standard-sized pyramid sachets with string and tag) is that the dry product only filled about 1/4–1/5 of it...
Read Full Review
70 / 100
A mellow pumpkin spice tea, featuring the spices one would expect (e.g. ginger, cinnamon, clove, etc.) I tasted vanilla in the mix, but it does not contain vanilla. Maybe that was coming from sunflower petals or natural flavorings. I am glad they did not overdo the clove or allspice or nutmeg, that is a mistake that...
Read Full Review
↑Top Reviewers
Review 14 teas to get on this list!
Advertisement
↑Most-Rated Chai / Spiced Tea
↑Top-Rated Chai / Spiced Tea

98
4 Ratings

92
3 Ratings

92
3 Ratings

80
3 Ratings
↑Varieties, Kinds, or Types of Chai / Spiced Tea