Chai / Spiced Tea
Wikipedia: Masala_chai | Teaviews: chai-tea
Last Updated: Jul. 29, 2015
↑About Chai / Spiced Tea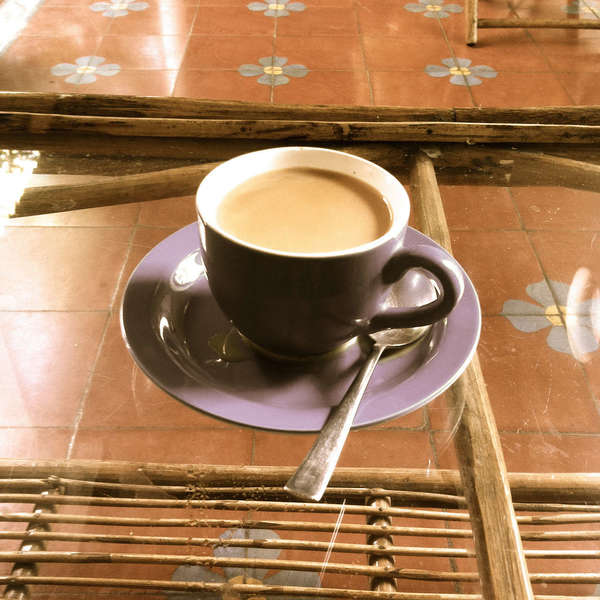 Chai (Cup of Masala Chai, Spiced Tea with Milk), Photo ©
innacoz (Flickr)
,
CC BY-ND 2.0
.
Chai
, properly called
masala chai
, is Hindi for "spiced tea". The word "chai" just means tea, so terms like
chai tea
, although in widespread use, are redundant. A more accurate term is
spiced chai
.
Masala chai is a drink made by brewing tea, usually
black tea
, together with spices. Often, but not always, milk and sweetener, such as honey or sugar, are added. Sometimes condensed milk is used. If the milk is steamed, as with an espresso machine, the result is called a
"chai tea latte"
.
Typically, masala chai is mixed up at the time of brewing, adding spices to taste, although, especially in the U.S., it is also sold pre-blended in teabags. A few companies sell green or herbal teas in a similar style to masala chai.
RateTea lists all pre-blended masala chai mixtures in this category. However, you can make your own spiced chai by blending spices with tea. For a classic flavor, try starting with an Indian black tea such as
Assam
.
Spices used in masala chai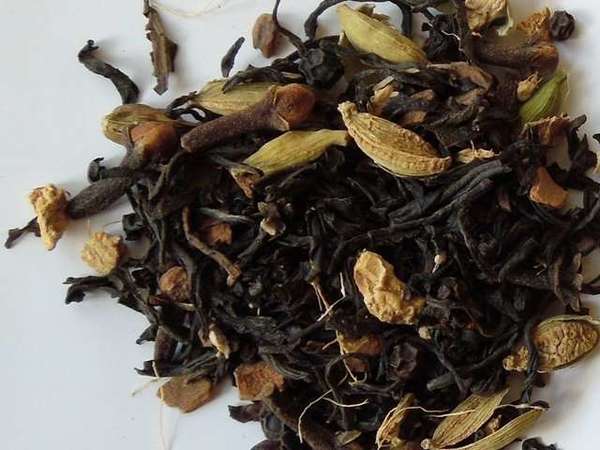 This masala chai has a typical blend of cardamom, clove, ginger, cinnamon, and black pepper.
Traditional Indian masala chai is diverse and varies regionally and based on personal taste. Spices most commonly used include cardamom, cinnamon, ginger, star anise, peppercorn, and cloves. Other spices, herbs, and flavorings, such as nutmeg, rose, liquorice, vanilla, or mint are occasionally used.
When only one spice is used, the resulting blend is usually named with the spice itself, such as
cinnamon black tea
or
tea with cardamom
: the term "chai" is usually reserved for blends including multiple spices. Black tea blended with cardamom, or "cardamom tea" is widely consumed in the Middle east.
↑Recent Chai / Spiced Tea Reviews — RSS
82 / 100

For a bagged tea, this isn't bad. It diffuses quickly and has a pleasantly strong aroma and flavor. The cinnamon is at a good intensity for me and it blends well with the black tea. This will be part of my collection of bagged teas at work from now on.
Read Full Review
71 / 100

Although good, and a decent value for the currency-adjusted price, this tea fell slightly off expectations for a company that usually yields outstanding quality. Maybe the loose-leaf version is better, and the latter certainly smelled amazing in their Victoria store.

The dry-bag smell was curiously weak in cinnamon...
Read Full Review
74 / 100

I love chai, so I tried Chai Love. It was one of the least chai-like of chais I've had, but yet, still strangely satisfying and tasty. It also had perhaps the greatest aromatic discrepancy I've encountered between dry-leaf, in-cup and wet-leaf scents.

The dry leaf is the most truly chai-like sensation (smell or t...
Read Full Review
82 / 100

This tea is pleasant, especially with a little milk added. (Note: I recommend warming the milk in the microwave briefly and pouring the hot water into it when making tea.) There's a distinct but not entirely unpleasant sharpness to this tea that is improved with the milk, though it can still be enjoyed plain. The spi...
Read Full Review
73 / 100

Being a sucker for all kinds of strong and/or spicy food and drink, I've grown quite fond of good chais, in all their wonderful variety of formulations. As such, my default will be to rate them fairly well unless they prove unfit for human consumption. This rates well. It's not up to par with most loose chais I've h...
Read Full Review
↑Top Reviewers
Review 13 teas to get on this list!
Advertisement
↑Most-Rated Chai / Spiced Tea
↑Top-Rated Chai / Spiced Tea

98
4 Ratings

92
3 Ratings

92
3 Ratings
↑Varieties, Kinds, or Types of Chai / Spiced Tea