Chai / Spiced Tea
Wikipedia: Masala_chai | Teaviews: chai-tea
Last Updated: Jul. 29, 2015
↑About Chai / Spiced Tea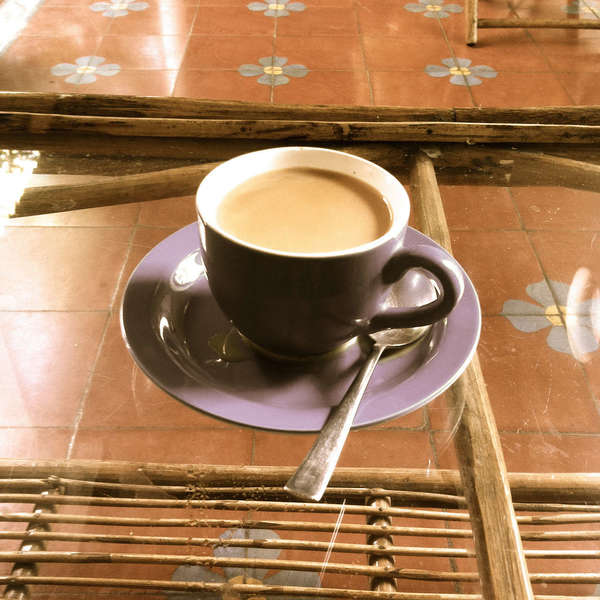 Chai (Cup of Masala Chai, Spiced Tea with Milk), Photo ©
innacoz (Flickr)
,
CC BY-ND 2.0
.
Chai
, properly called
masala chai
, is Hindi for "spiced tea". The word "chai" just means tea, so terms like
chai tea
, although in widespread use, are redundant. A more accurate term is
spiced chai
.
Masala chai is a drink made by brewing tea, usually
black tea
, together with spices. Often, but not always, milk and sweetener, such as honey or sugar, are added. Sometimes condensed milk is used. If the milk is steamed, as with an espresso machine, the result is called a
"chai tea latte"
.
Typically, masala chai is mixed up at the time of brewing, adding spices to taste, although, especially in the U.S., it is also sold pre-blended in teabags. A few companies sell green or herbal teas in a similar style to masala chai.
RateTea lists all pre-blended masala chai mixtures in this category. However, you can make your own spiced chai by blending spices with tea. For a classic flavor, try starting with an Indian black tea such as
Assam
.
Spices used in masala chai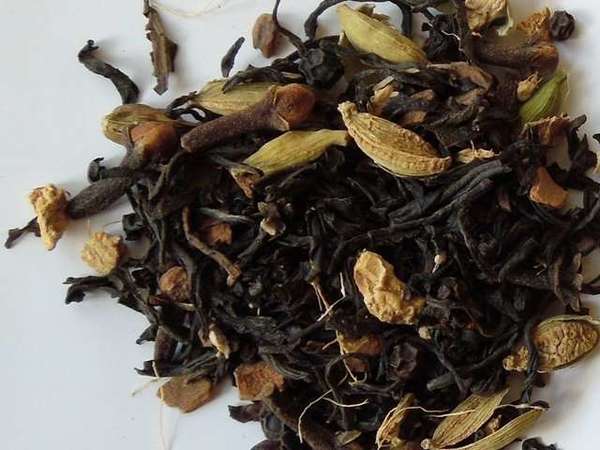 This masala chai has a typical blend of cardamom, clove, ginger, cinnamon, and black pepper.
Traditional Indian masala chai is diverse and varies regionally and based on personal taste. Spices most commonly used include cardamom, cinnamon, ginger, star anise, peppercorn, and cloves. Other spices, herbs, and flavorings, such as nutmeg, rose, liquorice, vanilla, or mint are occasionally used.
When only one spice is used, the resulting blend is usually named with the spice itself, such as
cinnamon black tea
or
tea with cardamom
: the term "chai" is usually reserved for blends including multiple spices. Black tea blended with cardamom, or "cardamom tea" is widely consumed in the Middle east.
↑Recent Chai / Spiced Tea Reviews — RSS
75 / 100

Nice chai, although they could try it without the chicory.
Read Full Review
84 / 100

Aroma is heavy caramel, milk and a little tea. Flavor is very sweet. Sweet finish. I love caramel.
Read Full Review
77 / 100

A good masala chai that tasted more like a traditional Indian spiced tea than a modern flavored tea.

This was passed on to me through a friend of my family. I've been wanting to try Zhi tea for a while. This probably isn't the type of tea I'd pick though if given a choice -- I prefer pure teas. That said, this te...
Read Full Review
49 / 100

This was among the least-appealing chai teas I've had so far—decent-tasting with some effort, but also, having an important turn-off and separate weakness that preclude a better rating.

The dry-bag and poured cup smelled dutifully spicy, but also somewhat urinary. That caught me off guard, and probably isn't the ...
Read Full Review
61 / 100

"Warming" is indeed the best word to describe this tea. It smells like baked goods: what comes to mind is Finnish christmas cookie dough. I can clearly taste the anise and the licorice, the cinnamon too, but I'm not sure about the sage, honeybush and orange. Actually, this tea tastes like anise and licorice but not tha...
Read Full Review
↑Top Reviewers
Review 9 teas to get on this list!
Advertisement
↑Most-Rated Chai / Spiced Tea
↑Top-Rated Chai / Spiced Tea

91
3 Ratings

88
4 Ratings

82
4 Ratings

76
3 Ratings

75
3 Ratings
↑Varieties, Kinds, or Types of Chai / Spiced Tea