Chai / Spiced Tea
Wikipedia: Masala_chai | Teaviews: chai-tea
Last Updated: Jul. 29, 2015
↑About Chai / Spiced Tea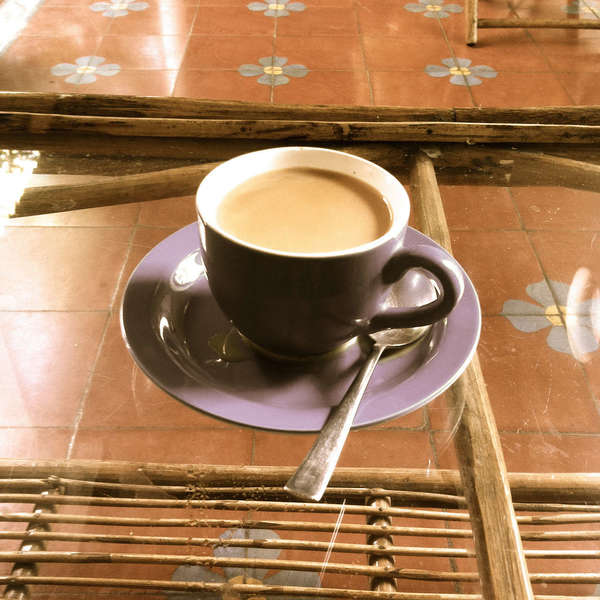 Chai (Cup of Masala Chai, Spiced Tea with Milk), Photo ©
innacoz (Flickr)
,
CC BY-ND 2.0
.
Chai
, properly called
masala chai
, is Hindi for "spiced tea". The word "chai" just means tea, so terms like
chai tea
, although in widespread use, are redundant. A more accurate term is
spiced chai
.
Masala chai is a drink made by brewing tea, usually
black tea
, together with spices. Often, but not always, milk and sweetener, such as honey or sugar, are added. Sometimes condensed milk is used. If the milk is steamed, as with an espresso machine, the result is called a
"chai tea latte"
.
Typically, masala chai is mixed up at the time of brewing, adding spices to taste, although, especially in the U.S., it is also sold pre-blended in teabags. A few companies sell green or herbal teas in a similar style to masala chai.
RateTea lists all pre-blended masala chai mixtures in this category. However, you can make your own spiced chai by blending spices with tea. For a classic flavor, try starting with an Indian black tea such as
Assam
.
Spices used in masala chai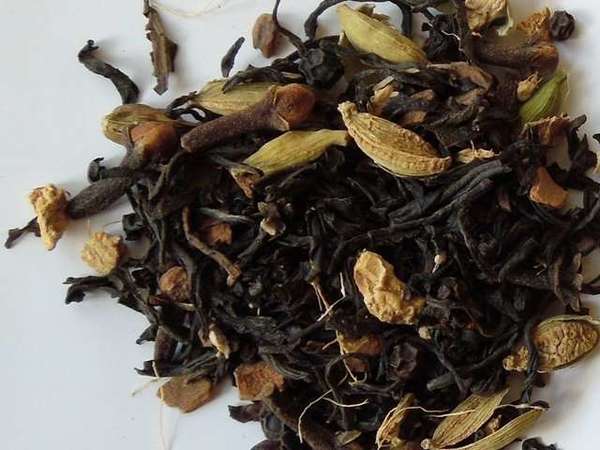 This masala chai has a typical blend of cardamom, clove, ginger, cinnamon, and black pepper.
Traditional Indian masala chai is diverse and varies regionally and based on personal taste. Spices most commonly used include cardamom, cinnamon, ginger, star anise, peppercorn, and cloves. Other spices, herbs, and flavorings, such as nutmeg, rose, liquorice, vanilla, or mint are occasionally used.
When only one spice is used, the resulting blend is usually named with the spice itself, such as
cinnamon black tea
or
tea with cardamom
: the term "chai" is usually reserved for blends including multiple spices. Black tea blended with cardamom, or "cardamom tea" is widely consumed in the Middle east.
↑Recent Chai / Spiced Tea Reviews — RSS
68 / 100

Half-litre pot at home, made from small, fine very dark brown Assam leaves and tiny pieces of cloves, cardamom, ginger and cinnamon. Pours nearly clear lightish copper brown (against white china) with no sediment. Clear aroma of cinnamon and cloves, with touches of Assam. Bitter flavour of black tea, distinct with spic...
Read Full Review
53 / 100

Since I like chais a lot in general, I thought I'd try this one on for fun and variety, after seeing it deeply discounted at a Sprouts. Maybe there's a good reason it was discounted a lot.

The dry-bag aroma is all cinnamon, and quite strongly so. The wet-bag aroma was almost all cinnamon, not quite as strong, but ...
Read Full Review
85 / 100
Half-litre pot at home, made from small, curly black and dark brown leaves of black tea, with small pieces of dried ginger, cinnamon, black pepper, cloves and cardamom. Pours slightly hazy darkish amber (against white china) with no sediment. Clear aroma of cinnamon and caramel, with mild notes of vanilla and black tea...
Read Full Review
57 / 100

In an apparent ode to Back to the Future, Lipton, or at least its corporate boss Unilever, is again referring to this simply as, "Spiced Chai", as of Feb. 2020. Whether this is a renaming of their chai just for food-service purposes, or for keeps across the brand, remains to be seen. I uploaded a photo of the latest ...
Read Full Review
75 / 100

I got a coupon from Twinings to replace some decaffeinated Earl Gray, which was really quite awful, and I decided to spend it on this.

The spices were a tad different than other chai tea bags I'd had before. I've had chai in restaurants and have bought tea bags in the Indian sector of a nearby city, and the spices i...
Read Full Review
↑Top Reviewers
Review 14 teas to get on this list!
Advertisement
↑Most-Rated Chai / Spiced Tea
↑Top-Rated Chai / Spiced Tea

98
4 Ratings

92
3 Ratings

92
3 Ratings
↑Varieties, Kinds, or Types of Chai / Spiced Tea