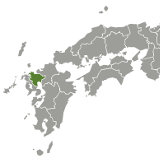 Most Reviewed By:

Saga, Japan
Wikipedia: Saga_Prefecture | Official Government Website: www.pref.saga.lg.jp/web/_7787/saga-english.html
Updated: Mar. 8, 2012
About Saga, Japan
Saga
(佐賀県) is a prefecture in Japan, located on the northwest of Kyūshū, the southernmost of Japan's four largest islands. Saga is bordered to the east by
Kumamoto
prefecture, another important tea producing region.
Besides tea, Saga is known for producing ceramics and porcelain.
Styles of Tea Produced in Saga, Japan
This is a selection, not an exhaustive listing, of the styles of tea most commonly produced in Saga, Japan.
Best Saga Teas
The notion of the "best" Saga teas is subjective, because different people have different tastes. We present the most often-rated and highest-rated teas produced in Saga, Japan, and allow you to draw your own conclusions.
Most Often-Rated Teas

42
4 Ratings
Top-Rated Saga Teas

42
4 Ratings