Tamaryokucha (Guricha)
Wikipedia: Tamaryokucha
Last Updated: Sep. 19, 2017
↑About Tamaryokucha (Guricha)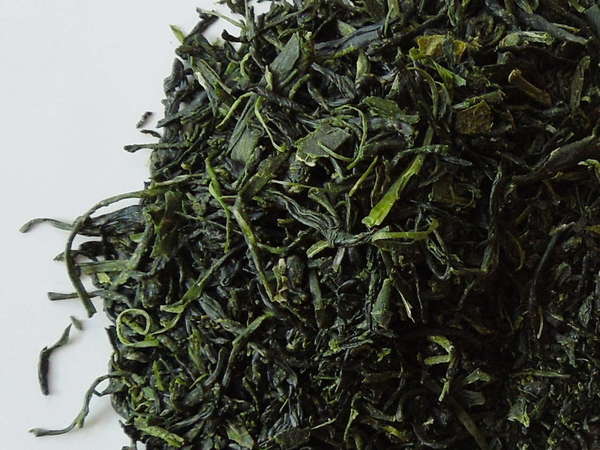 Loose-leaf guricha or tamaryokucha, showing the curved shape of the leaves. Pictured here is the steamed variety.
Guricha
, also called
tamaryokucha
(玉緑茶), is a type of Japanese green tea which has a more curved shape to its leaves. Some guricha is pan-fired, more like Chinese green teas, and less common among other Japanese green teas.
The pan-fired version of guricha is called
kama-guri
,
kama-iri-cha
, or
kama-iri-sei-cha tamaryoku
. This tea is much more similar in character to Chinese pan-fired green teas. It originated as an export product in the 1930's, sold primarily to Muslim countries, which historically consume Chinese-type green teas.
The steamed version is called
mushi-guri
or
mushi-sei-cha tamaryoku
, and is similar in overall character to sencha; it was developed by skipping a step in the production process of sencha, leading to a similar-looking curved appearance to the finished leaf.[1] The steamed version is more widely available in Western countries, but is not common there. It tends to be a premium-priced product.
Guricha tends to be produced on Kyushu island, such as in
Saga prefecture
. Mushi-guricha is also produced in
Shizuoka
. Small amounts have also recently begun to be produced in
China
.
↑Recent Tamaryokucha Reviews — RSS
67 / 100

I actually found this tea to be refreshing and clean. It's simple, but not in a way that's bitter or at all unpleasant. I brewed it a short time at 175 °F and was pleasantly surprised by how very drinkable it is. The aroma is very light and the infusion is a pale green. Its a bit plain by itself, so I recommend drinki...
Read Full Review
87 / 100

Very good tea. It has a slightly nutty, very vegetal scent and taste, which I love. The dry aroma is pungent and pleasant in the same way as the brewed tea. It tastes somewhere between a gyokuro and China Green Tips, by Tazo (if I'm remembering those flavors accurately). It hasn't caused me any throat irritation the wa...
Read Full Review
57 / 100

smells like asparagus...unique!! taste is very similar...medium-mild strength...unique and flavorful but not the best of tastes for my palate...might be quite good with sugar though!
Read Full Review
77 / 100

The aroma of this tea is a wonderfully mild mix of chestnuts, scupernongs, and a touch of citrus. Once brewed the leaves take on a more hay aroma which blends really nicely with the chestnut.

The taste is very mild and delicious! Sweetness with mild vegetal aftertastes. I will have to get my hands on more of this o...
Read Full Review
63 / 100

The aroma is very green and vegetal with a slight hint of citrus. More like orange blossoms than orange fruit though, so I can see it also being considered floral.

The flavor is also very green, and not in a bad way. Very light and also very bright! The taste is more like grass than vegetables, which is something I...
Read Full Review
↑Top Reviewers
Review 2 teas to get on this list!
Advertisement
↑Most-Rated Tamaryokucha

10
8 Ratings

68
4 Ratings
↑Top-Rated Tamaryokucha

68
4 Ratings

10
8 Ratings