Lapacho / Taheebo (Pao d'Arco)
Wikipedia: Lapacho | Teaviews: lapacho-tea
Last Updated: Dec. 19, 2016
↑About Lapacho / Taheebo (Pao d'Arco)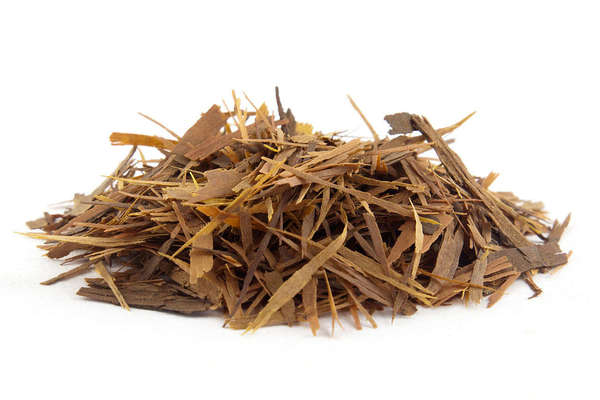 Dried Lapacho, Photo © soultea.de/André Helbig,
CC BY-SA 3.0
.
Lapacho
or
Taheebo
, is an
herbal tea
made from the inner bark of the
Handroanthus impetiginosus
tree, native to the Amazon rainforest and other areas of South America south to northern Argentina.[1]
"Lapacho" refers to both the tree and the tea, whereas "Taheebo" refers only to the tea. Lapacho is sometimes sold under the name
Pau d'arco
, which can be misleading because that name also refers to different but closely-related tree species.
The Handroanthus impetiginosus (Pink Trumpet) Tree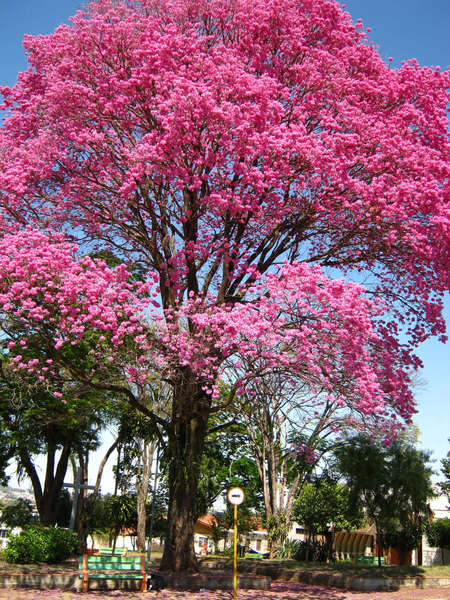 A pink trumpet tree in São Paulo. Photo © Ivolindbergh, Wikimedia Commons,
CC BY-SA 3.0
.
The tree used to produce lapacho is the
Handroanthus impetiginosus
, sometimes classified as
Tabebuia impetiginosa
or other scientific names. It is called the
Pink Trumpet Tree
or
Pink Lapacho
, named for its pink, tumpet-shaped flowers.
This tree has a long and diverse history of use by humans. It is widely planted as an ornamental or landscape tree, and is the national tree of Paraguay. The lumber of this tree is valuable, used to make flooring, and the search for this tree is a driving factor of deforestation in the Amazon. The species is also an important honey plant.
Health effects & medicinal use
Although it is sometimes sold as a beverage, lapacho has mainly been used as a medicinal plant, and has been used to treat diabetes, gastric ulcers, and as a pain killer[2], as well as to treat cancer, tumors, and bacterial infections.[1] One of the active ingredients,
lapachol
, was found to have anti-cancer properties, but was abandoned as a treatment for cancer because of toxic side-effects from a large enough dosage to fight cancer. Lapacho is best used in moderation due to this toxicity. There is evidence of reproductive toxicity in rats.[3]
References:
1. J. Rubén Gómez Castellanos, José M. Prieto, Michael Heinrich, Red Lapacho (Tabebuia impetiginosa)—A global ethnopharmacological commodity?, Journal of Ethnopharmacology, Vol. 121, No. 1, Jan. 12, 2009, pp. 1-13.
2. Arvores medicinais - Pau D'arco, University of São Paulo, Retrieved Jan. 21, 2009 (in Portugese)
3. Rita de Cássia da Silveira, Martha de Oliveira Guerra, Reproductive toxicity of lapachol in adult male Wistar rats submitted to short-term treatment, Phytotherapy Research, Vol. 21, No. 7, pp. 658-662.
↑Recent Lapacho Reviews — RSS
57 / 100

Mild, woody aroma, with a hint of wintergreen. The smell reminds me of the inside of some people's homes...it's a homey, comfortable, familiar sort of smell, but slightly medicinal. This tea is slightly sweet, and very mellow.

After drinking two cups (the sample only really makes three) I'm still not sure how I fe...
Read Full Review
↑Top Reviewers
Review 2 teas to get on this list!
Advertisement
↑Most-Rated Lapacho

1 Rating
↑Top-Rated Lapacho
We need at least 3 ratings for a tea to calculate a percentile ranking. You can help us out by rating more teas of this style.