Hairy Crab Oolong
Last Updated: Dec. 13, 2011
↑About Hairy Crab Oolong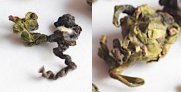 Mao Xie from Canton Tea Co
Mao xie
(毛蟹), meaning
hairy crab
, is a type of
se chung oolong
. Se chung oolongs are produced in
Anxi county
of Fujian province in China.
The name "hairy crab" originates from the fact that this oolong has fine hairs on the tea leaves, and from the way this oolong tends to be formed into irregular shapes when rolled, with curled pieces of stem and leaf projecting from some of the leaf in a way that makes some leaves look like a miniature crab. The shape originates from the deeply serrated leaves of the particular varietal of the tea plant used to produce this oolong.
Like many of the se chung oolongs, mao xie is often very affordable.
↑Recent Hairy Crab Oolong Reviews — RSS
87 / 100

I thought this was a delightful tea. I have tried a Mao Xie before, and loved it, but it was an unbranded type that someone brought me back from China so I was not able to review it. This one was a lot like I remember it: pungent and a bit edgy and odd, but in a way that I liked.

The dry leaf has an aroma that is ...
Read Full Review
↑Top Reviewers
Review 2 teas to get on this list!
Advertisement
↑Most-Rated Hairy Crab Oolong
↑Top-Rated Hairy Crab Oolong
We need at least 3 ratings for a tea to calculate a percentile ranking. You can help us out by rating more teas of this style.