Se Chung Oolong
Last Updated: Mar. 12, 2014
↑About Se Chung Oolong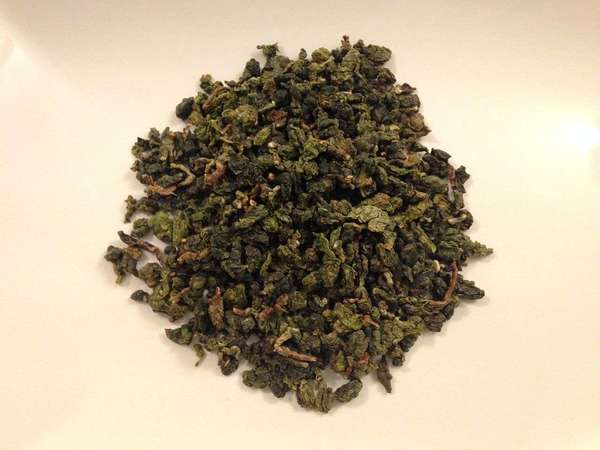 Golden osmanthus, or Huang Jin Gui, is one of the Anxi oolongs sometimes lumped in as "Se Chung" oolongs. Photo © Peaceeverywhere (Wikipedia),
CC BY-SA 4.0
.
Se chung
(色种 or 色種), sometimes written
se zhong
, meaning
colorful variety
, is a class or category of Chinese oolong teas originating in
Anxi county
of
Fujian province
. The use of the term "se chung" has changed over time; it was originally a more specific term, but it has come to encompass all Anxi oolongs other than
Tie Guan Yin
. Different varietals usually identified as se chung oolongs include
huang jin gui or golden osmanthus
(黃金桂),
mao xie or hairy crab
, (毛蟹),
Benshan
(本山), Meizhan(梅占), and
Qilan
(奇兰).[1] These oolongs vary in level of
oxidation
from greener (less oxidized) varieties to darker (more oxidized). As a general rule though, the oolongs produced in Anxi tend to be greener than those produced in Wuyi.
Se chung is not as well-known as other styles of Chinese oolong such as Ti Guan Yin, but it is frequently served in Hong Kong Chinese restaurants.[3]
The different varieties of se chung can be quite diverse, and the style is difficult to characterize universally. Tea sold as se chung can be a blend of several of these different Anxi oolongs.[4] People posting on tea forums have suggested that the term "se chung" has been deliberately maligned by Tie Guan Yin producers.[1,5] It is often described as an undervalued tea, very inexpensive relative to its quality.
Although se chung usually refers only to teas grown in Anxi county and nearby regions, such as Yongchun, some of the se chung varietals of oolong are grown in other regions; RateTea has chosen to identify these teas as se chung oolongs, even if they are grown in other regions, such as the Wuyi mountains.
References:
1. What is Sezhong? 色种, Teadrunk Forums, Nov. 1-Dec. 6, 2008, Retrieved Mar. 30, 2010.
2. "Se Chung Oolong", Culinary Teas, culinaryteas.com, Retrieved Aug. 21, 2009.
3. Upton Tea quarterly, Upton Tea Imports, Vol. 18, No. 3, Summer 2009.
4. "Anxi Oolong", www.fmltea.com, Retrieved Oct. 10, 2009.
5. "Se Zhong - Unspecified Cultivar / Blend", TeaChat, www.teachat.com, Post Date June 3rd, 2009, Retrieved Oct. 10, 2009.
↑Recent Se Chung Reviews — RSS
65 / 100

This is a nice, mellow oolong, and comes in at a very attractive price. There is nothing attention-grabbing about it; it is just a good tea. The aroma hints at woodlands and hay, and the flavor offers more of the same, with a dash of minerally tannins and vegetal notes. It is fairly light on the palate, and goes dow...
Read Full Review
90 / 100

Probably my favorite oolong, and one of my favorite teas — which is saying something, because I don't care for most oolongs. I've been drinking it for years. I usually brew it to sort of a medium strength, using about 190-degree water (or in a pinch, whatever temperature of water comes out of the industrial cof...
Read Full Review
94 / 100

This is my absolute favorite go-to green oolong tea. The aroma is pleasant and not very strong. But the aroma is the least of my worries when buying tea. The flavor is amazing, and I have trouble describing it. It lasts me 4 western style infusions and is an amazing value at 2.5 cents per cup when buying in pounds(or 1...
Read Full Review
83 / 100

The reviews as well as the very low price intrigued me enough to buy a large order of this tea.
I wasn't quite sure what to expect as, while mostly positive, the reviews describe a wide range of flavors.

The rolled, snail-like leaf smells toasty. For some reason I expected a much greener aroma.

I loaded up 5 gr...
Read Full Review
87 / 100

I thought this was a delightful tea. I have tried a Mao Xie before, and loved it, but it was an unbranded type that someone brought me back from China so I was not able to review it. This one was a lot like I remember it: pungent and a bit edgy and odd, but in a way that I liked.

The dry leaf has an aroma that is ...
Read Full Review
↑Top Reviewers
Review 2 teas to get on this list!
Advertisement
↑Most-Rated Se Chung

54
5 Ratings

1 Rating
↑Top-Rated Se Chung

54
5 Ratings
↑Varieties, Kinds, or Types of Se Chung Oolong