Qi Lan Oolong
Wikipedia: Qilan_tea
Last Updated: Mar. 12, 2014
↑About Qi Lan Oolong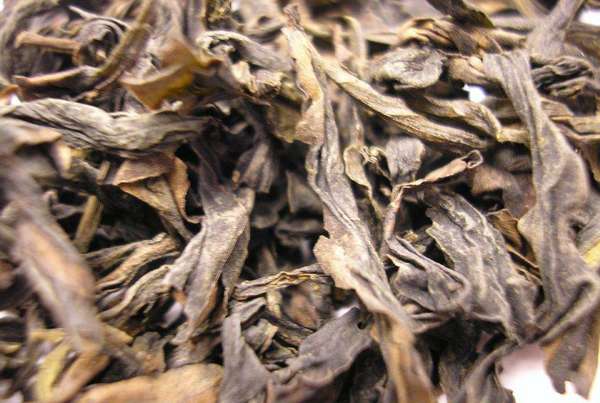 Closeup of Qilan Oolong Tea Leaves, Photo © Iateasquirrel, English Wikipedia,
CC BY-SA 3.0
.
Qi lan
(奇兰), usually translated as
profound orchid
but perhaps also translatable as "strange orchid" or "wonderful orchid", is a style of oolong. It is classified as a
se chung oolong
when it is grown in
Anxi county
in Fujian province, China. It is also grown in the Wuyi mountains in Fujian province.
More heavily
oxidized
and darker-roasted qi lan is darker in color among oolongs, and is often described as being mild and sweet, with a nutty aroma.
Less oxidized qi lan oolongs more closely resemble other greener oolongs, and have a more evident orchid aroma.
↑Recent Qi Lan Oolong Reviews — RSS
100 / 100

the aroma of the dried leaves is certainly a Yancha, I notice the tobacco and char notes that are so familiar, but they are much milder and joined by dried cherry and flowers, specifically hyacinths. Many rock oolongs are sweet, this one takes it too a whole new level, much like combining a Dan Cong and a Yancha for ul...
Read Full Review
80 / 100

I've only had dark Wuyi Qi Lan oolongs before, and I like them very much, so I was eager to try this greener one. I've heard that in general, more tightly rolled teas are higher quality, and this tea was rather loosely rolled, with the leaves taking up a lot of space. But the aroma suggests otherwise...the dry leaf h...
Read Full Review
↑Top Reviewers
Review 2 teas to get on this list!
Advertisement
↑Most-Rated Qi Lan Oolong
↑Top-Rated Qi Lan Oolong
We need at least 3 ratings for a tea to calculate a percentile ranking. You can help us out by rating more teas of this style.