Vana Tulsi
Last Updated: Mar. 13, 2012
↑About Vana Tulsi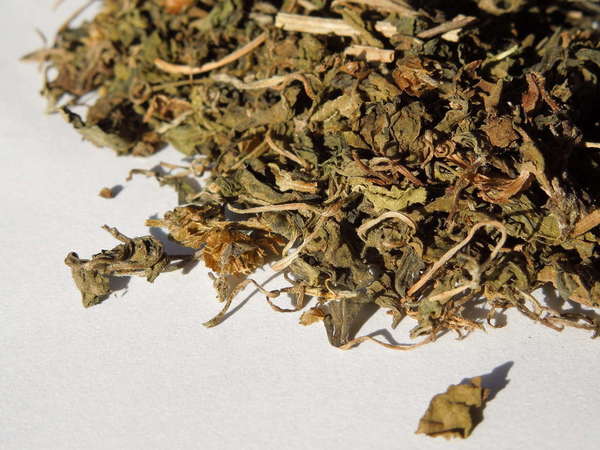 Loose-Leaf Vana Tulsi (Holy Basil) from Mountain Rose Herbs, Photo © Alex Zorach,
CC BY-SA 4.0
.
Vana tulsi
, also called
wild forest holy basil
or
wild forest tulsi
, is a plant which is usually considered a type or variety of
tulsi or holy basil
, although it actually comes from a different species. Whereas the typical tulsi comes from the
Ocimum tenuiflorum
plant, also called
Ocimum sanctum
, Vana tulsi comes from the species
Ocimum gratissimum
, which is also called
African basil
.
Whereas the other varieties of tulsi, Krishna tulsi and Rama tulsi are named after (and associated with) Hindu deities, the word "vana" refers to forest; vana tulsi is the wild variety of tulsi growing in India, across Africa, and in many other regions of the world. However, when sold, it is typically from cultivated plants, not wild-harvested plants.
In aroma and flavor, vana tulsi is similar to, but distinct from all varieties of tulsi from the
Ocimum sanctum
plant. It is also distinct from the familiar sweet basil, although its aroma tends to resemble sweet basil more than it does the other holy basils. All three species of basil, however, are quite similar.
↑Recent Vana Tulsi Reviews — RSS
83 / 100

Dry leaf smells complex, like dried ginger and anise, with a hint of straw or hay. Much more complex than the only other example of Vana tulsi that I've tried.

Brews up a very strong, dark cup relative to the amount of leaf used. The brewed cup has a spicy and very complex aroma, and a piquant (sharp but enjoyable...
Read Full Review
80 / 100

Aroma mostly of licorice, but more complex, herbaceous, and spicy. Very summery aroma; this smells much more like familiar sweet basil and less like holy basil, which makes sense, as Vana tulsi is the same species as sweet basil, and a different one from the Rama and Krishna Holy basil, which I have tried (and drink r...
Read Full Review
100 / 100

Full bodied tea. Absolutely the best cup of tea I've had this year. I've given it to several friends, and they have asked me where to buy it.
Read Full Review
↑Top Reviewers
Review 2 teas to get on this list!
Advertisement
↑Most-Rated Vana Tulsi

1 Rating
↑Top-Rated Vana Tulsi
We need at least 3 ratings for a tea to calculate a percentile ranking. You can help us out by rating more teas of this style.