Monkey-Picked Ti Kuan Yin
This tea's info last updated: Jun. 28, 2010
Commercial Description
The legend of tea-plucking monkeys comes from the inaccessibility of mountain grown teas. Nurtured by clouds and mist, Ti Kuan Yin has an intense aroma and a complex, lasting finish.
Ratings & Reviews
Page 1 of 1 page with 5 reviews

60
Aroma: 5/10 Flavor: 4/5 Value: 3/5
Brytta Sóþword
(
332 reviews
) on
Aug. 12th, 2014
Huh, I know this is an oolong tea but to me it tastes like a lighter version of the darjeelings I've tried recently. The scent and taste is a little more floral in nature with a lightly baked undertone. It goes together very smoothly. Not a bad tea at all, but not as impressive to me as some others. I had to add more leaves than normal to get the intensity of flavor I wanted, and even then it was very light. The aroma of the dry leaf was more complex and intense than the aroma of the brewed tea.
---
---

83
Aroma: 8/10 Flavor: 5/5 Value: 4/5
E. Alex Gerster
(
66 reviews
) on
Nov. 6th, 2013
Very nice lightly roasted oolong with pleasant aroma and aftertaste. Full bodied and filled with interesting notes that remind me of tart baked apples, with hints of cinnamon and caramel. Second steeping of the leaves yields a bit more woodiness, and hints of walnut. A very interesting and nice oolong that I look forward to drinking more of in the near future.
---

77
Aroma: 7/10 Flavor: 4/5 Value: 4/5
Amanda
(
338 reviews
) on
Aug. 17th, 2013
The aroma is very mild and lovely, a mixture of green, roasted, and honeysuckles. It reminds me of the way my kitchen smells after I make my own Hojicha.

The taste is mild for a Ti Kuan Yin and more green than floral. The initial taste is a toasty green with hints of floral, as the taste fades you are left with sweetness. Delightful. I would not say this is my favorite Ti Kuan Yin, but I could certainly be content drinking this every day when I am craving the really pricey stuff.
---

83
Aroma: 8/10 Flavor: 5/5 Value: 4/5
Alex Zorach
(
1447 reviews
) on
Dec. 5th, 2011
This oolong has a noticeable roasted quality but still a lot of greener character. It comes across as both toasty and fresh, and is very complex.

The cup brews a dark color, and the leaves turn a dark olive-brown upon steeping. The aroma is both woody and herbaceous, and has tones of nut, cocoa, and spice (especially cinnamon), as well as some fleeting floral qualities, and a hint of mint in the finish. I can see the caramel apple tones that Tea Snob mentions but I think I'd describe this tea differently because it doesn't seem sweet to me and I associate those aromas with sweetness. Flavor is very smooth: little bitterness, astringency, or sourness, but still very full-bodied.

Very easy to infuse. This is not a picky tea. It works well for gong-fu style brewing but you can also just as brew it in a big mug and steep it for a long time with very good results.

An all-around middle-of-the-road oolong of very good quality.

This tea is actually not cheap, and is very hard to find for sale. I have not seen it for sale online and have only ever found it in one store, but I would still recommend buying it.
---

83
Aroma: 9/10 Flavor: 4/5 Value: 4/5
Tea Snob
(
11 reviews
) on
Dec. 15th, 2010
The tea is rather brisk and sharp, but not necessarily in an unpleasant way. Next time I will let it brew for a little less time. This tea has a distinct taste of baked red apples. If anyone has ever done this before, some of the apple caramelizes as it bakes and makes it a little sweeter than normal, there are definitely caramel undertones to this tea. Taking a large mouthful gives a slightly different taste. It has a rich, nutty taste
Read Full Review
Page 1 of 1 page with 5 reviews
More Oolong Tea from China from Foojoy

1 Rating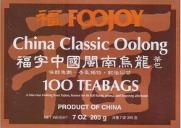 1 Rating