Dancong Oolong
Last Updated: Mar. 14, 2014
↑About Dancong Oolong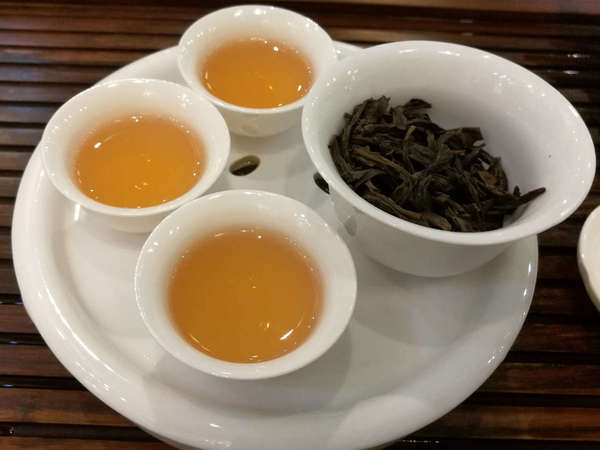 Leaves and brewed cup of dancong oolong. Public Domain Photo.
Dan cong
(单枞) or
dancong
, meaning
single trunk
, is a type of
oolong tea
, the leaves of which are gathered from a tree-like tea plant with a single trunk, in contrast to the bushy growth habit that most tea plants have been cultivated to grow in. Although the leaf color varies somewhat, the leaves are often very dark, often darker than some black teas. The leaves of dan cong are very aromatic and their aroma is often described as resembling various flowers, fruits, and spices.
There are many varieties of dancong, which have a surprising amount of variability in aroma. These varieties are very old and have origins that have been traced back hundreds of years.
Dan cong is frequently called
feng huang dancong
(凤凰单枞), meaning
phoenix
dan cong. This name refers to the Phoenix Mountains (Feng Huang Shan) in
Guangdong province
. However, the name "Feng Huang dancong" is often freely used to refer to dancong grown in other regions as well. For this reason, dancong oolong is sometimes referred to as
Phoenix oolong
.
Dan cong is sometimes aged.
↑Recent Dancong Oolong Reviews — RSS
79 / 100

The name is accurate: it does smell like honey and flowers. Like Teavivre's Ya Shi Xiang and Da Wu Ye, it has a creamy mouthfeel and sweet, fruity taste. However, I'm not sure it's worth the price considering the cheaper Da Wu Ye from Teavivre or the cheaper and likely better Mi Lan Xiang from both Yunnan Sourcing and ...
Read Full Review
80 / 100

Bright floral aroma, creamy mouthfeel. Later infusions have a note of peach with a mildly spicy finish. Pretty much a stereotypical Dancong. I'd recommend this to someone who has never tried one before. If you have, there's nothing new here, but I don't think there's really anything bad about it either unless you're us...
Read Full Review
78 / 100

I like floral teas, but this was a little too floral for me. Great creamy mouthfeel, though.
Read Full Review
95 / 100

Very fruity and aromatic tea. More than 10 steeps can be done with 5 gr!
Read Full Review
90 / 100

This is a 2nd generation Mi-Lan varietal Dancong from the Phoenix Mountains (Fenghuang Shan) in Guangdong Province. I've heard amazing things about this type of Oolong and I must say, it does not disappoint. It tastes extremely elegant and well crafted. It is rather smooth and leaves a coating around your mouth along w...
Read Full Review
↑Top Reviewers
Review 2 teas to get on this list!
Advertisement
↑Most-Rated Dancong Oolong

2 Ratings

2 Ratings

1 Rating
1 Rating
↑Top-Rated Dancong Oolong