Dancong Oolong
Updated: Mar. 14, 2014
About Dancong Oolong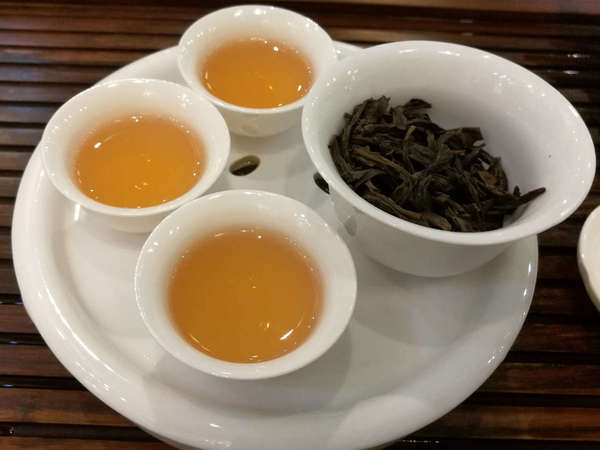 Leaves and brewed cup of dancong oolong. Public Domain Photo.
Dan cong
(单枞) or
dancong
, meaning
single trunk
, is a type of
oolong tea
, the leaves of which are gathered from a tree-like tea plant with a single trunk, in contrast to the bushy growth habit that most tea plants have been cultivated to grow in. Although the leaf color varies somewhat, the leaves are often very dark, often darker than some black teas. The leaves of dan cong are very aromatic and their aroma is often described as resembling various flowers, fruits, and spices.
There are many varieties of dancong, which have a surprising amount of variability in aroma. These varieties are very old and have origins that have been traced back hundreds of years.
Dan cong is frequently called
feng huang dancong
(凤凰单枞), meaning
phoenix
dan cong. This name refers to the Phoenix Mountains (Feng Huang Shan) in
Guangdong province
. However, the name "Feng Huang dancong" is often freely used to refer to dancong grown in other regions as well. For this reason, dancong oolong is sometimes referred to as
Phoenix oolong
.
Dan cong is sometimes aged.
Best Dancong Oolong
The notion of the "best" Dancong Oolong is subjective, because different people have different tastes. We present the most often-rated and highest-rated teas in this category, and allow you to draw your own conclusions.
Most Often-Rated Teas
Top-Rated Teas