Dancong Oolong
Last Updated: Mar. 14, 2014
↑About Dancong Oolong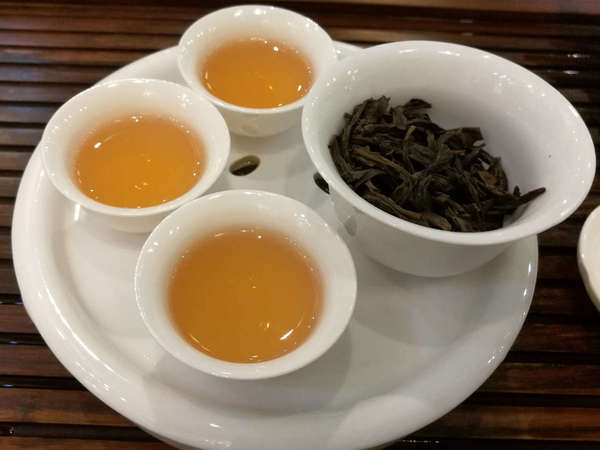 Leaves and brewed cup of dancong oolong. Public Domain Photo.
Dan cong
(单枞) or
dancong
, meaning
single trunk
, is a type of
oolong tea
, the leaves of which are gathered from a tree-like tea plant with a single trunk, in contrast to the bushy growth habit that most tea plants have been cultivated to grow in. Although the leaf color varies somewhat, the leaves are often very dark, often darker than some black teas. The leaves of dan cong are very aromatic and their aroma is often described as resembling various flowers, fruits, and spices.
There are many varieties of dancong, which have a surprising amount of variability in aroma. These varieties are very old and have origins that have been traced back hundreds of years.
Dan cong is frequently called
feng huang dancong
(凤凰单枞), meaning
phoenix
dan cong. This name refers to the Phoenix Mountains (Feng Huang Shan) in
Guangdong province
. However, the name "Feng Huang dancong" is often freely used to refer to dancong grown in other regions as well. For this reason, dancong oolong is sometimes referred to as
Phoenix oolong
.
Dan cong is sometimes aged.
↑Recent Dancong Oolong Reviews — RSS
95 / 100

Very fruity and aromatic tea. More than 10 steeps can be done with 5 gr!
Read Full Review
80 / 100

The dry leaves look brown and have a lightly roasted scent with notes of sweetness and flowers. This is a bit deceptive because after rinsing, the leaves are a very deep green and don't appear so roasted anymore.

The tea has roasted notes, sweet and floral notes which are reminiscent of gardenia but are sweeter and ...
Read Full Review
90 / 100

This is a 2nd generation Mi-Lan varietal Dancong from the Phoenix Mountains (Fenghuang Shan) in Guangdong Province. I've heard amazing things about this type of Oolong and I must say, it does not disappoint. It tastes extremely elegant and well crafted. It is rather smooth and leaves a coating around your mouth along w...
Read Full Review
93 / 100

The dry leaf is medium-long and twisted in the same style as many dan congs. Its color ranges from deep brown to light golden-yellow. The leaves are generally whole, as would be expected of this grade. When steeping, the leaves unfurl very slowly, and it takes around six steeps to more or less open them completely. The...
Read Full Review
87 / 100

The aroma of the dry leaves is heady and very sweet, there are intense notes of orchid and orange blossom, this sweet flower nectar aroma also has a creamy quality and a hint of lychees and a tiny little blip of toasted sesame at the finish. I might have spent the entire time the tea kettle was heating up with my nose ...
Read Full Review
↑Top Reviewers
Review 2 teas to get on this list!
Advertisement
↑Most-Rated Dancong Oolong

2 Ratings

2 Ratings

1 Rating
↑Top-Rated Dancong Oolong