Tie Guan Yin
Wikipedia: Tieguanyin | Teaviews: ti-kuan-yin-tea
Last Updated: Mar. 12, 2014
↑About Tie Guan Yin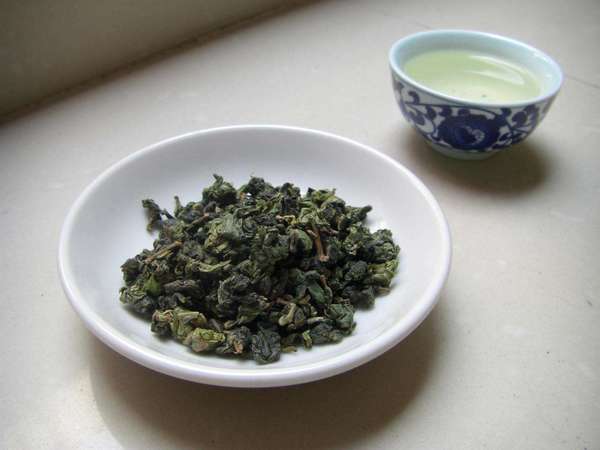 Tie Guan Yin Oolong, Loose-leaf, Public Domain Photo.
Tie Guan Yin
or
tieguanyin
(Chinese 铁观音 or 鐵觀音), often translated as
Iron Goddess of Mercy
or
Iron Buddha
, and sometimes written
Ti Kuan Yin
or
Ti Kwan Yin
, is a variety of Chinese oolong tea. Tie Guan Yin is made from a particular cultivar of the tea plant, and is also processed by a particular method.
Tie Guan Yin originated in
Anxi county
in
Fujian province
of China, where it is still produced, although it is now also produced in
Taiwan
. Anxi is famous for being the origin of a number of other oolongs as well, including the
se chung
family of oolongs.
There is a large amount of variability in Tie Guan Yin. This tea varies based on the time of year in which the leaves are harvested, the amount of
oxidation
of the tea, and perhaps most importantly, the level of roast and method of roasting. The amount of roasting varies widely, from almost none to a very dark roast. Traditionally, most Tie Guan Yin was a darker roast, but a modern green style of Tie Guan Yin with very low oxidation and a very light roast has become popular in recent years, especially in Asian countries. One type of Tie Guan Yin is called
Guan Yin Wang
, with Wang meaning "king", implying that it is the highest grade of this tea.
↑Recent Tie Guan Yin Reviews — RSS
50 / 100

An earthy oolong that is good for multiple infusions.
Read Full Review
72 / 100
Decent dark roast oolong, but nothing special. It had a nutty, caramel flavor that reminded me of Brazilian coffee. Considering it was only $2/ounce, I'd buy some again if I was in Chicago and low on oolongs, but it's not something I'd go out of my way for.
Read Full Review
68 / 100

I wrote a review of this before, but I accidentally deleted it while trying to edit it. Now that I've had a few better examples of Tieguanyin, I don't think this is as good as I initially thought. It's fairly mediocre, actually, with little to distinguish it from other oolongs on the lighter but not quite green end. Br...
Read Full Review
87 / 100

The aroma of the dry leaves is very floral, more so than any other Tieguanyin I've had, and the wet leaves are even more aromatic. I'm brewing this in my gaiwan, and after a quick rinse the first infusion is floral and vegetal, with a coolness in the finish that I usually find in Taiwanese oolongs. The second infusion ...
Read Full Review
95 / 100

Iron Goddess is the first Oolong tea I've had. It has this nice earthy/herbal, flowery flavor, almost a natural sweetness to it's taste. You can clearly imagine the taste by it's smell, which is very much the same. Caina says you want to steep 1tsp for about 30 seconds, with resteeping of the leaves about 5 times. This...
Read Full Review
↑Top Reviewers
Review 3 teas to get on this list!
Advertisement
↑Most-Rated Tie Guan Yin

53
9 Ratings
↑Top-Rated Tie Guan Yin

53
9 Ratings