Tie Guan Yin
Wikipedia: Tieguanyin | Teaviews: ti-kuan-yin-tea
Updated: Mar. 12, 2014
About Tie Guan Yin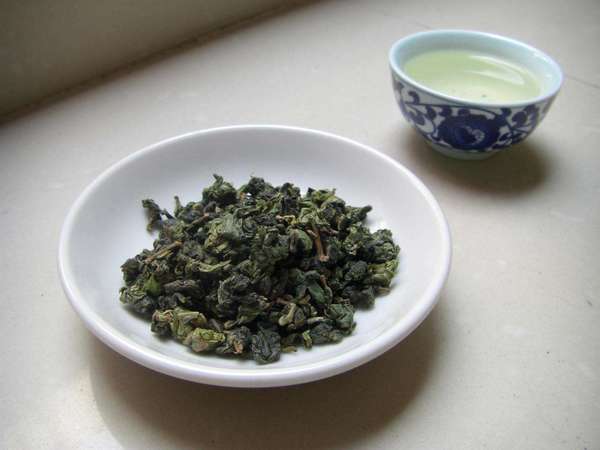 Tie Guan Yin Oolong, Loose-leaf, Public Domain Photo.
Tie Guan Yin
or
tieguanyin
(Chinese 铁观音 or 鐵觀音), often translated as
Iron Goddess of Mercy
or
Iron Buddha
, and sometimes written
Ti Kuan Yin
or
Ti Kwan Yin
, is a variety of Chinese oolong tea. Tie Guan Yin is made from a particular cultivar of the tea plant, and is also processed by a particular method.
Tie Guan Yin originated in
Anxi county
in
Fujian province
of China, where it is still produced, although it is now also produced in
Taiwan
. Anxi is famous for being the origin of a number of other oolongs as well, including the
se chung
family of oolongs.
There is a large amount of variability in Tie Guan Yin. This tea varies based on the time of year in which the leaves are harvested, the amount of
oxidation
of the tea, and perhaps most importantly, the level of roast and method of roasting. The amount of roasting varies widely, from almost none to a very dark roast. Traditionally, most Tie Guan Yin was a darker roast, but a modern green style of Tie Guan Yin with very low oxidation and a very light roast has become popular in recent years, especially in Asian countries. One type of Tie Guan Yin is called
Guan Yin Wang
, with Wang meaning "king", implying that it is the highest grade of this tea.
Best Tie Guan Yin
The notion of the "best" Tie Guan Yin is subjective, because different people have different tastes. We present the most often-rated and highest-rated teas in this category, and allow you to draw your own conclusions.
Most Often-Rated Teas
Top-Rated Teas