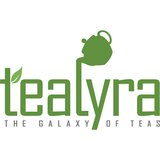 (888) 983-2589
Search TeaLyra (TeaLux)'s teas:
TeaLyra (TeaLux)







Web: www.tealyra.com
Last Updated: Feb. 14, 2015
TeaLyra, with the slogan "the galaxy of teas", is a tea company based in Montreal, Canada. TeaLyra was formerly called TeaLux. This company is distinct from Tealuxe, a tea bar and cafe with locations in Massachusetts and Rhode Island.
Most Often-Rated Teas
Top-Rated Teas
We need at least 3 ratings for a tea to calculate a percentile ranking. You can help us out by rating more teas from this brand.
Teas From TeaLyra (TeaLux)
The following is a selection of the 7 teas from TeaLyra (TeaLux) in our database.
You can also add a new tea. Please search or browse this company's teas first, to avoid adding duplicates.