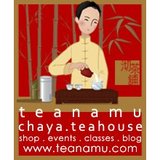 Most Reviewed By:
No one has reviewed any teas from this company yet!
Teanamu


Web: teanamu.com
Last Updated: Apr. 23, 2012
Teanamu is a tea house and tea company located in Notting Hill, London. Teanamu sells only loose tea, and has a range of Japanese green teas as well as teas from other regions. Teanamu's Japanese teas include unusual blends of perilla/shiso/akajiso (a common Japanese herb) with sencha, and yuzu (a Japanese citrus fruit) with sencha. Teanamu's Chinese teas include traditionally scented teas such as jasmine, lychee, and rose, and aged pu-erh tea.

Teanamu also sells teapots and accessories, and hosts various events including open houses, tea appreciation workshops, meditation events, and tea cookery workshops.
Teas From Teanamu
The following is a selection of the 12 teas from Teanamu in our database.
You can also add a new tea. Please search or browse this company's teas first, to avoid adding duplicates.