Gyokuro
Wikipedia: Gyokuro | Teaviews: gyokuro-tea
Updated: Mar. 14, 2014
About Gyokuro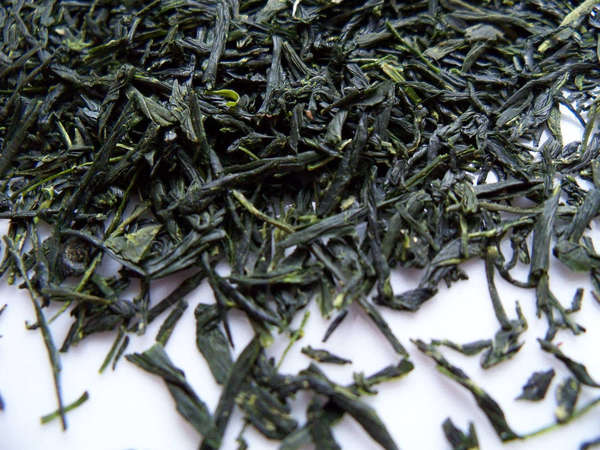 Gyokuro Imperial Green Tea from Teavana, Photo © A Girl With Tea,
CC BY 2.0
.
Gyokuro
(玉露), meaning
jewel dew
but sometimes also called
jade dew
, is a style of
Japanese
green tea
. It has a high amino acid content, giving it a bit of an "umami" (or savory) flavor, uncommon among teas. Among teas, gyokuro and
Anji bai cha
have the highest known concentration of
L-theanine
, an amino acid derivative implicated in relaxation and improved concentration.[1] The theanine content of gyokuro is roughly twice that of typical teas. Gyokuro is mostly produced in Japan, although small amounts are now produced in China as well.
Gyokuro is made from particular varieties of the tea plant, and is shade-grown for a few weeks before picking, leading the leaves to be rich in chlorophyll. The term "shade-grown" in this context can be misleading for people familiar with shade-grown coffee. Unlike shade-grown coffees, which are grown under a mature forest canopy (and thus promote greater biodiversity than sun-grown coffees), gyokuro is grown in sun for most of its development, and is artificially shaded by covering the plants with canvas or another material. The shading of gyokuro thus affects the quality of the tea, but provides no additional ecological value.
The process used to produce gyokuro is similar to the process used to produce
matcha
, a powdered green tea used in the Japanese tea ceremony. The two processes are identical until after the harvesting of the leaves, so matcha and gyokuro share certain similarities of flavor and aroma, and both share the intense green color, even though they are very different in texture and method of preparation.
Most tea companies and tea drinkers recommend brewing gyokuro with a lower temperature of water than other green teas, usually 140-160°F or 60-71°C. Brewing gyokuro with higher temperature water can result in the presence of unpleasant qualities in the aroma.
Best Gyokuro
The notion of the "best" Gyokuro is subjective, because different people have different tastes. We present the most often-rated and highest-rated teas in this category, and allow you to draw your own conclusions.
Most Often-Rated Teas
Top-Rated Teas

88
7 Ratings