Matcha
Wikipedia: Matcha | Teaviews: matcha-tea
Last Updated: Jan. 13, 2014
↑About Matcha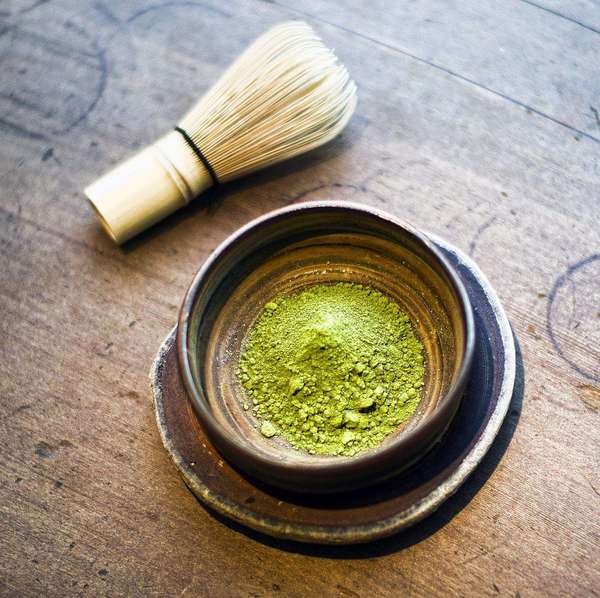 Matcha is a powdered tea, traditionally prepared with a whisk like the one shown here. Photo ©
Christopher Michel
,
CC BY 2.0
.
Matcha
(抹茶), also less commonly called
hikicha
, is a finely-powdered
Japanese
green tea made out of the same leaves that
gyokuro
is made from. Matcha, however, is not just powdered gyokuro. To produce matcha, the same leaves used to produce gyokuro are dried by a different process, producing a type of tea called
tencha
(碾茶). Matcha is then produced by removing the stems and leaf veins of the tencha, and grinding the remainder of the leaf to a fine powder. The intermediate step, tencha, is not widely available outside of Japan.
Matcha is the type of tea used in the Japanese tea ceremony.
To prepare matcha, the powder is added directly to water and, unlike most other teas, is not filtered out. The powder can be filtered through a sieve before adding it to water, to break up clumps. The traditional method of brewing matcha involves mixing it with a bamboo whisk in a bowl. Brewed matcha has an opaque, bright-green color and strong flavor. Although the flavor of matcha closely resembles other green teas in many ways, the opacity and consistency of the brewed tea is unlike any other.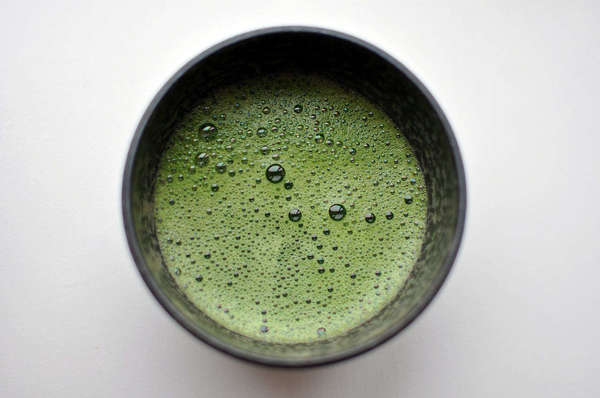 Traditionally-prepared matcha tends to be a bit foamy, with many bubbles. Photo ©
cyclonebill
,
CC BY-SA 2.0
.
Because of its finely-powdered form, matcha is easily added to desserts, baked goods, and other foods in order to impart a strong green tea flavor. Because matcha is so expensive, companies sell special
cooking grade matcha
or
kitchen grade matcha
, also called
culinary grade
, for the purpose of adding to desserts or other foods. This matcha is usually more
astringent
than the matcha intended for drinking.
The finely-powdered state of matcha makes it lose its aroma quickly; once opened, it does not stay fresh as long as most green teas. Matcha is also sometimes added or blended into green teas, including those available in teabags. Matcha is often blended with
genmaicha
, resulting in a blend called
Matcha-iri genmaicha
(抹茶入り玄米茶).
Matcha is typically made in Japan, although it is also made in other regions as well, including in
Kenya
. In addition to the familiar style of matcha, Kenya also produces a matcha-like powdered white tea called
white matcha
. We do not classify this as matcha, but rather treat it as a style of white tea in its own category.
↑Recent Matcha Reviews — RSS
70 / 100

I picked up a little can of this inexpensive matcha at a Chinese food shop, and was pleasantly surprised. It is smooth and drinkable, with a bit of fresh grain and rice in the flavor. I have had some low-cost matchas that are bitter and cheap tasting, but this is not bad at all.
Read Full Review
78 / 100
This is pretty good matcha. Though I don't normally like extra packing, the single serving sizes kept me from using excessive tea powder. The tea didn't taste weak.

I am not particularly skilled at making matcha. I liked this one best with a little preheated milk and a little honey.

On the plus side, my two y...
Read Full Review
73 / 100

An acquired taste for some although I like it - not the cheapest tea to buy and not really worth it if youre not into it. Can understand that as the color is not initially appealing to new tasters. I find it better than economy greens which often lack flavor
Read Full Review
70 / 100

Not a bad matcha. I used a little milk and think this would be even better with all milk instead out water. I like this kind of drink creamy. Also felt it needed some sweetness, so I added honey. This set of flavors blended very well. I'm looking forward to trying this tea a number of different ways.
Read Full Review
70 / 100

I loved matcha in Japan, but I really need more practice brewing it. This matcha tastes of good quality and has a proper level of sweetness (not overdone). I like it, but I need to try it more to determine how best I like it. I do know that mixing in a little milk first to make a paste before adding the hot water makes...
Read Full Review
↑Top Reviewers
Review 2 teas to get on this list!
Advertisement
↑Most-Rated Matcha

77
4 Ratings

1 Rating

1 Rating

1 Rating

1 Rating
↑Top-Rated Matcha

77
4 Ratings