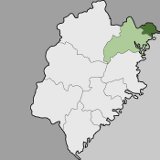 Most Reviewed By:

Fuding, Fujian, China
Wikipedia: Fuding
Updated: Mar. 23, 2012
About Fuding, Fujian, China
Fuding
(福鼎) is a county-level city at the northeasternmost corner of Fujian province in China, bordering Zhejiang province. Fuding is located at the northeastern corner of Ningde(宁德), a prefecture-level city, highlighted on the map in light green. Although referred to as a "city", the region of Fuding corresponds more closely to what Americans would think of as a county. Fuding contains a number of sparsely inhabited areas, as well as numerous villages.
Fuding lies on the coast, and is highly mountainous. Fuding is important in tea production, particularly, of white tea.
Styles of Tea Produced in Fuding, Fujian, China
This is a selection, not an exhaustive listing, of the styles of tea most commonly produced in Fuding, Fujian, China.
Best Fuding Teas
The notion of the "best" Fuding teas is subjective, because different people have different tastes. We present the most often-rated and highest-rated teas produced in Fuding, Fujian, China, and allow you to draw your own conclusions.