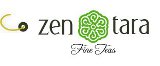 Most Reviewed By:
No one has reviewed any teas from this company yet!
Search Zen Tara Tea's teas:
Zen Tara Tea



Web: www.zentaratea.com
Last Updated: May. 22, 2014
Zen Tara Tea was a tea company based in Bethesda, MD, which also sold tea online. Zen Tara had a large selection of black, green, white, oolong, flavored, and herbal teas, and sold only loose teas. Many of Zen Tara's teas were organic certified.

Zen Tara Tea also made used tea leaves that were brewed in their store available as compost to local gardeners, and offered a discount to customers who used reusable storage containers for the tea that they buy.

Zen Tara Tea closed on March 31, 2014. Zen Tara Tea coordinated with Dominion Tea, a new company that opened in May of 2014, to offer some of the same teas for sale.
Teas From Zen Tara Tea
The following is a complete listing of the 4 teas from Zen Tara Tea in our database.
If you want to review a tea not listed, you can add a new tea.
You can also add a new tea. Please search or browse this company's teas first, to avoid adding duplicates.