Home » People » Will Hopkins » Reviews


Will Hopkins
Tea Reviewer
Website
Member since Dec. 4th, 2011. Reviewed 2 teas.
Reviews of Teas & Herbal Teas
Page 1 of 1 page with 2 results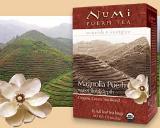 Style: Miscellaneous Blend – Region: ?????
70 / 100
Aroma: 7/10 Flavor: 4/5 Value: 3/5
Dec. 18th, 2011
First, a general note: I don't know what magnolia tastes or smells like, so it is difficult to say whether that particular flavor is present in this magnolia pu-erh tea. Numi advertises it as a tea with many subtleties or surprises, and it follows through on that claim. It is difficult to pin the tea down, but that is ...

Link to This Review
Read Full Review

Style: Jasmine Pearls – Region: China
87 / 100
Aroma: 8/10 Flavor: 4/5 Value: 5/5
Dec. 4th, 2011
This is my favorite bagged jasmine tea. The green tea provides a solid base, and the jasmine adds complexity to the flavor. Still, it's not a subtle tea, and feels like what an English green tea should be: forthright.

The tea has a slight bitter aftertaste, but it is not unpleasant if the tea is steeped briefly. The...

Link to This Review
Read Full Review
Page 1 of 1 page with 2 results