Miscellaneous Blend
Last Updated: Oct. 16, 2018
↑About Miscellaneous Blends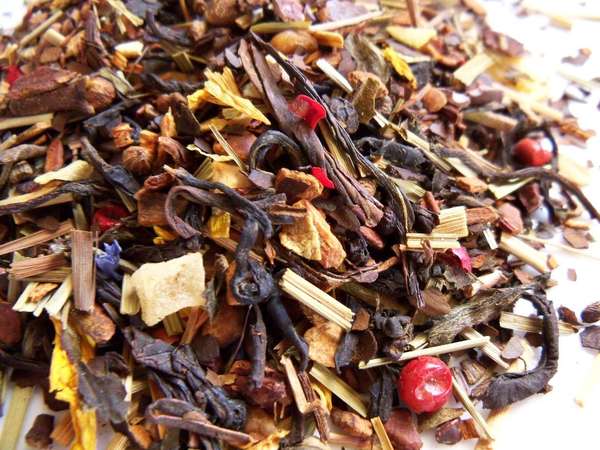 This blend of loose-leaf tea, yerba mate, and many other ingredients is typical of blends we classify in this category. Teavana sold many such blends. Photo ©
A Girl With Tea
,
CC BY 2.0
.
RateTea classifies as
miscellaneous blend
any blends of many different types of tea, herbs, and other ingredients, that do not fit a well-known style and are not easily categorized.
Blends of tea with other ingredients, where the other ingredient is the main ingredient and not just a flavoring for the tea, may be put in this category.
This category also includes blends of two or more of
green
,
black
,
oolong
and
white teas
that also contain other ingredients. Blends of more than two types of tea we classify as
miscellaneous tea-only blends
, under
pure (true) teas
. This category also encompasses blends that contain tea, but not as the primary ingredient, such as blends of rooibos, honeybush, or
yerba maté
with black or green teas and other ingredients. In general, we also place blends in this category if they contain both tea and some other caffeinated ingredient, such as mate, guarana, guayusa, yaupon, or coffee.
Teas in this category may include any number of herbs or other ingredients. Most teas in this category, unless they are
decaffeinated
, contain caffeine; the amount of caffeine varies widely, however, and some of these blends contain very little or even negligible caffeine, especially if tea is only a minor ingredient in an otherwise caffeine-free blend. However, strictly caffeine-free teas will be listed under
herbal teas
.
RateTea classifies some teas marketed as "green teas" or "white teas" as "Miscellaneous Blends" because they are blended with other varieties of tea and various herbs or other ingredients.
↑Recent Miscellaneous Blend Reviews — RSS
60 / 100

The scent of this was delicious. The scent of the tea after brewing was delicious. But, there wasn't much to the flavor. At the end of the cup, after the tea had cooled, the notes sat on my palette better. But, something about the notes bypassed my palette when the tea was hot. This might be good as an iced tea. But, a...
Read Full Review
80 / 100

Here's the first tea I've tried from a Revolution variety pack, and it was a pleasant surprise! The ingredients list looked promising, with a blend of Ceylon, Darjeeling and "Foromosa" (presumably Formosa, misspelled) oolong, French lavender flowers, and bergamot oil.

It was impossible not to compare this to anothe...
Read Full Review
68 / 100

Aside from the blackcurrant, the flavoring in this is rather subtle. The tea base is moderately rich and has a darkness in color as well as taste. It is almost a bit too tart but that's where the faint vanilla and caramel rescue it to give it some sweetness.

It's a good example of blending done well with flavoring...
Read Full Review
93 / 100

I'm not super crazy about the aroma of this tea, it has that weird turmeric smell. But the smell is very mild and it's really the taste that matters most. I've never had a turmeric tea before, but this one tastes pretty good to me. It is rich and smooth and has a unique flavor from the turmeric. If you've had turmeric ...
Read Full Review
20 / 100

Smells very fruity but not in a very pleasant way, it kind of smells like grape cough syrup to me. I'm not a huge fan of the taste either, it's pretty watery and leaves an artificial after taste in my mouth. It's not astringent or bitter which is how I normally like my tea, but this tea is so bad that I wouldn't ...
Read Full Review
↑Top Reviewers
Review 6 teas to get on this list!
Advertisement
↑Most-Rated Miscellaneous Blend

20
8 Ratings

47
4 Ratings

9
4 Ratings
↑Top-Rated Miscellaneous Blend

76
4 Ratings

47
4 Ratings

37
3 Ratings

23
3 Ratings
↑Varieties, Kinds, or Types of Miscellaneous Blend