Miscellaneous Blend
Last Updated: Oct. 16, 2018
↑About Miscellaneous Blends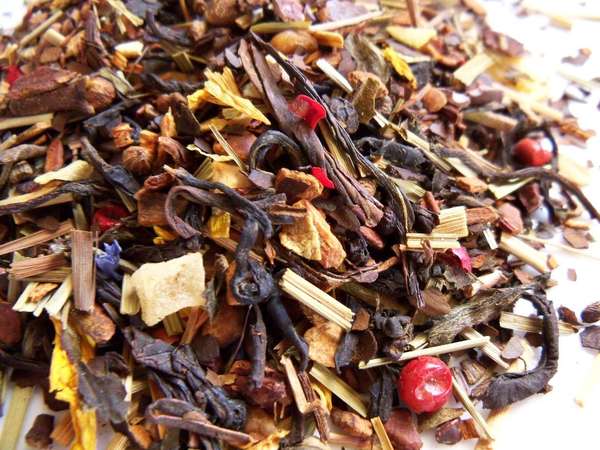 This blend of loose-leaf tea, yerba mate, and many other ingredients is typical of blends we classify in this category. Teavana sold many such blends. Photo ©
A Girl With Tea
,
CC BY 2.0
.
RateTea classifies as
miscellaneous blend
any blends of many different types of tea, herbs, and other ingredients, that do not fit a well-known style and are not easily categorized.
Blends of tea with other ingredients, where the other ingredient is the main ingredient and not just a flavoring for the tea, may be put in this category.
This category also includes blends of two or more of
green
,
black
,
oolong
and
white teas
that also contain other ingredients. Blends of more than two types of tea we classify as
miscellaneous tea-only blends
, under
pure (true) teas
. This category also encompasses blends that contain tea, but not as the primary ingredient, such as blends of rooibos, honeybush, or
yerba maté
with black or green teas and other ingredients. In general, we also place blends in this category if they contain both tea and some other caffeinated ingredient, such as mate, guarana, guayusa, yaupon, or coffee.
Teas in this category may include any number of herbs or other ingredients. Most teas in this category, unless they are
decaffeinated
, contain caffeine; the amount of caffeine varies widely, however, and some of these blends contain very little or even negligible caffeine, especially if tea is only a minor ingredient in an otherwise caffeine-free blend. However, strictly caffeine-free teas will be listed under
herbal teas
.
RateTea classifies some teas marketed as "green teas" or "white teas" as "Miscellaneous Blends" because they are blended with other varieties of tea and various herbs or other ingredients.
↑Recent Miscellaneous Blend Reviews — RSS
95 / 100

Half-litre pot at home, made from an enchanting blend of green honeybush and rooibos leaves as well as pieces of apple, liquorice root, kiwi, strawberries, elderflower and rose petals - it is hard to fathom how all of this can fit into a meaningful combination, but it certainly does emit a lovely scent. Pours clear rob...
Read Full Review
70 / 100

Half-litre pot at home, made from a blend consisting of leaves of mostly yellow and some green tea, Japanese cherry blossom, sunflower petals, jasmine and pieces of dried peach - a very aromatic mixture. Pours clear straw with no sediment. Clear aroma of peach, with notes of tea leaves and mild touches of jasmine. Bitt...
Read Full Review
78 / 100
Half-litre pot at home, made from very fine leaves of Assam and Chinese black tea mixed with petals of marigold, mallow and rose. Pours clear copper brown (against white china) with no sediment. Clear aroma of Assam tea leaves, with notes of rose and touches of marigold. Bitter flavour of black tea, with floral and fru...
Read Full Review
68 / 100
Cup at home, made from a mixture of (relatively few) black tea leaves and pieces of figs, raisins, caramelised dragon fruit, lemongrass, apple, cactus flower and rose petals. Pours slightly hazy amber with s little sediment (I brewed it in a cup sieve). Clear aroma of citrus, raisins, and lemongrass, with a mild touch ...
Read Full Review
95 / 100

Half-litre pot at home, made from white and green tea leaves mixed with a miscellany of other ingredients, mostly fruit (caramelised or dried), spice (e.g. cinnamon) and cocoa. Pours clear pale straw with no sediment. Intense aroma (on the lid of the teapot being lifted, it fills the whole room) of various fruits (pine...
Read Full Review
↑Top Reviewers
Review 8 teas to get on this list!
Advertisement
↑Most-Rated Miscellaneous Blend

20
8 Ratings

76
4 Ratings

47
4 Ratings
↑Top-Rated Miscellaneous Blend

76
4 Ratings

47
4 Ratings

37
3 Ratings

23
3 Ratings
↑Varieties, Kinds, or Types of Miscellaneous Blend