Miscellaneous Blend
Last Updated: Oct. 16, 2018
↑About Miscellaneous Blends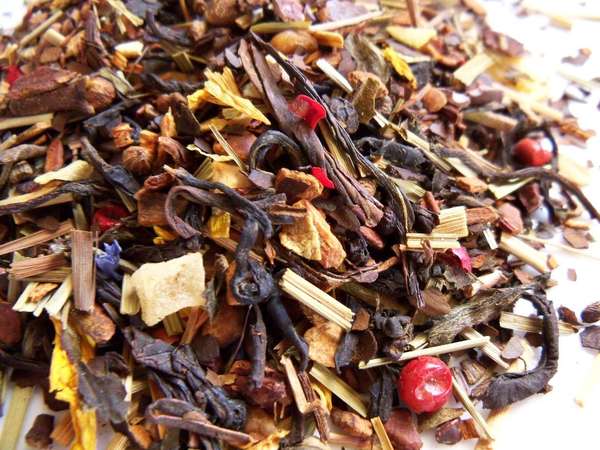 This blend of loose-leaf tea, yerba mate, and many other ingredients is typical of blends we classify in this category. Teavana sold many such blends. Photo ©
A Girl With Tea
,
CC BY 2.0
.
RateTea classifies as
miscellaneous blend
any blends of many different types of tea, herbs, and other ingredients, that do not fit a well-known style and are not easily categorized.
Blends of tea with other ingredients, where the other ingredient is the main ingredient and not just a flavoring for the tea, may be put in this category.
This category also includes blends of two or more of
green
,
black
,
oolong
and
white teas
that also contain other ingredients. Blends of more than two types of tea we classify as
miscellaneous tea-only blends
, under
pure (true) teas
. This category also encompasses blends that contain tea, but not as the primary ingredient, such as blends of rooibos, honeybush, or
yerba maté
with black or green teas and other ingredients. In general, we also place blends in this category if they contain both tea and some other caffeinated ingredient, such as mate, guarana, guayusa, yaupon, or coffee.
Teas in this category may include any number of herbs or other ingredients. Most teas in this category, unless they are
decaffeinated
, contain caffeine; the amount of caffeine varies widely, however, and some of these blends contain very little or even negligible caffeine, especially if tea is only a minor ingredient in an otherwise caffeine-free blend. However, strictly caffeine-free teas will be listed under
herbal teas
.
RateTea classifies some teas marketed as "green teas" or "white teas" as "Miscellaneous Blends" because they are blended with other varieties of tea and various herbs or other ingredients.
↑Recent Miscellaneous Blend Reviews — RSS
82 / 100
Here's the third offering reviewed here, and the second-best to me, from a 4-pack sample of the various seasonal holiday teas Murchie's produces. As with the others, they are flavored loose blends, in this case composed of black tea, jasmine green, calendula flowers, elder flowers, and unspecified "natural and artifi...
Read Full Review
78 / 100

Evergreen is a unique tea, to say the least. That usually means it's going to be a major turn-off, a surprising crowd-pleaser, or just weird. How about, "pleasantly weird"?

Like Shania's boyfriends in her pop-country song, the first couple cups had me thinking, "That don't impress me much!" Unlike them with her, ...
Read Full Review
80 / 100

Harney's Paris blend is an interesting and likeable variation on the Earl Grey formula. In addition to bergamot, this has vanilla, black currant, and caramel flavors added to black and oolong teas. It makes for a sweet and festive tea that goes well with milk and sugar.
Read Full Review
88 / 100

Half-litre pot at home, made from a mixture of black tea leaves, rooibos leaves, honey granulate, and calendula blossom, all sprinkled generously with flavour and emitting a strong scent of honey. Pours slightly hazy dark amber (against white china), with no sediment. Clear aroma of honey, with touches of rooibos and h...
Read Full Review
70 / 100

One-litre pot at home, made from a mixture of brown oolong and green tea leaves, with flowers of Roman chamomile and rosebuds, all sprinkled with an aroma. Pours nearly clear dark amber (against white china) with negligible sediment. Clear aroma of oxidated tea leaves, with pronounced fruity notes and mild rosy hints. ...
Read Full Review
↑Top Reviewers
Review 10 teas to get on this list!
Advertisement
↑Most-Rated Miscellaneous Blend

5
8 Ratings

9
4 Ratings

76
4 Ratings
↑Top-Rated Miscellaneous Blend

76
4 Ratings

47
4 Ratings

37
3 Ratings

23
3 Ratings
↑Varieties, Kinds, or Types of Miscellaneous Blend