Miscellaneous Blend
Last Updated: Oct. 16, 2018
↑About Miscellaneous Blends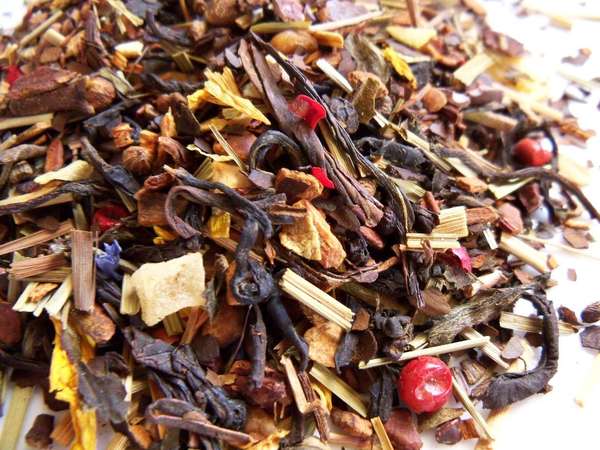 This blend of loose-leaf tea, yerba mate, and many other ingredients is typical of blends we classify in this category. Teavana sold many such blends. Photo ©
A Girl With Tea
,
CC BY 2.0
.
RateTea classifies as
miscellaneous blend
any blends of many different types of tea, herbs, and other ingredients, that do not fit a well-known style and are not easily categorized.
Blends of tea with other ingredients, where the other ingredient is the main ingredient and not just a flavoring for the tea, may be put in this category.
This category also includes blends of two or more of
green
,
black
,
oolong
and
white teas
that also contain other ingredients. Blends of more than two types of tea we classify as
miscellaneous tea-only blends
, under
pure (true) teas
. This category also encompasses blends that contain tea, but not as the primary ingredient, such as blends of rooibos, honeybush, or
yerba maté
with black or green teas and other ingredients. In general, we also place blends in this category if they contain both tea and some other caffeinated ingredient, such as mate, guarana, guayusa, yaupon, or coffee.
Teas in this category may include any number of herbs or other ingredients. Most teas in this category, unless they are
decaffeinated
, contain caffeine; the amount of caffeine varies widely, however, and some of these blends contain very little or even negligible caffeine, especially if tea is only a minor ingredient in an otherwise caffeine-free blend. However, strictly caffeine-free teas will be listed under
herbal teas
.
RateTea classifies some teas marketed as "green teas" or "white teas" as "Miscellaneous Blends" because they are blended with other varieties of tea and various herbs or other ingredients.
↑Recent Miscellaneous Blend Reviews — RSS
80 / 100

I don't usually like black teas but this one was enjoyable.
Read Full Review
65 / 100

The aroma smelled just like a Christmas tree. Great for a winter's night by the roasting fire.
Read Full Review
80 / 100

It's a really nice tea! It tastes like Christmas, that is it has hints of evergreen in its flavor and smell.
Read Full Review
100 / 100

The aroma of this tea is one that reminds me of cold winter nights, bundle up by the fire place near a Christmas tree. While I'm usually not one for black teas this is the exception I would make. It's flavor is a flavorful black tea with hints of licorice reminds me of the tea my grandmother used to make, with a bit mo...
Read Full Review
65 / 100

I'm going to call this a "temporary" review. While I'm going to endeavor to be accurate, I actually drank this tea while in the middle of a VERY long work day, and forgot to do the review on the spot. As such, I'm reviewing based on a memory from almost a day ago. The likelihood is that I will be updating this review o...
Read Full Review
↑Top Reviewers
Review 5 teas to get on this list!
Advertisement
↑Most-Rated Miscellaneous Blend

18
8 Ratings

52
4 Ratings

12
3 Ratings
↑Top-Rated Miscellaneous Blend

76
3 Ratings

52
4 Ratings

33
3 Ratings

20
3 Ratings
↑Varieties, Kinds, or Types of Miscellaneous Blend