Miscellaneous Blend
Last Updated: Mar. 14, 2014
↑About Miscellaneous Blends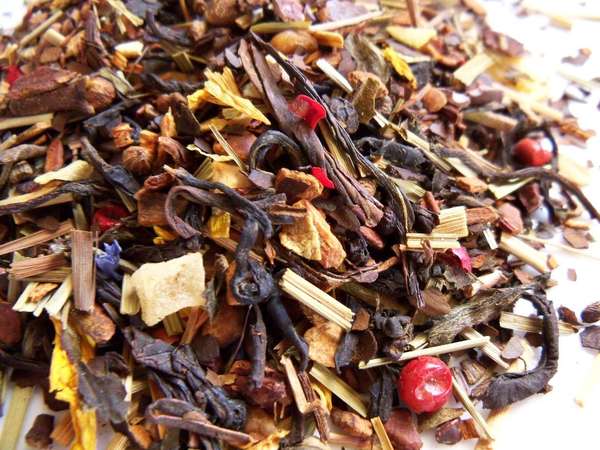 This blend of loose-leaf tea, yerba mate, and many other ingredients is typical of blends we classify in this category. Teavana sold many such blends. Photo ©
A Girl With Tea
,
CC BY 2.0
.
RateTea classifies as
miscellaneous blend
any blends of many different types of tea, herbs, and other ingredients, that do not fit a well-known style and are not easily categorized.
Blends of tea with other ingredients, where the other ingredient is the main ingredient and not just a flavoring for the tea, may be put in this category.
This category also includes blends of two or more of
green
,
black
,
oolong
and
white teas
that also contain other ingredients. Blends of more than two types of tea we classify as
miscellaneous tea-only blends
, under
pure (true) teas
. This category also encompasses blends that contain tea, but not as the primary ingredient, such as blends of rooibos, honeybush, or
yerba maté
with black or green teas and other ingredients.
Teas in this category may include any number of herbs or other ingredients. Most teas in this category, unless they are
decaffeinated
, contain caffeine; the amount of caffeine varies widely, however, and some of these blends contain very little or even negligible caffeine, especially if tea is only a minor ingredient in an otherwise caffeine-free blend. However, strictly caffeine-free teas will be listed under
herbal teas
.
RateTea classifies some teas marketed as "green teas" or "white teas" as "Miscellaneous Blends" because they are blended with other varieties of tea and various herbs or other ingredients.
↑Recent Miscellaneous Blend Reviews — RSS
75 / 100

Nice blend with a 'bite'. Good flavor, pleasing aroma, dark liquor. Very enjoyable.
Read Full Review
84 / 100

Fans of unabashedly fruity teas, this one's for you. Get some today. "Sweetheart" is well worth giving love, though in a somewhat unexpected way.

While on their website replenishing stocks of other Murchie's teas, I saw this new loose blend, checked the ingredients (including the pieces of coconut visible in the ph...
Read Full Review
70 / 100
I got this tea for 16$ in an 8-ounce tin during a closing sale, so for me, the value was more of a 4.0(80 total rating if accounted for). One thing I did notice was these large popcorn pieces that add little to no flavor to the blend which were used as a filler, but this only took up about 5-10% of the container. But T...
Read Full Review
35 / 100

In the roller-coaster experience that is the Numi variety pack, I've hit a deep dip again. At least, unlike some literal roller-coaster riders, I didn't retch.

For the most part, the teas I've tried so far containing turmeric have been underwhelming, at best. This one strikes me as a randomly conceived herbal vec...
Read Full Review
54 / 100

This tea has multiple-personality disorder. At times, it tasted like a smooth, non-sour, lemony yerba mate/green tea blend in rather delicious synchronization, a whole noticeably better than the sum of parts. Neither mate nor lemon are favorites of mine, yet the balance of them somehow worked in those sips. I almost...
Read Full Review
↑Top Reviewers
Review 5 teas to get on this list!
Advertisement
↑Most-Rated Miscellaneous Blend

26
8 Ratings

11
3 Ratings

89
3 Ratings
↑Top-Rated Miscellaneous Blend

89
3 Ratings

68
3 Ratings

58
3 Ratings
↑Varieties, Kinds, or Types of Miscellaneous Blend