Miscellaneous Blend
Updated: Mar. 14, 2014
About Miscellaneous Blends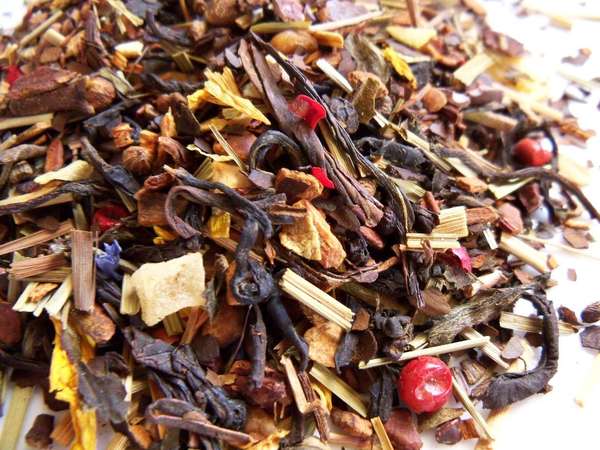 This blend of loose-leaf tea, yerba mate, and many other ingredients is typical of blends we classify in this category. Teavana sold many such blends. Photo ©
A Girl With Tea
,
CC BY 2.0
.
RateTea classifies as
miscellaneous blend
any blends of many different types of tea, herbs, and other ingredients, that do not fit a well-known style and are not easily categorized.
Blends of tea with other ingredients, where the other ingredient is the main ingredient and not just a flavoring for the tea, may be put in this category.
This category also includes blends of two or more of
green
,
black
,
oolong
and
white teas
that also contain other ingredients. Blends of more than two types of tea we classify as
miscellaneous tea-only blends
, under
pure (true) teas
. This category also encompasses blends that contain tea, but not as the primary ingredient, such as blends of rooibos, honeybush, or
yerba maté
with black or green teas and other ingredients.
Teas in this category may include any number of herbs or other ingredients. Most teas in this category, unless they are
decaffeinated
, contain caffeine; the amount of caffeine varies widely, however, and some of these blends contain very little or even negligible caffeine, especially if tea is only a minor ingredient in an otherwise caffeine-free blend. However, strictly caffeine-free teas will be listed under
herbal teas
.
RateTea classifies some teas marketed as "green teas" or "white teas" as "Miscellaneous Blends" because they are blended with other varieties of tea and various herbs or other ingredients.
Varieties, Kinds, or Types of Miscellaneous Blend
Best Miscellaneous Blend
The notion of the "best" Miscellaneous Blend is subjective, because different people have different tastes. We present the most often-rated and highest-rated teas in this category, and allow you to draw your own conclusions.
Most Often-Rated Teas
Top-Rated Teas