Home » People » Sylvia » Reviews
Page 1 of 1 page with 2 results

Style: Darjeeling Oolong – Region: Darjeeling, India
57 / 100
Aroma: 5/10 Flavor: 3/5 Value: 3/5
Jun. 14th, 2013
This tea has a very sweet aroma. It tastes kind of bitter and watery, although it has an interesting crisp, fresh flavor. It tastes like black tea, which I like. It has a lingering bitter aftertaste that I don't like so much. I have mixed feelings about it. I added cream and sugar.

Link to This Review
Read Full Review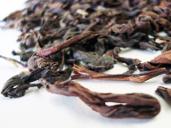 Style: Darjeeling Oolong – Region: Darjeeling, India
67 / 100
Aroma: 8/10 Flavor: 3/5 Value: 3/5
Dec. 3rd, 2011
I don't know how to describe this tea. It tastes a little bit fruity, kind of peach-like maybe. It has a sort of smoky aroma. I don't think it's quite my cup of tea. It's a little too weird.

Link to This Review
Read Full Review
Page 1 of 1 page with 2 results