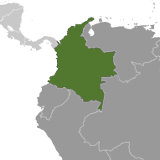 Most Reviewed By:

Colombia
Wikipedia: Colombia
Updated: Mar. 22, 2016
About Colombia
Colombia
is a country in South America. Colombia is best-known for producing coffee, but it produces a small amount of tea, including artisan orthodox teas.
Colombia is located in the tropics, with the equator running through the southern end of the country, and the country has coasts on both Atlantic and Pacific oceans. Most of the climate is tropical and humid year-round, although there are small regions of many different climate zones. The Andes mountain range cuts through the middle of the country, and the high elevation areas become cooler. Parts of Colombia are semi-arid and there are a few desert areas. Many regions have seasonal rainfall patterns.
Tea in Colombia is grown at higher elevations in the mountainous regions.
Styles of Tea Produced in Colombia
This is a selection, not an exhaustive listing, of the styles of tea most commonly produced in Colombia.
Best Teas
The notion of the "best" teas is subjective, because different people have different tastes. We present the most often-rated and highest-rated teas produced in Colombia, and allow you to draw your own conclusions.
Most Often-Rated Teas
Top-Rated Teas
We need at least 3 ratings for a tea to calculate a percentile ranking. You can help us out by rating more teas of this style.