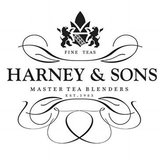 (888) 427-6398
Most Reviewed By:

Search Harney and Sons's teas:
Harney and Sons






Web: www.harney.com
Last Updated: Oct. 31, 2013
Harney & Sons is a tea company, founded in 1983 in Salisbury, CT, now based in Millerton, NY. The company sells a wide variety of teas. Their broadest selection is in high-end loose teas, black, oolong, white, and green teas, and some scented teas, although they also carry a few herbal teas, and have a few teas available in teabags and tea sachets.

In addition, Harney & Sons's website sells teapots, books, and tea accessories. Michael Harney of Harney & Sons also wrote the Harney and Sons Guide to Tea, a book about tea and different styles and varieties of tea.
Physical Locations
Most Often-Rated Teas
Top-Rated Teas
You can also add a new tea. Please search or browse this company's teas first, to avoid adding duplicates.