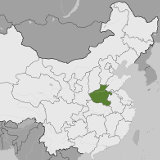 Most Reviewed By:

Henan, China
Wikipedia: Henan | Official Government Website: www.henan.gov.cn
Updated: Mar. 8, 2012
About Henan, China
Henan
(河南) is a landlocked province in the eastern part of China. Among other provinces, it borders the tea-producing provinces of
Shandong
to the northeast,
Anhui
to the southeast, and
Hubei
to the south.
Xin Yang (信阳) in southern Henan province is known for being the origin of Xin Yang Mao Jian, a variety of
mao jian green tea
.
Tea-Producing Regions of Henan, China
Styles of Tea Produced in Henan, China
This is a selection, not an exhaustive listing, of the styles of tea most commonly produced in Henan, China.
Best Henan Teas
The notion of the "best" Henan teas is subjective, because different people have different tastes. We present the most often-rated and highest-rated teas produced in Henan, China, and allow you to draw your own conclusions.
Most Often-Rated Teas

2 Ratings
Top-Rated Henan Teas