Mao Jian Green Tea
Wikipedia: Mao_Jian_tea
Updated: Aug. 19, 2014
About Mao Jian Green Tea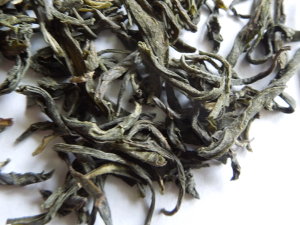 Loose-leaf mao jian green tea, showing a slightly curved, wiry leaf shape. Photo by Alex Zorach.
Mao jian
(毛尖) meaning
fur tip
is a style of
green tea
from
China
. Mao jian refers to the leaf style and shape, and the flavor profile of these types of tea can be diverse, depending on region of production and harvest date. It is a well-known style of tea, and is usually, but not always included on lists of China's 10 Famous Teas.
Mao jian green tea is grown in several different regions of China, including the Wuyi mountains between Fujian and Jiangxi provinces, and the Yellow Mountains of Anhui province. Often, the name Mao Jian will be preceded by the name of the locality that has produced the tea. For example, Xin Yang Mao Jian is a well-known type of Mao Jian, grown near Xin Yang in Henan province.
Best Mao Jian Green Tea
The notion of the "best" Mao Jian Green Tea is subjective, because different people have different tastes. We present the most often-rated and highest-rated teas in this category, and allow you to draw your own conclusions.
Most Often-Rated Teas
Top-Rated Teas