Mao Jian Green Tea
Wikipedia: Mao_Jian_tea
Last Updated: Aug. 19, 2014
↑About Mao Jian Green Tea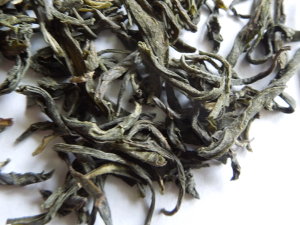 Loose-leaf mao jian green tea, showing a slightly curved, wiry leaf shape. Photo by Alex Zorach.
Mao jian
(毛尖) meaning
fur tip
is a style of
green tea
from
China
. Mao jian refers to the leaf style and shape, and the flavor profile of these types of tea can be diverse, depending on region of production and harvest date. It is a well-known style of tea, and is usually, but not always included on lists of China's 10 Famous Teas.
Mao jian green tea is grown in several different regions of China, including the Wuyi mountains between Fujian and Jiangxi provinces, and the Yellow Mountains of Anhui province. Often, the name Mao Jian will be preceded by the name of the locality that has produced the tea. For example, Xin Yang Mao Jian is a well-known type of Mao Jian, grown near Xin Yang in Henan province.
↑Recent Mao Jian Reviews — RSS
90 / 100

The appearance of this green tea is dark green. The dry leaves smell amazing. It's like seaweed.

After brewing I can see that it consists mainly out of small young leaves as well as some one bud one leaf pickings.

This is a pretty strong tea. The flavour reminds me of a biluochun. It's vegetal, seaweed-like, ...
Read Full Review
70 / 100

I tend to like Mao Jian teas a lot, and I still liked this one, but it was my least favorite example of it that I've tried. It was unexpectedly smooth but lacked edge or bite, and I think this bite is one of the things that I most appreciate about this type of tea.

Dry leaf is wiry and curved, very dark green. Qui...
Read Full Review
60 / 100

Although I like green tea, this is not one of my favorites. Although it seems to be of good quality, the taste is not for me. There is a strong vegetal flavor as well as a bitterness present throughout that I am not fond of. That being said, the aroma is very pleasant with a strong vegetal smell. It seems to be a good ...
Read Full Review
80 / 100

The aroma is delightfully savory, mixing notes of sundried tomato. tomato leaves, spinach, and a bit of sauteed mushrooms. At the finish there was a tiny hint of cut grass and a surprising note of dulse.

The first steep keeps up the savory notes, blending sauteed mushrooms, some mild bok choy, a bit of edamame nutti...
Read Full Review
97 / 100

When I snipped open the little pouch this tea came in and gave it a good sniff, the first thing I noticed is how brothy, almost meaty the leaves smell, how intriguing! Once I poured the leaves I planned on steeping into my official sniffing dish, the leaves still retained their hint of broth, but it became more of a ve...
Read Full Review
↑Top Reviewers
Review 2 teas to get on this list!
Advertisement
↑Most-Rated Mao Jian
↑Top-Rated Mao Jian