Osmanthus Tea
Wikipedia: Osmanthus_fragrans | Teaviews: osmanthus-tea
Last Updated: Apr. 7, 2014
↑About Osmanthus Tea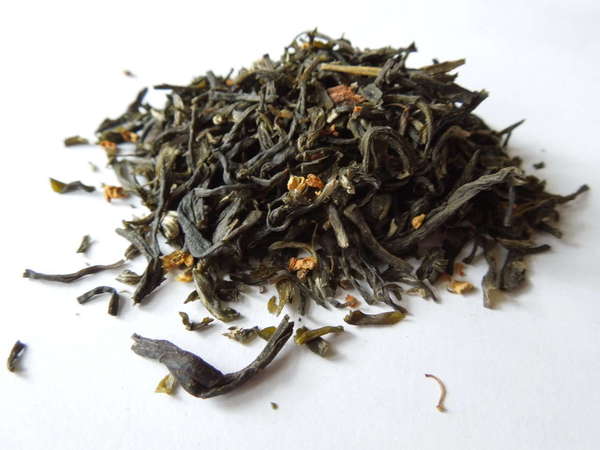 Loose-Leaf Guangxi Osmanthus Tea from Tea Horse, Photo © Alex Zorach,
CC BY-SA 4.0
.
Osmanthus tea
, called
guihua cha
(桂花茶) in Chinese, is tea that has been scented with the flowers of the
Osmanthus fragrans
plant, similarly to how
jasmine tea
is made. Osmanthus tea originated in
China
, and is one of many traditional scented teas, less widely known than jasmine tea.
Green, black, white, pouchong, and oolong teas can all be used as the base for osmanthus tea. As with jasmine, when milder base teas like silver needle are used as the base, the osmanthus scent is more clearly evident in the aroma.
Pure (unscented) oolong smelling like osmanthus
Osmanthus tea is distinct from
golden osmanthus or huang jin gui oolong
, a style of
oolong tea
which has an aroma suggestive of osmanthus flowers, but which does not actually contain any flowers or ingredients other than the tea leaf.
Huang Jin Gui is a
se chung oolong
; the similarity between the aromas of se chung and osmanthus flowers is also reflected by the fact that sometimes se chung oolongs are used as the base for osmanthus tea.
When a greener huang jin gui, or other greener oolong with a floral fragrance is used as the base for osmanthus tea, the aromas can blend seamlessly together, making it hard to distinguish the aroma of the osmanthus blossoms from that of the tea itself.
↑Recent Osmanthus Tea Reviews — RSS
70 / 100

A pleasant cup - the floral notes blend well with the tea. Oolong and flowers makes for an odd but effective combination.
Read Full Review
79 / 100

This is a good tea! Not what I expected at all though. Teavivre says to use 5g of tea so I will try that next time. The smell and taste is not very complex, a little vegetal and very floral. I do not think I will get this tea again though, as Adagio's golden flower tea is just too good of a price.
Read Full Review
51 / 100
This is a new tea that Het Gouden Randje has just added to its inventory. I drank a cup of it in the tea shop, and I did my best to taste it properly. It's always difficult, though; I prefer to drink teas at home with more controlled conditions and multiple chances to get to know them properly.
I feel like this time e...
Read Full Review
75 / 100

I asked the owner of Het Gouden Randje to recommend me a Chinese green tea, and she served me this. I don't usually go for flavoured teas, but this one was so good that I bought 50 grams of it. I can't actually remember the price (of course it doesn't help that I bought three other kinds of tea at the same time, as wel...
Read Full Review
87 / 100

This is a very nice pure tea. The osmanthus flowers are a nice complement, but it's the oolong tea that shines. Heads up: the tea expands a *lot* in water, so use a smaller scoop than normal --- maybe a half size? Also, it resteeps very well.
Read Full Review
↑Top Reviewers
Review 2 teas to get on this list!
Advertisement
↑Most-Rated Osmanthus Tea

44
3 Ratings

2 Ratings

2 Ratings

1 Rating

1 Rating
↑Top-Rated Osmanthus Tea

44
3 Ratings