Osmanthus Tea
Wikipedia: Osmanthus_fragrans | Teaviews: osmanthus-tea
Updated: Apr. 7, 2014
About Osmanthus Tea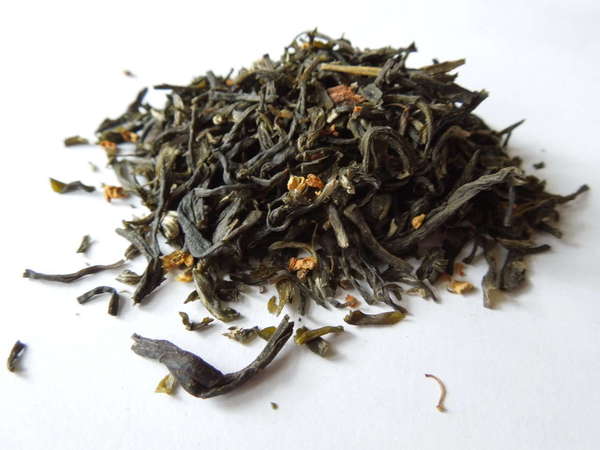 Loose-Leaf Guangxi Osmanthus Tea from Tea Horse, Photo © Alex Zorach,
CC BY-SA 4.0
.
Osmanthus tea
, called
guihua cha
(桂花茶) in Chinese, is tea that has been scented with the flowers of the
Osmanthus fragrans
plant, similarly to how
jasmine tea
is made. Osmanthus tea originated in
China
, and is one of many traditional scented teas, less widely known than jasmine tea.
Green, black, white, pouchong, and oolong teas can all be used as the base for osmanthus tea. As with jasmine, when milder base teas like silver needle are used as the base, the osmanthus scent is more clearly evident in the aroma.
Pure (unscented) oolong smelling like osmanthus
Osmanthus tea is distinct from
golden osmanthus or huang jin gui oolong
, a style of
oolong tea
which has an aroma suggestive of osmanthus flowers, but which does not actually contain any flowers or ingredients other than the tea leaf.
Huang Jin Gui is a
se chung oolong
; the similarity between the aromas of se chung and osmanthus flowers is also reflected by the fact that sometimes se chung oolongs are used as the base for osmanthus tea.
When a greener huang jin gui, or other greener oolong with a floral fragrance is used as the base for osmanthus tea, the aromas can blend seamlessly together, making it hard to distinguish the aroma of the osmanthus blossoms from that of the tea itself.
Best Osmanthus Tea
The notion of the "best" Osmanthus Tea is subjective, because different people have different tastes. We present the most often-rated and highest-rated teas in this category, and allow you to draw your own conclusions.
Most Often-Rated Teas
Top-Rated Teas

77
3 Ratings