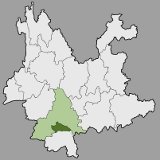 Simao, Yunnan, China
Updated: Apr. 25, 2013
About Simao, Yunnan, China
Simao
(思茅) is a district (a county-level entity) in Pu'er City (a prefecture-level city) in Yunnan province of China. Simao is the administrative center of Pu'er.
Simao is home to the Wuliang mountains.
Styles of Tea Produced in Simao, Yunnan, China
This is a selection, not an exhaustive listing, of the styles of tea most commonly produced in Simao, Yunnan, China.