Yunnan Red
Wikipedia: Dianhong | Teaviews: yunnan-tea
Last Updated: Oct. 5, 2018
↑About Yunnan Red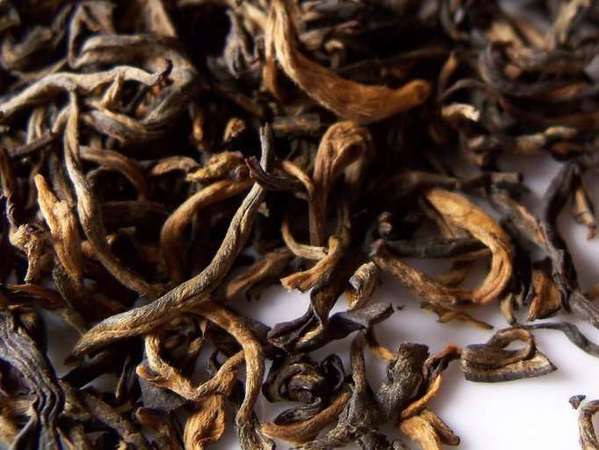 Yunnan Jig from Adagio Teas, a Dian Hong. Photo © A Girl With Tea,
CC BY 2.0
.
Yunnan red
, often referred to by its Chinese name
Diānhóng
(滇红), and sometimes called
Yunnan black tea
, refers broadly to
black tea
from
Yunnan province, China
. The name comes from the appreviation for Yunnan province, Diān(滇), and the word for "red", hóng(紅), from the Chinese term for black tea, making "Yunnan red" a natural translation.
Dian hong teas are diverse and come in many different leaf styles and grades. They range from strong, dark black teas to sweet, light-colored teas.
Nevertheless, these teas often share certain characteristics in common. These teas are often described as having a peppery quality. The aroma is typically malty, and these teas are often described as being similar
Assams
, but the flavor and mouthfeel is often softer or smoother than that of teas from Assam. Some teas have a subtle smokiness to them.
Leaf styles vary from teas with a twisted or curled shape, to long, straight, needle-like teas, to tightly rolled teas. Some of these teas are even compressed, although this is much less common than with
Pu-erh
.
Yunnan gold
is a type of Yunnan red tea which is tippy (rich in leaf buds) and has leaves that are golden in color. We classify teas in this subcategory when they are marketed as such or when the leaf has a significant portion of visibly golden tips.
Prices on dianhong vary widely, but these teas are often available for lower prices than teas of comparable quality from other provinces.
↑Recent Yunnan Red Reviews — RSS
75 / 100
Classic earthy Yunnan aroma, with a hint of chocolate. Liquor (5 minute steep) is a clear medium brown.Flavor is clean, with a spice/peppery after taste. Overall, enjoyable.
Read Full Review
95 / 100

The aroma reminds my of wheat toast with a slight sweetness (grapes?) in the background. The liquor is a pleasant clear brown (5 min steep). The flavor is very enjoyable, with an almost dueling after taste, peppery with a hint of sweet. I am going to enjoy this tea.
Read Full Review
85 / 100

Spring 2022. "Classic" Yunnan aroma. mild, nothing distinctive. Liquor (5 min steep, using the Breville tea machine) is a nice brown with a slight gold tinge. Tasty, great for sipping. PS: The leaves are long. I might have used less tea than actually needed for a full 6 cup pot. Next pot I will crush the leaves into sm...
Read Full Review
73 / 100

I tried this tea right when I ordered it, but did not like it. It had few objectionable qualities, and was actually quite smooth, but simply seemed a little boring. However, I set it in my cupboard for quite some time and sure enough, it has started tasting more interesting after about a year and a half. Still, it is n...
Read Full Review
45 / 100

Mild all around. Aroma is a weak Yunnan. Flavor is a mediocre Yunnan, with a slight burnt after taste. Liquor brews (5min) to a deep brown. Not impressed.
Read Full Review
↑Top Reviewers
Review 7 teas to get on this list!
Advertisement
↑Most-Rated Yunnan Red

52
6 Ratings

64
4 Ratings

35
4 Ratings

57
3 Ratings
↑Top-Rated Yunnan Red

87
3 Ratings

66
3 Ratings

64
4 Ratings

58
3 Ratings
↑Varieties, Kinds, or Types of Yunnan Red