Yunnan Red
Wikipedia: Dianhong | Teaviews: yunnan-tea
Last Updated: Oct. 5, 2018
↑About Yunnan Red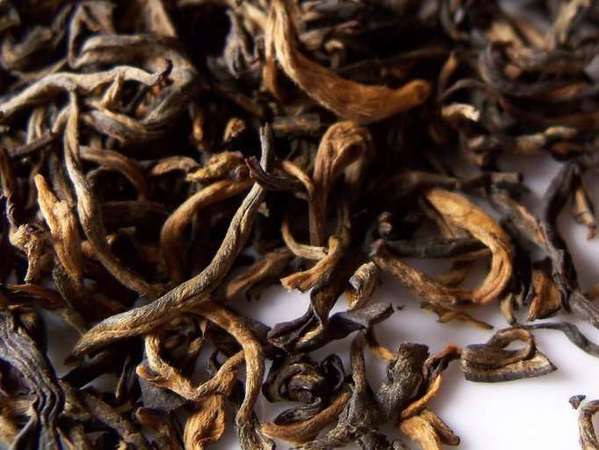 Yunnan Jig from Adagio Teas, a Dian Hong. Photo © A Girl With Tea,
CC BY 2.0
.
Yunnan red
, often referred to by its Chinese name
Diānhóng
(滇红), and sometimes called
Yunnan black tea
, refers broadly to
black tea
from
Yunnan province, China
. The name comes from the appreviation for Yunnan province, Diān(滇), and the word for "red", hóng(紅), from the Chinese term for black tea, making "Yunnan red" a natural translation.
Dian hong teas are diverse and come in many different leaf styles and grades. They range from strong, dark black teas to sweet, light-colored teas.
Nevertheless, these teas often share certain characteristics in common. These teas are often described as having a peppery quality. The aroma is typically malty, and these teas are often described as being similar
Assams
, but the flavor and mouthfeel is often softer or smoother than that of teas from Assam. Some teas have a subtle smokiness to them.
Leaf styles vary from teas with a twisted or curled shape, to long, straight, needle-like teas, to tightly rolled teas. Some of these teas are even compressed, although this is much less common than with
Pu-erh
.
Yunnan gold
is a type of Yunnan red tea which is tippy (rich in leaf buds) and has leaves that are golden in color. We classify teas in this subcategory when they are marketed as such or when the leaf has a significant portion of visibly golden tips.
Prices on dianhong vary widely, but these teas are often available for lower prices than teas of comparable quality from other provinces.
↑Recent Yunnan Red Reviews — RSS
93 / 100

I thought this was an exceptional tea, but one not particularly suited to my tastes. I still liked it a lot though. It tastes the most like a white tea of any black tea I've tried.

The dry leaf is explosively fragrant, suggesting malt, caraway, overripe fruit, and flowers. There is a lot going on in the aroma, it's ...
Read Full Review
100 / 100

This tea is soo good omg! The aroma is nice and sort of chocolatey smelling. The taste is smooth and a bit sweet. The tea is very thick bodied and it is not astringent or bitter at all.
Read Full Review
90 / 100

This was a peculiar and rather fascinating tea, a real bargain buy, and a good afternoon tea.

The leaf is very large and has an aroma that is lightly malty, but also rather herbaceous. It smells more like green teas or raw Pu-erh than is typical for a black tea. Both its appearance and aroma remind me of some of the...
Read Full Review
88 / 100

The aroma is nice and bready although it's not very strong. The taste is good and classic for a regular high quality black tea. For me it's just a bit astringent but if that doesn't bother you then this tea would be perfect!
Read Full Review
97 / 100

This is one of my favorite teas! Its unique and interesting while still being smooth and easy to drink. It's a great value for how good it is.
Read Full Review
↑Top Reviewers
Review 6 teas to get on this list!
Advertisement
↑Most-Rated Yunnan Red

52
6 Ratings

64
4 Ratings

35
4 Ratings

53
3 Ratings
↑Top-Rated Yunnan Red

87
3 Ratings

66
3 Ratings

64
4 Ratings

58
3 Ratings
↑Varieties, Kinds, or Types of Yunnan Red