Anji Bai Cha
Updated: Aug. 11, 2017
About Anji Bai Cha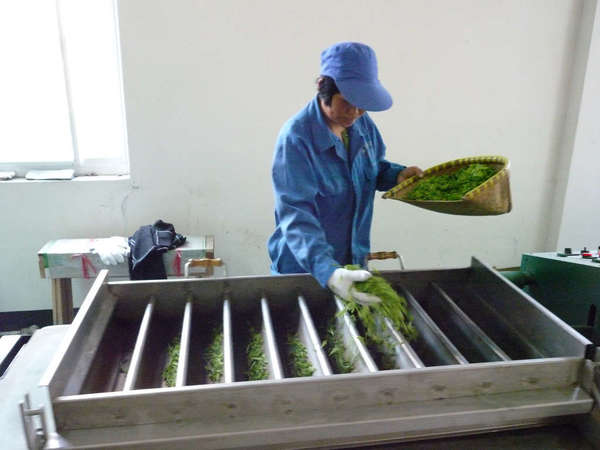 Anji bai cha processing. Photo ©
camellia-sinensis.com
, used with permiission.
Anji bai cha
(安吉白茶), literally meaning Anji white tea, is a green tea from
Anji county
of
Zhejiang, China
. It is grown at a high altitude from a special cultivar of tea plant, called
bai ye yi hao
(白叶一号/白葉一號), which means "white leaf number one".
Because of its Chinese name, Anji bai cha is sometimes called a "white tea", but, classified by its production process, it is a green tea, not a white tea. The term
white
refers to the whitish color of the leaves, and the pale color of the brewed tea.
Like
gyokuro
, this tea is best brewed with a lower temperature of water even relative to other green teas. Also like gyokuro, this tea has a high amino acid content giving it a bit of an "umami" flavor. In contrast to the shade-grown and chlorophyll-rich gyokuro, this tea has less chlorophyll in the leaves relative to other green teas, giving it a lighter appearance. Anji bai cha and gyokuro are two teas highest in
L-theanine
, an essential amino acid that has been implicated in relaxation and improved concentration; one source reported that both of these teas contain about 2% theanine by dry weight.[4]
References:
Best Anji Bai Cha
The notion of the "best" Anji Bai Cha is subjective, because different people have different tastes. We present the most often-rated and highest-rated teas in this category, and allow you to draw your own conclusions.
Most Often-Rated Teas
Top-Rated Teas
We need at least 3 ratings for a tea to calculate a percentile ranking. You can help us out by rating more teas of this style.