Anji Bai Cha
Last Updated: Aug. 11, 2017
↑About Anji Bai Cha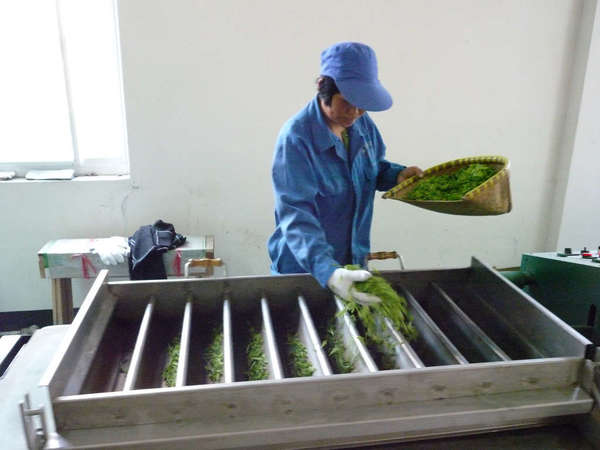 Anji bai cha processing. Photo ©
camellia-sinensis.com
, used with permiission.
Anji bai cha
(安吉白茶), literally meaning Anji white tea, is a green tea from
Anji county
of
Zhejiang, China
. It is grown at a high altitude from a special cultivar of tea plant, called
bai ye yi hao
(白叶一号/白葉一號), which means "white leaf number one".
Because of its Chinese name, Anji bai cha is sometimes called a "white tea", but, classified by its production process, it is a green tea, not a white tea. The term
white
refers to the whitish color of the leaves, and the pale color of the brewed tea.
Like
gyokuro
, this tea is best brewed with a lower temperature of water even relative to other green teas. Also like gyokuro, this tea has a high amino acid content giving it a bit of an "umami" flavor. In contrast to the shade-grown and chlorophyll-rich gyokuro, this tea has less chlorophyll in the leaves relative to other green teas, giving it a lighter appearance. Anji bai cha and gyokuro are two teas highest in
L-theanine
, an essential amino acid that has been implicated in relaxation and improved concentration; one source reported that both of these teas contain about 2% theanine by dry weight.[4]
References:
↑Recent Anji Bai Cha Reviews — RSS
86 / 100

I have read about Anji Baicha for years now, and this is the first time I've ever tried it. I've been very curious about it, especially since I've read that it's among the teas highest in L-theanine, but is prepared rather differently from Gyokuro, the tea I've tried that is also highest in theanine. It didn't quite ...
Read Full Review
87 / 100
(Update) The previous review I did may not have been completely fair to this tea. I brewed it slightly different this time, using a little more leaf, a little less water, and just under 3 minutes for the steep. It's a great tea actually! Very light in color, aromatic, velvety smooth, and clean/pure in flavor. It's kind...
Read Full Review
100 / 100

The aroma is very delicate and very fresh, a mellow blend of fruit like sweetness and roasted chestnuts. Of course there is a vegetal presence, it is one of green beans and fresh vegetation, there is also a delicate hint of flowers at the finish. This tea smells wonderful, it has my favorite aspects of a delicate Chine...
Read Full Review
90 / 100

What a delightful and relaxing tea.
Read Full Review
↑Top Reviewers
Review 2 teas to get on this list!
Advertisement
↑Most-Rated Anji Bai Cha

1 Rating
↑Top-Rated Anji Bai Cha
We need at least 3 ratings for a tea to calculate a percentile ranking. You can help us out by rating more teas of this style.